Solomon siblings excel in sports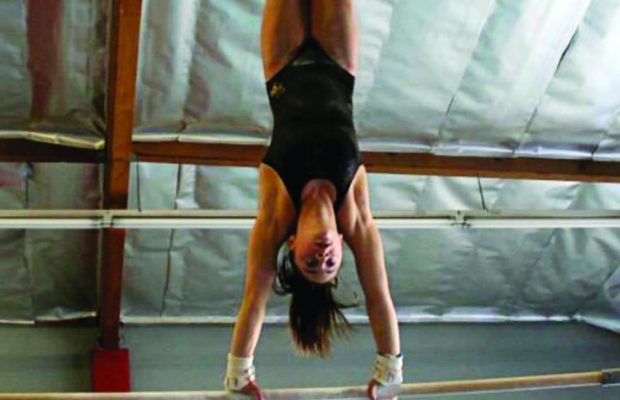 Swish! Flip! Slam dunk! Back handspring! Basketball and gymnastics. Matt and Alexa Solomon. Both seniors at Newbury Park, the Solomons are a sibling powerhouse. With Matt excelling on the court and Alexa unrivaled in the gym, it seems like there is nothing that they cannot do.
Ever since they were little, Matt and Alexa Solomon have been into sports. Like many children, the Solomons tried many different ones before specializing in basketball and gymnastics, respectively. "They tried every single thing they could possibly think of and then at the end when they got a little bit older, they decided which one they wanted to concentrate on, which one they loved the most," Lisa Solomon, Matt and Alexa's mom, said.
While basketball and gymnastics are two very different sports, Alexa and Matt are still very competitive with each other. "We both always want to be the best, but I think it's a healthy competition," Alexa said. "We both push each other to do the best that we can."
Pieter Marcus, Alexa's friend, can see this as well. "(Alexa and Matt are) both super driven and determined and both achieve at an exceptionally high level, so I think they kind of push each other in that way," Marcus said.
Both Alexa and Matt are very dedicated. Their sports take up most of their time, so they sacrifice a lot socially. "All of (Alexa's) friends were going out. She couldn't because she wanted to practice. She loved it. She absolutely loved it and wouldn't trade it for anything," Lisa said. "(Matt) too, he sacrificed going out with his friends. And to see your friends having so much fun all the time, he would rather be in the gym with the basketball."
The Solomon siblings greatly admire each other's skills with their respective sports. "(Matt) puts so much time into the sport and inspires me to put as much time in as he does so that I can be as good as he is at basketball," Alexa said. Matt feels the same about Alexa. "I think she's awesome and she works really hard. And she's a great person outside of gymnastics," Matt said. "Seeing the way she is committed, she finds six hours a day to practice, that's crazy. Alexa is stronger than me, my sister is stronger than me; she is insane."
Lisa can see how much her children are there for each other. "They support each other and help each other out with different exercises- strength exercises, stretching."
Having one child become an outstanding athlete is incredible to Lisa, but having two is a whole other story. Both Matt and Alexa had the goal of becoming a Division I college athlete, and both accomplished this goal. "Having two Division I athletes is mind boggling… I think I'm still in shock," Lisa said.
Unfortunately, gymnastics and basketball are in the same season, so the Solomon parents often cannot watch both of their children during competitions. "It's a lot of divide and conquer. My husband will go with one, and I'll go with the other," Lisa said. "(Competitions are) usually at total opposite ends of the world, and it's impossible to see both. So we'll trade. One will go to Matt's games. The other will go to Alexa's meets… I really wish they were different seasons. Then we could see them all. So I think that's pretty tough."
In addition, practices for both Matt and Alexa take up most of their time, so there is little family time. "There's never a time where all four of us are in the house at once, because (Matt) has practices, I have practices and my parents are working," Alexa said.
Lisa often uses Crock-Pots for dinner because the four of them are never at home at the same time. "That's hard, not gonna lie. I cannot remember the last time we all had dinner together because of their practices," Lisa said. "But it's all worth it. It really is."
na lie. I cannot remember the last time we all had dinner together because of their practices," Lisa said. "But it's all worth it. It really is.
Matt Solomon was not always into basketball, but once he discovered his interest in it, he committed himself entirely to it. He played on the Newbury Park High School team for four years, and his skills in basketball have led him to attend California State University, Northridge.
Matt's commitment to basketball was noticed by members of his family. "Matt would get up at 3:30 in the morning, go to 24 Hour Fitness, play basketball, come home, take a shower, go to school, be out by noon and go workout again," Lisa, Matt's mom, said.
But Matt did not start out as a basketball player, as his mom said, "He did every sport you can think of. He did lacrosse, he did football, he did baseball, soccer, everything. He was really big into baseball and football and then I think he stopped football right before High School and decided that basketball was his thing."
Although his dad was an athlete as well, he played an entirely different sport, but that did not stop him from supporting Matt, as Matt remembers. "My dad played professional baseball, and he never pressured me to play anything, basketball is up tempo and I really like that."
Once Matt was part of the basketball team, there was a clear connection with the team. One teammate, Nickerson DeMelfi, senior, mentioned how much of a leader Matt was on the basketball team, "[Matt] really leads by example, he is going to a division one school, CSUN, and everyone follows his example."
DeMelfi also recounts Matt's integral part in the team's success. "He pushes us through. He is the reason we won some of our games. He is also a verbal leader, so he'll bring us up, and if someone messes up he won't get mad, he'll be like "Oh you'll be better next time" and say other positive things, and make the team better," DeMelfi said.
Matt's hard work eventually paid off when he won the award of Most Valuable Player in the Marmonte League. "I was really honored to win it because there was a lot of great players and my hard work paid off," Solomon said. It was not just Matt who was proud of his achievements, "[Matt's] stats were crazy, he was averaging 25 points a game, and 7 rebounds and 4 assists. That's insane to do at any level of basketball. Even though we didn't win league I wasn't surprised Matt won the MVP award just because he was the most valuable player," DeMelfi said.
Matt is now onto college, and has recently committed to CSUN, where he plans to continue playing basketball,"(CSUN is) local so my parents and family can come watch me and I can visit them. It's also a division one team which has always been my dream," Solomon said.
As a young girl, Alexa was always "bouncing off the walls as a child, jumping from couch to couch and very, very active," Lisa said. A retired gymnast herself, Lisa decided to sign Alexa up for some gymnastics classes when she was three, where "she just took to the sport immediately."
Even after starting to train four to five hours a day at only six years old, Alexa's love for gymnastics never faded. "Sometimes there's times where it's hard to go to practice, but once I get there, I realize why I'm meant to be there," Alexa said. "I love the feeling. I felt like I could fly, I felt like I was free, and it was a stress reliever too."
Alexa trains at Matrix Gymnastics in Chatsworth, where she is seen as a leader at practice, and is very determined and goal oriented. "She knows what she wants and she does whatever she can to get there," Sammi Rosqui, a homeschooled senior at Alexa's gym, said. "Whenever you're having a bad day you can count on her to give you some inspiring words to get you through the practice."
Gymnastics has taught Alexa many important life skills. "It's taught her time management skills and taught her focus," Lisa said. "When there's a goal, (Alexa) goes after it, and she doesn't stop until she reaches (it)."
All of Alexa's hard work and time she has put into the sport has paid off. Besides learning life lessons from gymnastics, Alexa has also gained many titles over the years. She was state champion on bars, a level 10 Regional Qualifier in 2017 and an all-around champion at the 2018 OC Classic.
One of Alexa's greatest accomplishments is getting a scholarship to go to San Jose State University. "(Alexa's) goal was to be a college gymnast… So that's what she went after. And that's what she got," Lisa said. "I'm proud of her that all those years ago and the goal that she set, she achieved it."
Now that Alexa has achieved her goal of becoming a college gymnast, she has set new goals for her time in college. She hopes to compete in all four events (bars, beam, vault and floor), as well as help SJSU become conference winners. Alexa also has goals outside of gymnastics. She is majoring in dietetics, and hopes to become a nutritionist after college.
At such a high level, there is always pressure to do better. For Alexa, a lot of it comes from within. "There's a lot of pressure because I want to be the best that I can be and accomplish the most that I can," Alexa said.
Despite all of the pressure, time and effort that goes into gymnastics, Alexa wouldn't change it for the world. "I love gymnastics and it pushes me to be the best I can in everything."