Special Olympics unifies families and students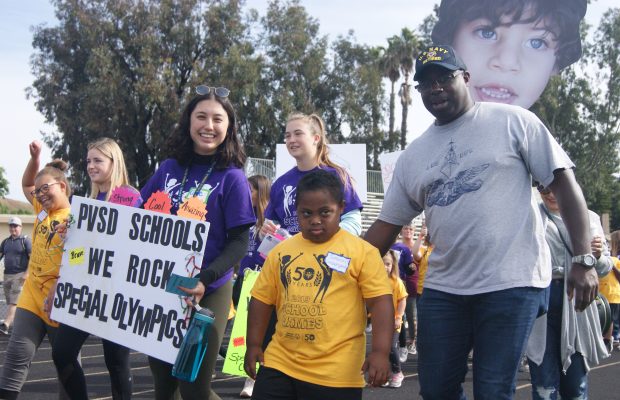 It's 6:30 a.m on a Saturday and the campus is full of students ready to dedicate their day to volunteering in one of the biggest events hosted at this school. With a little help from coffee, bagels and donuts, these students have smiles on their faces as they are ready to begin their day. Let the games begin.
The Special Olympics took place on May 18 and has been hosted at NPHS for the past seven years. The event welcomes athletes ranging from kindergarten and post-secondary education to participate in the games.
Anne Alvarez, special education teacher and co-advisor of National Honor Society, plays a key role in ensuring that the event will be successful. She begins planning for the event from the beginning of April until the middle of May.
Alvarez starts the long preparation process by sending invitations to all the teachers and other community members in Ventura County.
Alvarez also believes that there is power in allowing students to run the event. "It is an important event, it is for the good of the whole community and I think students need to learn how to do events so maybe later in life they will say 'hey, I can do this because I knew how to do that' so it gives them the power to do things for other people and for themselves," Alvarez said.
Many NHS members and other student volunteers take on a leadership position during the games. Lindsey Mueller, senior, is one of these students. Mueller worked alongside Kyle Wonders, junior, in order to run the event with the help of Alvarez.
"I worked with Alvarez during my off fourths to prepare the games by organizing information, making sure we had plenty of volunteers, and doing any and all behind the scenes work I could," Mueller said.
As someone who has served their community throughout high school, Mueller believes volunteering is a major aspect of student character. "I think people should volunteer as much as their heart calls for. Even though that might mean some people rarely volunteer, all those who do will have an open heart of gratitude and enjoy each and every moment of it," Mueller said.
Volunteering offers various benefits to students, while community service hours reflect well on an individual's academic career, there are several other reasons to become more involved within the community.
"Volunteering isn't just something that looks good on college (applications), but an opportunity to have life changing experiences and find who you are," Mueller said,
The Special Olympics offers ample opportunities for students who are interested in helping out their fellow students and the community. Each student has the choice of being a buddy, running a booth, volunteer and athlete registration or even helping out with set-up and clean-up.
Dominic Rivera, senior, had no prior experience with the event but was motivated to volunteer as a buddy by his close friend who participated each year.
Rivera felt that he left the event with an incredibly positive experience. "I would recommend someone else to do it bc the opportunity to see the joy on people's faces just brings you joy and happiness and it's something that you can't make up," Rivera said.
With more than 300 volunteers at the event, it is clear that the Special Olympics provides a chance for the entire community to come together.
"Special Olympics shaped me into being a more grateful and happy person and taught me that I can use my talents and abilities to inspire and help others," Mueller said.