2017-2018 Staff
Caitlin Henderson (12) // Co-Editor-in-Chief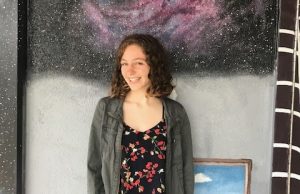 It was sophomore year when current senior and Co-Editor-in-Chief, Caitlin Henderson, decided to take a chance. She applied to join the Prowler staff and never looked back. Throughout her high school career, Henderson acquired a passion for journalism and telling the stories of those around her. She describes herself as a passionate people person who enjoys getting to know whoever she comes across. Her post-graduation dreams are filled with newsrooms and the continuation of her love for writing in the form of a position as an editor of a news publication. Another goal that she hopes to achieve as a self proclaimed nature lover is to visit all 58 national parks. Her ideal friend is someone that is honest and reliable. Henderson is excited for this upcoming year and ready to take the challenge of co-running the Prowler staff.
Lindsay Filgas (12) // Co-Editor-in-Chief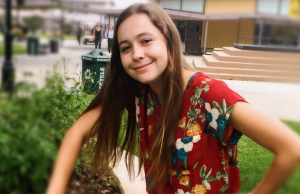 Lindsay Filgas, senior, is the Co-Editor-in-Chief of this year's Panther Prowler staff and is excited to work on this year's papers. Having been a member of the newspaper's staff since her freshman year, she has fallen in love with the art of journalism and all the wonderful aspects that it carries- being most ecstatic about the opportunity to teach others about something she adores very much. Beyond writing, however, Filgas is avid about video production, being excited to take the Advanced Video Production class this year. Asides from the Panther Prowler, Filgas is a large fan of biology, loving the study of nature and life. Over the summer, she made her way to Italy on a school trip. Though she only stayed for about a week, she was fascinated to see all of the beautiful, historic items that were scattered all through Florence. Ready to end her high school career strong, Filgas is putting her entire heart into making the 2017-2018 Panther Prowler one of the best ones that Newbury Park High School has ever seen.
Alyssa Boedigheimer (12) // DPS Designer, Graphic Artist
Alyssa Boedigheimer is seventeen years old and she's made it this far. Going into her fourth year in journalism, Alyssa is a DPS Designer and Graphic Artist. Her favorite journalistic skill is designing, and she often uses her artistic skills to sketch comic book characters. Although Spiderman is her favorite to draw, Captain America is her favorite hero. In her free time, Alyssa runs cross country, rock climbs and volunteers at Satwiwa Cultural Center. This year, she hopes to further her video editing and broadcast journalism skills, and learn how to use polymer clay.
Gianna Longo (12) // Sports Designer, Copy Editor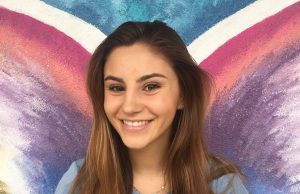 Ever since joining staff in the middle of her sophomore year, Gianna Longo, senior, has been in love with The Panther Prowler. After taking the Intro to Journalism class, the editors' in chief were so impressed with her work that they asked her to join, and she never looked back. As a designer, she loves being creative, and she lets her creativity show in other aspects of her life as well. Passionate about music, Longo plays the guitar, ukulele, and sings. However, for her, this summer consisted mostly of studying for the ACT, in addition to participating in an internship. She was a waitress at a retirement home, and she loved it; the people and the experience made it well worth those missed trips to the beach, one of her favorite places. For her senior year, Longo hopes to make the best out of it: having fun and being able to relax and enjoy her last year on staff and as a panther.
Angela Swartz (12) // Features Designer, Online Manager, Broadcast Team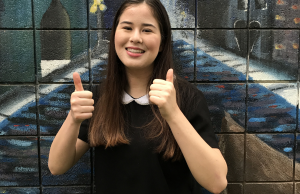 Angela Swartz is a feature designer for the Prowler in her senior year of high school. Angela signed up for journalism her freshman year and continued participating after she fell in love with it and made new friends. As a senior, Angela is excited about graduating and attending college. Currently, she is undecided about what she wants to study. Although she is undecided about her major, Angela is hoping that she can pursue a career in journalism throughout college. Angela is excited about being on Prowler staff this year; she believes that this staff will be very strong because everybody has experience with journalism. She is looking forward to improving the broadcasting program and writing new sports stories for Prowler. In her free time, Angela enjoys seeing her friends and spending their last year together.

Megan Vlietstra (12) // Chief Photographer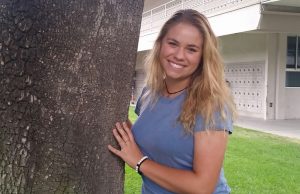 Megan Vlietstra is a current senior and the Chief of Photography this year. This is her second year on staff; she joined after a recommendation by her friend, Caitlin Henderson, on staff. Since then she has fallen in love with journalism and the staff and is looking forward to what the next year on staff brings. Vlietstra started taking photos when she was 13 on a family trip to Death Valley and has continued ever since, even taking advanced photography classes in school. She loves the freedom of expression that photography brings and ability to share that with her friends. As the Chief of Photography this year, she is excited for the upcoming year with a new staff. Outside of school, Vlietstra has been horseback riding for eight years in Dos Vientos and Moorpark. She is also the current Co-President of the Interscholastic Equestrian League team at school. In the future, she plans to become either a high school English teacher or an elementary school teacher, due to her love of children.
Logan Nichols (12) // Photographer
Logan Nichols, senior, is starting her final year of high school with a new artistic outlet: the Prowler. Nichols is a creative spirit with an eye for photography. She describes herself as a "sunset, sunrise person," with her work mainly focusing on scenery and nature. Nichols also enjoys taking candid portraits of those around her. When her eye isn't glued to a camera lense, she can be found writing poetry and "dark" pieces. In the future, she hopes to study English in college and go to an art school to further her career goal of becoming a poet and professional photographer.
Daria Azizad (11) // Opinion Designer, Online Editor
Daria Azizad, junior, values the power of her voice. Since freshmen year, Azizad has played the role of an attorney in Mock Trial, where she enjoys objecting and arguing her case. Outside of school, she helps to run a middle school Speech and Debate club. As an intern at DK Law Group this summer, Azizad got to practice the art of public speaking. With the skills she has gained from these activities, she hopes to make a future in politics, which has always been an interest of her's. This year, Azizad is branching out on the Panther Prowler as Opinion Designer and Online Editor. She looks forward to writing more DPS articles and sharing her voice through the paper.
Maya Chari (11) // Photographer, Ad Assistant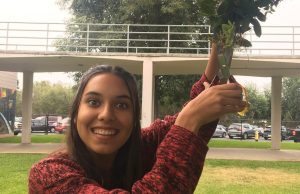 Maya Chari joined the Prowler staff in her sophomore year to further her writing and communication skills and bring her unique opinions to the Prowler. She is fond of writing articles about the school board because she feels that her voice and opinions are used to benefit students in the district. This year, she is the Prowler's Twitter Manager and Ad Assistant. Outside of the Prowler, Maya is passionate about science especially environmental science which she hopes to continue as a career. She believes the subject is under-appreciated and requires more attention in today's political climate. Maya's interest in environmental science comes from her love for the outdoors and inspiration from her biologist mother and her idol Al Gore. When she is not writing for the Prowler, Maya interns for the National Park Service and enjoys hanging out with friends, backpacking, camping, and practicing her special talent for juggling anything.
Kessa Chavez (11) // Entertainment Designer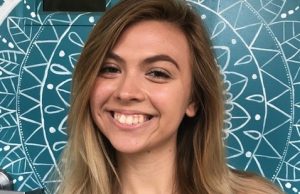 She's naturally an introvert, but Kessa Chavez is a people-person. Being a part of the Panther Prowler staff is what pushed her out of her comfort zone, and now, she loves getting to know people. Her open-mindedness allows her to befriend different types of people, and she is always interested in how their minds work. As an Entertainment Designer and a Social Media Team Member, Chavez is going into her junior year ready to interview, write, post on Twitter and design. This is Chavez's second year on staff, and she is excited to further her journalistic skills. In her free time, Chavez watches crime documentaries, Hank Green's Crash Course on Psychology and hangs out with friends. Crime documentaries are what sparked her interest in psychology, which contributes to her strive to understand what little people know about the brain. Kessa hopes to pursue psychiatry or nursing, and continue to pursue her interests.
Connor Keep (11) // News Designer, Broadcast Team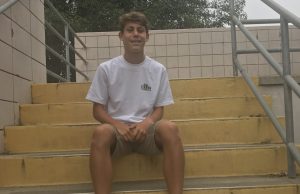 Connor Keep, junior, is entering into his third year on staff of the Panther Prowler. Keep is looking forward to coming to every day and into a "great environment." As an avid writer for the sports section of the newspaper, Keep aims to be a Sports Broadcaster someday. In hopes to achieve this goal, Keep is a member of the Broadcasting team on staff, and he is the Sports Twitter Manager. Keep's passion for sports goes beyond the newspaper; outside of Journalism, he loves to run, hike and surf. So far journalism has been "such a great class throughout (Keep's) 3 years of high school," and he can't wait to interview and meet new people this year.
Sarah Lu (11) // Photographer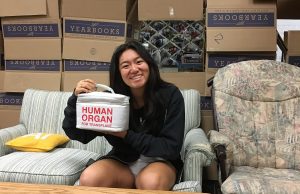 Sarah Lu, junior, is starting her second year on Prowler staff as a photographer. She was introduced to the class by another staff member and also wanted to improve her writing. Sarah is on Varsity Swim. Recently, she has taken up boxing as a new hobby. In her free time she loves to read and listen to music. Her main goal this year in Journalism is to become more familiar and be able to work better with the page design software, Indesign. She is excited for swim season and for the Prowler Magazine this year. Later on in life, she hopes to go into a field of science, specifically forensic pathology.
James Pratt (11) // Staff Writer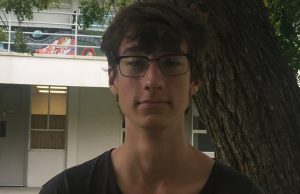 James is entering his junior year of high school as a full IB diploma candidate and journeying into his second year as part of the Panther Prowler as a staff writer. He decided to join staff in order to improve his writing so he would be able to communicate better with his peers. James began using YouTube videos to teach himself how to yo-yo four years ago. Since then, he has grown to love the uniqueness of the sport, the ability to immerse himself in the activity for hours, the challenge of figuring out the complex judging system and the competitive but supportive community. Now, he is a sponsored yo-yo player who attends both national and world competitions. When James is not studying or learning new tricks on the yo-yo, videogames occupy his time. He has a passion for English and philosophy and has considered getting an English degree, however he truly aspires to attend USC and receive a degree in business.
Kavita Rai (11) // Opinion Designer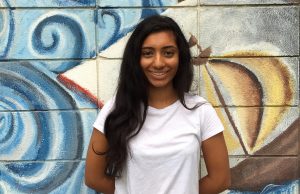 Kavita Rai, junior, enters her second year on the Panther Prowler staff and is ready to make the year great. Over the summer, she broadened her experiences by traveling the world in places such as Hawaii and England. Kavita joined the journalism staff due to her enjoyment of writing. Rai's favorite types of articles to write include opinion and feature articles because she believes voicing her opinions and the views of others is important. After high school, Kavita plans to pursue a four year education at university; the colleges she desires are USC and any of the UC schools. She is excited for this year in journalism, especially learning more about graphic design, the new storyboard ideas and the magazine.
Nidhi Satyagal (11) // News Designer, Ad Manager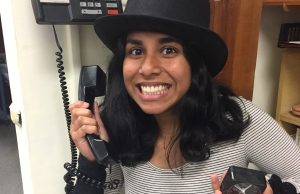 Going into her Sophomore year, Nidhi Satyagal was excited to join Journalism, hoping to bring to light to students some of the important issues both on campus and in the outside political realm. Now a Junior, Nidhi is the Ad manager, a news designer, and is an experienced staff writer. She enjoys writing Opinion articles because she has a unique take on important social matters, and has a diverse repertoire of interests. This is also Nidhi's third year participating in Mock Trial on campus, where she learns communicative skills and public speaking as a defense attorney. A lover of all things Harry Potter, Nidhi is an avid reader and enjoys watching netflix and listening to Borns on her free time. Summer is Nidhi's favorite time of year because she loves to travel and explore new places; she has been to Switzerland, Austria, Germany, India, Denmark, Norway, Sweden, Singapore, and Canada, and she hopes to continue to curate her list of places and cultures she has experienced.
Jaycen Sussman (11) // Cover and Editorial Designer, Broadcast Manager, Sports Editor
Born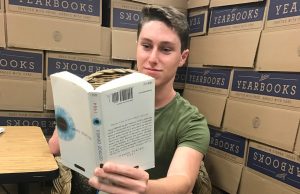 and raised in Thousand Oaks, Jaycen Sussman, junior, is going into his second year on the Panther Prowler staff. He is going to be Broadcast Manager, Cover and Editorial Designer and Sports Editor this upcoming year. He can also be found giving the latest school sports updates on Panther TV. In his freetime, Sussman runs a podcast show with one of his friends on the weekends, produces a weekly sports report for 101.5 KOCI FM, and plans on interning at the Ventura County Star this fall. He loves broadcast journalism and hopes to continue down this path beyond high school. Sussman dreams of going to schools like Alabama State, Arizona State, Syracuse and USC so he can pursue broadcast and kick back to support his football team. He is taking on an almost full IB and AP course load, and although it will be difficult he is looking forward to the challenges ahead in his junior year, both on and off the staff.
Clare Wang (11) // Back Cover Desinger, Online Editor
Clare Wang, the Prowler's news designer, was once an introjournalism student and is now a new member on staff. After discovering the different areas of the journalism world, Clare became passionate about writing and designing. Most of all, Clare enjoys sharing her views on the world through her opinion pieces, her favorite article to write. Clare is an introvert, always observing the world around her and looking for a great story. After a long day of classes, Clare dedicates her free time to practicing violin, cheer, and studying.
Rahul D'Souza (10) // Staff Writer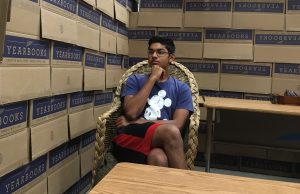 Tennis player, basketball player, Boy Scout, and member of the Panther Prowler, Rahul D'Souza, sophomore, is excited to be on staff this year. Having experience from doing journalism last year as well as in sixth grade, D'Souza is a staff writer and a designer in training. He hopes to become an official designer this year, in addition to improving his writing style and articles. D'Souza is juggling a heavy course load, multiple sports, and extracurricular activities this year. He plays tennis for the high school and also plans to try out for the basketball team. In addition to sports, D'Souza hopes to become an Eagle Scout by the end of this year, starting the journey back in the sixth grade. When he has free time, D'Souza loves to relax by watching TV and hanging out with his friends.
Emily Nagamoto (10) // Photographer, Copy Editor
Emily Nagamoto, sophomore, joined journalism freshman year after being inspired from her friend's work. As a photographer, Emily believed her writing and photography improved as she continued to learn new skills and gained experience in advanced journalism. Aside from journalism, Emily also enjoys playing tennis on the high school team and watching movies with friends, specifically chick flicks and historical films . She also has a special talent for baking as she is always looking for new recipes to try out. Emily is excited for sophomore year with a new set of classes and to work towards new goals.
Aditya Vunuum (10) // Staff Writer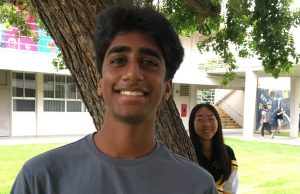 Aditya Vunnum, sophomore, is entering his second year of working with the Panther Prowler as a staff writer. After the new experience of being on staff his freshman year, Vunnum is excited to continue his journalism path so he can learn more about the journalistic side of writing and work on becoming a page designer. While he enjoys the journalistic side of school, Vunnum is focused on his rigorous course load taking classes like Math Analysis Honors and AP European History. During his free time, Vunnum can be found either playing baseball, where he's going into his second year of playing for NPHS, or just kicking back to see friends. Down the road he hopes his hard work will take him to colleges like UC Berkeley or UCSB.
Michelle Saremi // Adviser
Michelle Saremi has been advising journalism for 11 years, all of which have been at Newbury Park High School. Prior to coming here, Saremi taught at California High School and at a middle school in Santa Barbara. Saremi enjoys advising her students on the process of creating the paper and seeing the staff's pride in their work. This year, Saremi hopes to see strong writing, original designs and a strong moral compass for the entire staff, with all of these components coming together to create pieces that will bring the Panther Prowler to the next level. Other than her dedication to the Prowler Staff, Saremi plays flute, with her favorite style being Baroque Classical.
---
Past Editors-in-Chief:
2016-2017: Victoria Juan and Nina Chiuchiarelli
2015-2016: Adrianna Robakowski and Shreya Chattopadhyay
2014-2015: Grace O'Toole & Courtney Brousseau
2013-2014: Cassie Stephenson & Patrick Rewers
2012-2013: Rachel Cross & John Dichirico
2011-2012: Sophie Li & Maia Laabs