2019-2020 Staff
 Aditya Vunnum (12) // Co-Editor-in-Chief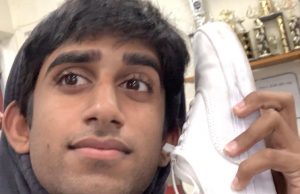 With the new school year in full swing, Aditya Vunnum, senior, is ready to get back to the grind while still managing his well-rounded lifestyle. Vunnum really loves to volunteer in the hospital during his free time so that he can gain experience in the medical field while being social.  "I really like to volunteer at the hospital because I get to meet a lot of new people," Vunnum said. He has been volunteering at the hospital for about a year now, and has been loving every moment of it. Although Vunnum enjoys spending his free time at the hospital, he also has other activities that he enjoys participating in. "I really like to go to the park, play some Ultimate Frisbee, maybe mix in some Spikeball every once in a while," Vunnum said. He has been playing Spikeball for about three months now and is in love with the game. "It teaches you to be patient, teaches you when to be aggressive, when to hold back, teaches you teamwork because you work on teams of two, and if one of you messes up, well, then that means you lose the point," Vunnum said.
 Emily Nagamoto (12) // Co-Editor-in-Chief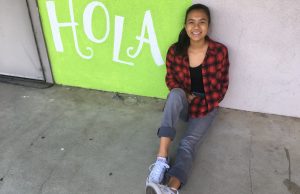 After hiking through blistering heat in Arizona this summer, Emily Nagamoto, senior, is ready to take on her last year of high school. She visited a few national parks, including Joshua Tree, and saw many cool rocks. "I think I took like 600 photos and we were only there for like 5 days," Nagamoto said. This year, Nagamoto is the co-editor-in-chief of the Journalism staff. She is excited to see things from a new perspective and help keep the club running. With a smaller staff this year, she and the rest of the students have to work extra hard this year. "I like being organized, so I think it's a good spot for me," Nagamoto said. She is excited for her senior year and wants to make the most of it, as she will most likely leave Southern California behind for college next year.
 Rahul D'Souza (12) // Chief Photographer, Online Editor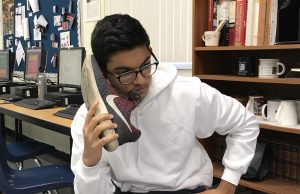 Many people know Rahul D'Souza, senior, as a man of many socks, and although some days he may be wearing the face of Will Smith, there is more to D'Souza than what is in his shoes. Being a full IB student, D'Souza juggles IB classes with being the chief photographer for the Panther Prowler, also volunteering at a local free clinic and playing tennis. He joined the newspaper staff his freshman year after hearing stories from friends and says he has fallen in love with the program. After taking physics and advanced math last year, D'Souza has found a passion for both subjects, hoping to study mechanical engineering in college. Despite his busy schedule, D'Souza still finds time to play guitar, play video games and even to explore Newbury Park with his friends. This summer, D'Souza further tapped into his adventurous side when he visited Iceland with his family. Staying at a horse ranch far outside of suburbia, D'Souza was able to explore the natural wonders of the island in a place so different from home, escaping the stress of school. But, D'Souza says he is ready for senior year and is excited for what is to come.
 Emily Augustine (12) // Cover Editor, Graphic Artist, Copy Editor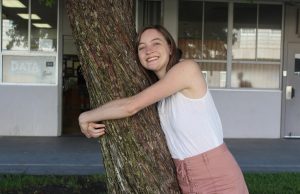 Emily Augustine, senior, is ready to kick off the year as the chief cartoonist of the Panther Prowler. She will be the artist for the majority of the graphics that appear in the paper, whether it be hand-drawn or digital. "Even though I have to wake up early, I'm still really inspired to show up (to journalism) and it's a way that I can publicize my art," she said. Aside from the Prowler, Augustine has found a balance between taking challenging classes and maintaining her interests and responsibilities, something that many IB students struggle with. "I work at Target as a cashier… I play the ukulele and I've been trying to learn that." As she enters her final year of high school, Augustine is excited to take part in the senior experience. "It's still surreal that it's my last year going to a real school before I move away and I'm just going to take every moment as it goes and enjoy my last moments of high school and childhood."
Clarissa Shin (12) // Sports Editor, Graphic Artist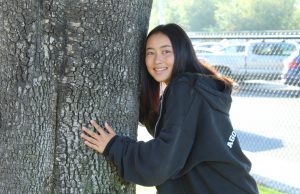 Clarissa Shin, senior, is all about helping people, from the hospital to the special education classroom. Shin aspires to be a CRNA, or Certified Registered Nurse Anesthetist, in her future. She says it is "really interesting to me, and also I really want to go into nursing as a career… I like to help people." Her theme of helping people also includes helping special needs students. In her free time, Shin volunteers in special education programs like Special Olympics and the Unified Sports Club. Even when she was little she "used to go to [her] mom's work and work with the special ed. kids there." Last year, Shin helped in a club that met with students in special education and participated in activities with them, meeting at lunch and after school. Besides helping others, Shin has a passion for gymnastics and circus performing. Although she quit her team several years ago, she said, "I still practice some of my hand-balancing skills and pole and contortion, and just all that acrobatic stuff." Overall, Shin is looking forward to a great year of journalism, practicing her skills, and helping others.
Jacob Malone (12) // Cover Editor, Photographer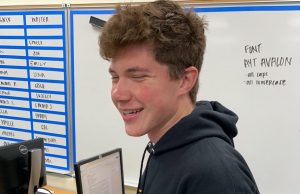 An avid outdoorsmen, Jacob Malone, senior, spent his summer backpacking through New Mexico and unwinding on the beaches of Maui. "It was super fun. Crazy, crazy weather and crazy things we had to overcome. But overall, it was a terrific trip and something I'd definitely do again. So yeah, I like to backpack and camp, all that Jazz. Especially hanging out with my friends," Malone said. Now that school has begun, he is ready to take on the role of designing back cover for the Panther Prowler. Malone joined the staff last year to improve his skills as a writer and as a writer. He has also immersed himself in computer science in hopes of pursuing it in the future. He took AP Computer Science Principles last year and is now taking AP Computer Science A. "I really like the creativity aspect of it. Because in computer science, you're able to be as creative as your mind will allow. So you have to figure out creative solutions to problems, creative ways to incorporate your code into the existing code and figure out ways to make things more functional," Malone said. He plans to apply to college as a computer science major and has bright hopes for the future.
 Manas Khatore (11) // Entertainment Editor, Copy Editor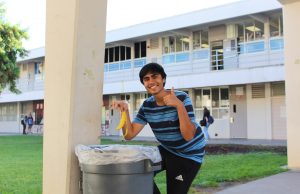 After being selected to play a concerto in February and taking a much needed summer vacation break, Manas Khatore, junior, is heading into his second year on the Panther Prowler staff and working on evolving his writing skills. "My schedule is pretty difficult so I have to make sure to manage my time better and try to push myself but also take breaks if I need to," Khatore said. As an upperclassman, Khatore is taking on new responsibilities, including being Vice President of Mock Trial. "I'm looking forward to working together as a group with the board," Khatore said. While Khatore collaborates with the other members of the board, his dry sense of humor relieves tension when making big decisions for the club. "The tone of my voice is unique because I am very monotone," Khatore said. "It is something I like about myself and I don't want to change." While giving those around him a good laugh, Khatore is also willing to contribute his knowledge as an upperclassman to help others. "I kind of like that responsibility and being able to kind of take control and be a leader and help other underclassmen," Khatore said. " I am excited for this year and next year."
Jessica Zhou (11) // DPS Editor, Photographer, Online Editor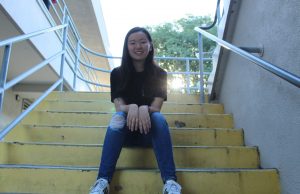 Before living in California, Jessica Zhou, junior, lived in China for quite a while. Living in China from fourth grade up to the summer before her freshman year of high school meant that she had to get used to the culture in China, which is far different from a suburban life in Newbury Park. "There were a lot of obstacles in the difference of culture, and my English was not as good because I missed like five years and missed out on the Newbury Culture" Zhou explained. In order to meet new people, Zhou joined activities inside and outside of school. "I joined the Prowler… There's some activities outside of school that a lot of people do who go here. For example there is this Medical Explorer Post… where students get to explore the medical field. I also volunteer at Los Robles every Tuesday," Zhou mentioned.
Carter Castillo (10) // Opinion Editor, Copy Editor, Online Editor
Since first joining the Prowler, Carter Castillo, sophomore, has excelled in his balancing act. Outside of writing for the Prowler, he juggles being co-president of debate club and historian of mock trial, despite only having done both for only one year, and playing tennis.Carter also has "impeccable fashion sense" and loves visiting Costa Rica, where he's from, every single year. This year, his visit will include visiting his family and traveling around in the nature preserves with them. Within the Prowler, Carter's articles have garnered attention and recognition and he has gotten the opportunity to speak at board meetings. "People know the Prowler for being kind of daring; it's the kind of paper that's not afraid to go certain places," and Carter couldn't be more excited to go those places, and more, in this upcoming year as opinion editor of the paper.
Emma Schoors (10) // News Editor, Photographer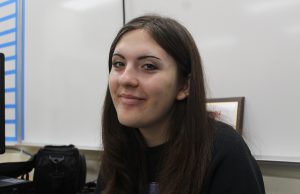 With a love for philosophy, forensic science and the horror genre, Emma Schoors, sophomore, certainly has a lot of interests that give her plenty to write about on the Panther Prowler. Schoors has been on staff for almost a year, and acts as the resident music expert. "Basically the only thing I do is go to concerts and search for new bands to listen to," Schoors said. The Beatles were the first band she fell in love with, in second grade, and she was able to see band members Paul McCartney and Ringo Star in concert. This experience launched her passion for live shows and 60's and 70's classic rock, her favorite music genres. Schoors is not just into old music, but also anything antique and she enjoys collecting records, joking that "in about twenty years, it's inevitable that I'll be on one of those hoarding shows." Along with these interests, Schoors is fascinated by politics and passionate about human rights. This year, she hopes to write more politically focused articles as well as more music pieces.
Abby Gorman (10) // Staff Writer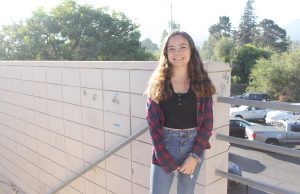 Abby Gorman, sophomore, enjoys working with and teaching kids at the Discovery center.In the past, she has worked and volunteered at preschools and science programs for little kids. She is also a new staff writer for the Prowler this year, and decided to join because a lot of her friends were on the staff. She also likes to write and wanted a place to apply that passion. "I want to get better at writing stories versus fiction or poetry, and I think it's a good opportunity to get more educated in the things around school and in our communities." Gorman is entering her second year of high school, and is hoping for a good year. "I just really want to try my best, because I'm going into this school year with a lot more goals versus freshman year, so I'm just hoping that I'll be successful." Overall, Gorman is a caring person and hopes to major in criminology in college. "I think I'm really passionate about helping other people, it sounds cheesy, but I think it's really important to use the opportunities that you have and put forth your effort if you want to get things done."
Reese Kelem (10) // Photographer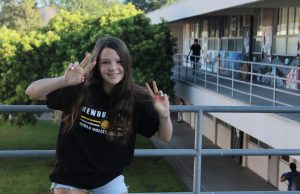 Reese Kelem, sophomore, has a passion for volleyball and plays on the school JV team. Kelem has been involved in club volleyball for five years and practices every day of the week. "I started in sixth grade with the school and then I went to club and started doing it for the high school," Kelem said. While Kelem describes herself as athletic, she has also discovered a hidden artistic talent. Kelem was inspired to paint through an app called TikTok and works on painting cartoons and sunsets on various items such as phone cases. "On my desk I did vines with flowers growing all over them. Sometimes I'll do cartoons, I'll paint on cases or something for fun. One time I did a painting on the bottom of someone's Crocs, it was a squashed plankton," Kelem said. Recently, Kelem has supported her love for writing by becoming involved in journalism. When she saw the Panther Prowler and heard more information about the course, Kelem was interested in joining the staff. "I've always really enjoyed writing, especially on opinions, arguments, and learning about my community and I thought this would be a good fit," Kelem said.
Sarena Kabir (10) // News Editor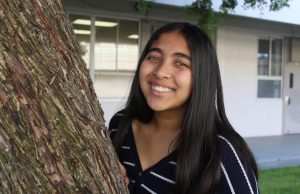 Sarena Kabir, sophomore, is ready to challenge herself to become a new person as the school year begins. Looking back on her first year in the Panther Prowler, Kabir only knew a few friends and found it hard to talk to people. This year, Kabir wants to become more approachable and get to know more people. "I feel like I kind of make people scared because I can be really loud, but I kind of just want people to know, just approach me and say hi," Kabir said. While Kabir sets her goals to talk to more people and become a better public speaker, she also looks forward to spending the new year with music. Kabir is entering her second year playing the violin in the school orchestra. "Music is something that has always been important in my life because it has been with me for so many years," Kabir said, "(music) kind of like stuck with me through the hardest times." Kabir is excited to be part of the Panther Prowler again and wishes to become a better page designer as she continues through this year. "(Panther Prowler) did help me last year in being able to approach people and I would like to expand on that and not be as shy," Kabir said.
Prasheetha Karthikeyan (10) // Features Editor, Copy Editor, Online Editor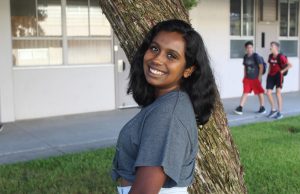 Prasheetha Karthikeyan, sophomore, was the MVP of Newbury Park's Mock Trial team and is entering her second year as a Prowler staff writer. Participating in extracurriculars plays an important role in her life; Mock Trial and karate being the most impactful. "It's become a really big part of my school career and my life in general. It's something I enjoy and gives me a lot of motivation, even when season's over." In her past year of writing for the Prowler, Karthikeyan says she has learned a lot more about how to communicate efficiently with others. "Sometimes you have to work with another person that you might not necessarily know, or reach out and interview someone you're not comfortable with. I have learned a lot about going out of my comfort zone being on the Prowler." After high school, Karthikeyan plans on attending a four year college and going into a field related to law or sociology.
Adalia Luo (10) // Staff Writer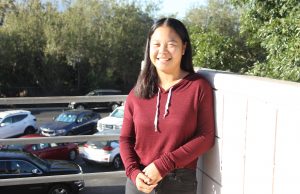 Adalia Luo, sophomore, is a debate enthusiast and has traveled all the way to Mount San Antonio college in Walnut, California, for tournaments. Luo has been quite successful in her ongoing debate career, having made it to the final round for state qualifiers as a freshman. She went undefeated and received the best speaker award in her first tournament of the year. "I have been doing debate for two years know, and as I took a leadership position in the club I have a deeper understanding of the club," Luo said. Adalia joined the Prowler at around 9:00 PM the day before school started. She has always said she enjoys English and thinks that she is strongest in that subject. When receiving an inquiry into joining The Prowler, she said, "Bro I'm kinda down", and later once she joined the club, she said, "It is a really small group this year, but I am very excited to make a lot of new friends."
Gwen Buchanan (10) // Staff Writer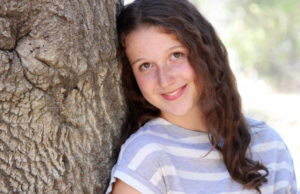 Since a young age, Gwen Buchanan, sophomore, has been writing short stories, encouraged by her mother to develop her writing abilities. These relationships are what Buchanan treasures most, believing that, "it's really important to have strong relationships to help guide you and support you," something she and her family practice for each other. In fact, one of her favorite memories is with family, spending a day with her mom and the rest of her family at the Ventura County Fair when she was ten. It was a special day, and that memory, "always just stuck with me," said Buchanan. Today she enjoys not only writing but a majority of other hobbies, including theatre productions, water polo, and swimming on her school's swim team. Whatever she does and wherever she goes, Buchanan remains smiling, full of optimism and energy. "Honestly I can be happy as long as I'm in the sun somewhere," she said. However, the written word still has a strong pull on Buchanan's mind, joining this year's Prowler staff after many years of English classes and an Intro to Journalism class. "I love writing because it's such a great way to express your thoughts without getting choked up in the moment," said Buchanan. "You can choose what you write, how you write it, tell different stories, entertain people, but also make them look at things from another point of view, which I think is very important."
Anna Johnson (10) // Staff Writer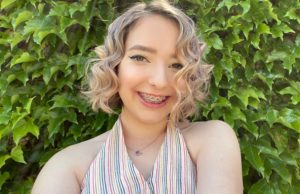 After taking a summer writing camp and then the Intro to Journalism class earlier this year, Anna Johnson, sophomore, decided to join the Prowler staff, and is currently a staff writer. Along with writing for her school paper, Johnson engages in the visual and performing arts; she loves painting, nail art, and singing. "I like to paint because it's really relaxing," Johnson said. "It makes me happy because I love flowers so I like to paint a lot of flowers". Someday Johnson hopes to find a career within her two passions: writing and baking. "I might want to have a day job with writing and then open up a bakery on the side" Johnson said. Film writing is especially appealing to her, "what seems really fun for me now is writing for TV shows or television." Johnson said. "It would be really rewarding to see your work done on screen and see it interpreted."            
Michelle Saremi // Adviser
Michelle Saremi has been advising journalism for 11 years, all of which have been at Newbury Park High School. Prior to coming here, Saremi taught at California High School and at a middle school in Santa Barbara. Saremi enjoys advising her students on the process of creating the paper and seeing the staff's pride in their work. This year, Saremi hopes to see strong writing, original designs and a strong moral compass for the entire staff, with all of these components coming together to create pieces that will bring the Panther Prowler to the next level. Other than her dedication to the Prowler Staff, Saremi plays flute, with her favorite style being Baroque Classical.
---
Former Editors-in-Chief:
2018-2019: Clare Wang & Connor Keep
2017-2018: Lindsay Filgas & Caitlin Henderson
2016-2017: Victoria Juan & Nina Chiuchiarelli
2015-2016: Adrianna Robakowski & Shreya Chattopadhyay
2014-2015: Grace O'Toole & Courtney Brousseau
2013-2014: Cassie Stephenson & Patrick Rewers
2012-2013: Rachel Cross & John Dichirico
2011-2012: Sophie Li & Maia Laabs
2010-2011: Shannon Alavi & Melissa Han
2009-2010: Kylie Foo & Larisa Owechko
2008-2009: Katherine Light & Naveen Balan
2007-2008: Mark Alphonso & Katherine Light
Former Chief Photographers:
2018-2019: Emily Nagamoto
2017-2018: Megan Vlietstra
2016-2017: Caitlin Henderson
2015-2016: Samantha Meyers
2014-2015: Samantha Meyers