Student vs Teacher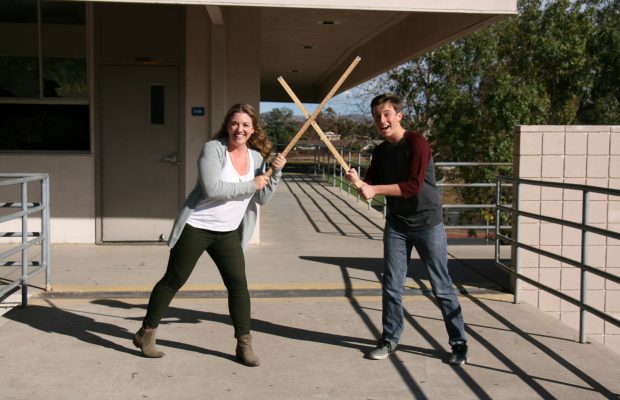 Noah Varav, senior, VS Tiffani Coull, history teacher
What is the deepest part of the ocean?
Varav: They dropped Megatron in it at the end of the first Transformers movie, it's a trench…
Coull: Hold on… Continental Basin?
Answer: Mariana Trench
Transformers can't help you now, Varav.
0-0
Which city won the 2017 World Series?
V: Houston
C: Houston
A: Houston
Just like the Astros won their first ever World Series, Varav and Coull each got their first point.
1-1
Which iced tea is named after a famous golfer?
V: Arnold Palmer
C: Arnold Palmer, it's an iced tea, lemonade combo.
A: Arnold Palmer
Who knew beverage trivia would be so popular?
2-2
Which dog breed is the most popular in the United States?
V: Golden retriever/ yellow lab
C: It's either a lab or a golden retriever… I'll go with golden retriever.
A: Labrador retriever
Should have gone with option A, Coull. Everyone knows A is always the answer. Both were close, but not accurate enough.
2-2
What style of art is Andy Warhol most known for?
V: The style! The Campbell's soup can things… pop art?
C:Pop art.
A: Pop art
The American artist was one of the most well known during the art movement of pop art, the soup can painting being his most famous.
3-3
Who is the girl with telekinesis powers in Stranger Things?
V: Eleven
C: Why can't this be a Game of Thrones question? She's played by Millie Bobby Brown… I just don't know.
A: Eleven
Varav pulls ahead, possibly for the win? Sorry Coull, maybe a GoT question next time.
4-3
Which country does the term "deja vu" come from?
V: Geez, I wish I had studied for this. Germany.
C: France.
A: France
And Coull has tied it up. Her geography and language skills are on point.
4-4
What is Harry Potter's middle name?
V: James.
C: It was his dad's name… James! James! James!
A: James
Although extra points should be awarded for enthusiasm, Varav and Coull end on a tie.
5-5