Students embrace their Chinese Culture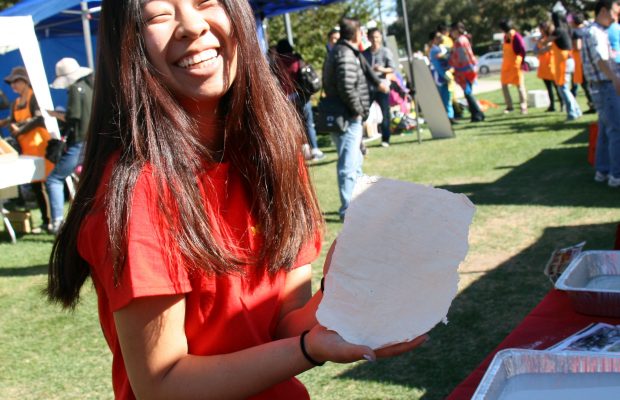 On the lawn of the Thousand Oaks Civic Arts Plaza, the Conejo Chinese Cultural Association (CCCA) hosted their annual Chinese Culture Day, welcoming the town to learn more about their heritage while also supporting their association. Grace Hsu, senior and part of Chinese club, has been involved with the festival since its beginning, and believes that it is important to teach others about Chinese traditions.
"The Chinese festival here is about showing people, not just people from Chinese club, showing people all around Thousand Oaks, what our Chinese culture is all about and what we are known for," Hsu said.
Brian Xi, senior, and Kevin Chen, senior, were also involved, coming as volunteers from the Chinese club on campus with Hsu. Although the festival is considered a service project for the club, for them it means so much more than the volunteer hours, and they enjoy their work.
"It is (a) really interesting station that we are in charge of. We are doing paper making. It's really fun," Chen said.
Just one booth out of more than 20, the paper making station had participants create their own sheet by collecting paper pulp on a wood and wire frame, pressing it dry and laying it in the sun to dry. Not only was there different color options for the paper, but paper makers could also take their final products home, and many, like Chen, found it "really interesting." In addition to this station was face painting, origami and even calligraphy, which exhibited traditional Chinese characters made hundreds of years ago. One of the tricks the booth could do was translate English names into Chinese characters and create the calligraphy for them for free.
The CCCA puts on other cultural awareness days throughout the year, including the end of the year Chinese Festival and the Chinese New Year Festival, and the Chinese club volunteers at them all. Meeting on Fridays in B11, the room of Jing Hu, Chinese Teacher and club advisor,  Chinese club members discuss their heritage and plan for each of these events. Currently, according to Xi, club president, the club is preparing a cultural dance performance for the New Year festival, and they are looking for participants.
"If you want some free CAS hours, if you want to volunteer, come to Chinese club and ask about the Chinese New Year performance, because we want volunteers for that," Xi said
Xi claims that the reason he became president of the club was to show others his heritage and to embrace his culture in another way.
"I was one of the original members," Xi said. "I felt like people should be proud of their heritage, so I wanted to show my heritage in being president of Chinese club."
Honoring her culture is an important part of life for Hsu as well, and she wants to spread the message of the significance of celebrating one's heritage and keeping it alive.
"I really like it when people do that, because you are living here in America, but you are still embracing what your culture is," Hsu said. "I feel like that is a really nice thing because we get to keep this culture even if we are in America, we can keep this culture going for further generations."