Students paddle to victory in first annual boat race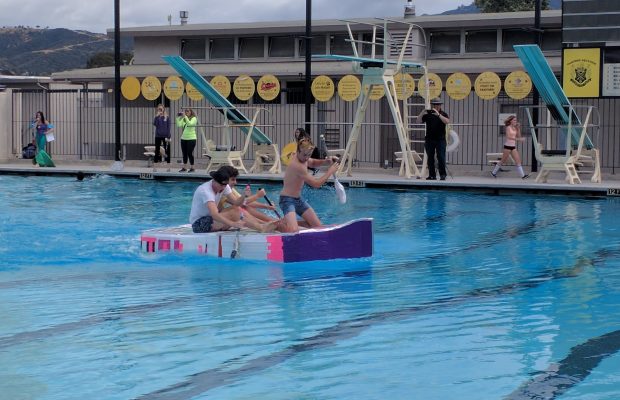 Splash! Suddenly, the NPHS pool is filled with handmade cardboard boats and their creators. The race is on!
On May 26, 31 teams participated in a new event- the Boat Races- designed to replace the annual PowderPuff football game.
"I was disappointed about hearing that this will be replacing PowderPuff, however I think that this [Boat Race] is going to be a super fun event and I'm actually really excited that it will be happening," Rachel Brown, senior, said.
Brown was part of the team that decided what should replace PowderPuff. The old event did not correspond with the policies of the new superintendent or the school board.
"Without PowderPuff being not allowed, this event probably would not have had the time in the calendar to be accomplished," Brown said.
The participants in the Boat Races are required to build a boat entirely out of cardboard and duct tape. Then they have to get into the boat and race across the pool, winning points for being the fastest across, best theme and best dressed.
"Making sure that the boat doesn't take on water is the first thing you have to worry about," Ryan Barry, junior, said. "Getting into it is going to be a struggle because it is just cardboard and duct tape and can easily tip over or completely crumple under your weight."
This event is primarily for physics students who want to participate for extra credit but is open to everyone else to participate as well. Barry and his partner, KJ Koo, junior, heard about the event from a teacher.
"Its supposed to be for upper classmen but sophomores are allowed to do it this year if they are in Physics because you can get extra credit," KJ said.
Brown, with the exception of also getting extra credit from the race, is participating to have fun and to spend time with her friends.
"I have two partners – Sophia DiCesare and Olivia Diliberti; they are my friends and easy to get together with. We won't sink the boat because we are all short and small," Brown laughingly said.
As teams are made, team names are also created varying from funny names to serious winning names.
"We just looked up boat puns and decided to go on "ship faced"." Barry said. "It has nothing to do with our boat."
Other teams connected their boat name to the number of team members that they have.
"We added one more member to our team so my original dynamic duo team name could not work therefore," Brown said. "We are currently coming up with a new team name that has not been decided yet."
Five to six students participated in each heat. At the end, the winners of each heat faced off against each other for the championship. In the end, Gannon Tovey and The Naughty Boys took home first place overall.
"[I] hope that this will be an annual event going forward." Brown said.