Students race in their own boat creations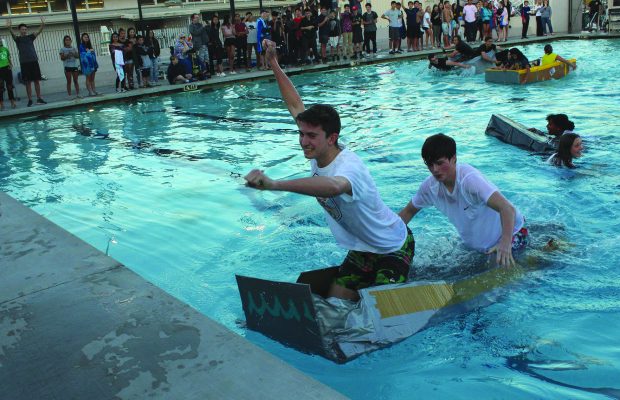 Sitting in precarious contraptions of cardboard and keeping their opponents in the corner of their eyes, voluntary students competed to be the first to cross the NPHS pool in the second annual boat race on Dec. 14.
ASG first implemented the idea of hosting a boat race last year as a replacement for Powder Puff, and expanded the qualifying participants this year to include any high schooler.
Competitors formed teams of up to three people and were tasked with the challenge of constructing a boat solely out of cardboard and duct tape that would be able to carry all the members of their team across the pool.
However, even if a boat was not the fastest, it could still win other awards.
"One category was the fastest boat, which was the winner of the final heat. Then we did three other awards: most decorative, most creative and nice try award, which is given to the boat that finished first of their heat, but collapsed in the middle of the race," said Katie Rose, junior and part of the athletics commission in ASG.
The incentive for the majority of the participants was extra credit offered by their teachers, but they did not end up seeing it as a dull assignment.
"I participated for extra credit for science and also because it was fun. I watched them last year when my friend did it and it looked like a good time," said Aiden Bensink, junior.
Both students and parents alike enjoyed the spectacle of boats dissolving and competitors falling, but hours of work on both ASG and the participants' side went into making the event possible.
"There's a lot of forms that are involved, like work orders and activity forms…We had food trucks there and we had to figure that out with contacting those companies and businesses," said Rose.
Bensink and his partner Braden Fadler, junior, invested 10 hours into their boat called "Cherokee Indians," which paid off when they won the race as the fastest boat. They attribute their win to their solid base and innovative design.
"We just made sure we had a really strong foundation, which was the main part, and then we built everything around our foundation," said Bensink.
"We used these long cardboard tubes and a lot of people thought that we had floaties or pool noodles wrapped in duct tape, but if they would've felt them they were as hard as a rock," said Fadler.
The second-fastest boat named "Bullship" was built by Victoria Dzeciol, junior, and Audrey Washington, junior.
"We spent a solid day on it. We tested it out the first time and then after that we added four more layers," said Washington.
They also had a clever strategy regarding the construction of their boat. "It's a rectangle with a pointed tip in the front to make it hydrodynamic," said Dzeciol.
Dzeciol and Washington state the splashing of water as the culprit in their loss.
"Someone threw a ball at us, so the water got in and then it just made us sink," said Washington.
Although it is nearly impossible to feel confident before competition day, both teams went into the finals determined and confident.
"At first we just wanted to make it (across) and be done, but then when we made it to the final round, we were like we have to win now," said Dzeciol.
"The day before, when we were making finishing touches on the boat, we didn't think we were going to win," said Fadler.
"After the first heat, because we noticed that we destroyed in the first heat, we were like yeah this is going to be easy," said Bensink.
Bensink and Fadler plan on defending their title next year and warn future boat racers, "Watch out for next year."