Students weigh in: Do SAT bootcamps really help?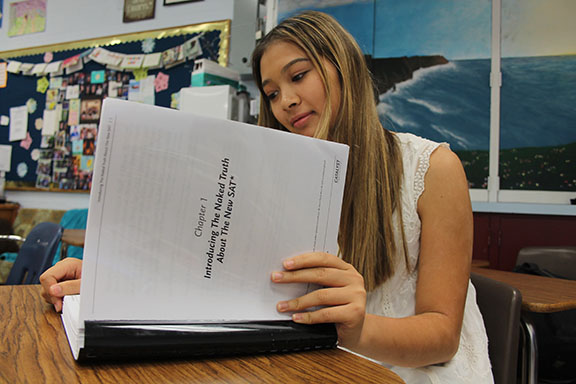 A thumping heart and panicky breathing will probably seize you when you hear the word "SAT." The strive for success and getting into college is the main motivator for many high school students. Many have utilized SAT bootcamps to help them achieve this goal, but are they as helpful as they claim to be?
Amaan Kazi, senior, took a seven week course at Elite Educational Institute last summer in Thousand Oaks. It entailed a practice test every week, alongside with many practice workbooks.
"We worked on specific issues we had and specific questions," Kazi said.
Going into the actual test, "I was really worried about my score," Kazi said. However, his score immensely improved thanks to the prep course.
He believes that the bootcamp helped him feel more prepared for the test and that "overall, it helped a lot." Kazi said he had a great experience with Elite and would recommend it to others.
Tam Le, junior, considered herself the "worst-preparer" but felt confident after taking practice SATs with the help of a program called Catalyst.
"They gave you a book with all the tips and tricks, and the tutor is also really helpful and relatable," Lee said.
The program has private tutors, whom Le utilized to her advantage. Prior to the tutoring sessions, Le felt like the PSAT was difficult. However, after working with the Catalyst program, she felt more prepared, and "knew what the question was asking."
"It shows the secrets of the SAT," Lee said.
She felt like she didn't have to study outside the bootcamp, because Catalyst prepared her so well.
"Before I did the camp I had no idea what [the SAT] wanted from me," Lee confessed. With the help of Catalyst she now feels confident in her abilities.
Annie Sun, junior, took not only one, but two SAT camps. The first one was an eight week course at Jeng Academic Center, and the other was at Elite, where she continues to take practice tests.
"The practice tests I took were a lot harder than the actual SAT," Sun says.
Sun praises the teaching and training done at Jeng, saying she even felt "over-prepared." The eleventh grader also took a course at Elite to further boost her learning.
"Both [SAT camps] are really helpful," Sun said.
Even though the summer of SAT prep was exhausting, it left her confident and prepared.
All students felt that their SAT program not only prepared them to improve their scores, but prepared them mentally as well.