Take life one wave at a time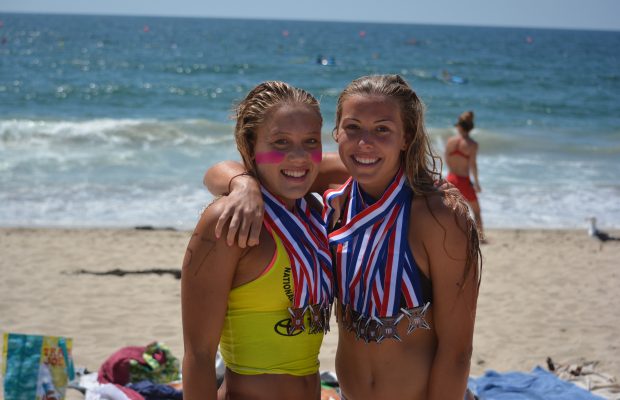 Almost everyone has been to the beach and for many it is their "happy place." Yet for the lucky few, the beach is where they come to work everyday. Holly Maine, senior, hopes to make the beach her office as she trains to become a lifeguard.
"I am hoping that will be my career…  I am definitely going to be a lifeguard for as long as my body will let me keep doing it," Maine said. At her test to be an ocean lifeguard on Oct. 21, she placed 25 out of 300, the fifth female to finish and one of the youngest to tryout.
Her journey in the water started when she was young, learning to play water polo when she was 11-years-old, which she currently plays at NPHS. This is where she met Delanie Lavacude-klenck, senior and fellow waterpolo player. Despite starting on different teams, they became close, and Lavacude-klenck has watched Maine's progress in the water.
"She has a really good work ethic," Lavacude-klench said. "She's really experienced… (and) I think she just really enjoys it."
Maine's real passion, however, was found when she joined the junior lifeguards at Zuma Beach in fifth grade and went to the lifeguarding competitions.
"I immediately found the competitive side (of lifeguarding)," Maine said. "I won on the paddle board (event) at nationals, and I (thought) 'Oh my gosh, I didn't even really train for this, if I trained I could do so much …  I really want to put my time into this.'"
It was sophomore year that these competitions became her entire focus, as she thoroughly enjoyed the events like swim relays, board paddling in the ocean and her ultimate favorite, the "iron man," or "iron guard," which combines swimming, paddling and an event called surf ski, Maine describing it "like a big ocean kayak."
Placing at nationals brought her a new opportunity: competing on the USA team for international lifeguarding competition. According to Casey Graham, the volunteer head coach of youth national team for the United States Lifesaving Association, Maine is the only person in the country who has been on the team for four years in a row. He credits her dedication as being a key factor in her success.
"She is just very dedicated and driven. She knows what she wants and she knows how to get it, so when she decides that she wants to be a champion, she becomes a champion," Graham said.
Maine has been to international competitions in three countries so far: France, Australia and the Netherlands, and this year she is going to New Zealand. Graham predicts she'll do "very well."
In addition to the competition aspect, Maine likes exploring the different places that the competitions have been in, and racing against different people.
"It's just really cool to travel to all of these places and meet these people who have the same passion as me," Maine said. "Most people at this school probably don't even know that lifeguarding is a sport… I just wish it was bigger here."
She wishes the same thing for junior lifeguards, calling it "the best program (she's) ever done," hoping other kids will join the summer program.
Maine trains three hours daily, describing it as "like death… basically just going hard for three hours." However, this hard work had its drawbacks, like not being able to take AP classes because of the long trips, although Maine believes it is worth it. Lavacude-klenck also thinks that it paid off in the end.
"I think it's fantastic that she has accomplished so much," Lavacude-klenck said. "She really is a good role model to everyone."