Talk the Talk: CVUSD students inspire at TEDxConejo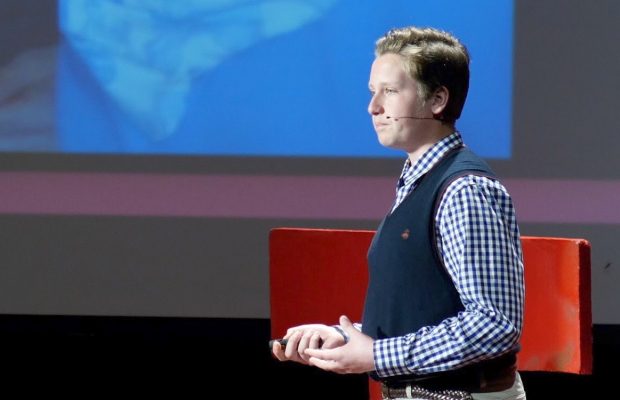 The lights dimmed in the Thousand Oaks High School Performing Arts Center as students from throughout CVUSD prepared to take to the stage to deliver talks to the people of Conejo Valley and beyond.
TEDx is a program that allows volunteers from the community to tell their stories or share their culture in a suite style of talks. TEDxConejo, an independently organized event in the Conejo Valley, took place on March 18 and included students from across the district.
For Andie Huff, senior, the event allowed her to discuss her experiences following her mother's passing.
"I basically just talked about the reactions I got when people found out my mom died. There were a lot of people who were really supportive and a lot of people who tried to be supportive, but it came out the wrong way, because they just didn't know how to," Huff said. "I just talked about my experience with that, so people would know it's okay to comfort people."
Huff's goal was to increase understanding of experiences like hers. "I really just hope that people will understand that it is okay to talk about this type of thing," she said.
Huff loved every minute she spent in the program, from her audition to her time on stage. "The event itself was a lot of fun. It was really nerve-wracking," Huff said. "Everyone who gave a TED talk was super unique and different, and I think that getting to hang out with them all the time was a really awesome experience."
After speaking at the event last year, Shane Everitt, senior and co-chair of TEDxYouth, played a role in organizing TEDx.
"We tried things last year that didn't work out as well," Everitt said. "But this year we reinvented the whole event itself. We worked to really improve the speakers' talks and grab the different topics that we could get."
The "reinvention" of the event this year included having a wide variety of topics on the stage, as well as the co-chairs working one on one with the speakers prior to their talks.
Everitt has been interested in TED talks since she was young.
"I grew up watching them, and then there was a speaker who spoke in 2016. I watched his video on Youtube and thought 'I want to do that,'" Everitt said. Everitt said that if she wasn't a senior, she would without a doubt stay in the program. She believes that the program brings out what needs to be said.
"Individuals can bring so much to the table and that's just what you need at TED. Each talk is different because no matter what you talk about each speaker is gonna hit each and every person in a different way," Everitt said. "They always have a positive impact; I've never heard of a talk that hasn't made a difference."
Gus Gress, freshmen was introduced into the program by his English teacher, who recommended him after hearing his unique insights in class. Gress's talk was about his older sister, who has special needs and what he learned from growing up with her.
"In the ninth grade English curriculum we talked a lot about social injustice and a lot of the characters have mental disabilities. She saw what I was able to bring to the table because of my sister. She thought it would be good for me to get involved in the program," Gress said.
After auditioning to get into the program, Gress worked with Brandon Janes, adviser, to improve his talk and hone in what he planned to address at the event.
"I hope I was able to raise a little awareness about special needs in our community. We have a lot of special needs students at our school," Gress said. "If you see them they are always happy and we can learn a lot from them. Whatever issues we have, we need to try to find a way to be happy."
Maya Ghanem, junior, gave a TED Talk on the relationship between people and  government, a topic inspired by the recent controversy surrounding the CVUSD school board's opt-out policy.
"This year, I went to my first school board meeting to cover the opt-out policy," Ghanem said. "I decided to get more involved and I started to realize this kind of trend that people are not involved in politics unless there is a major crisis going on or unless it is national thing."
Ghanem hoped that her TED Talk would encourage people to follow local politics more closely and get involved with issues "regardless of the party you are in."
A common belief among all the speakers in the program was to be open and welcoming to all topics, concerns and ideas.
"If you have something to say, this is place to share without restrictions," Ghanem said. "No matter who you are, you can say what you want to say."
All speakers from Newbury Park High School include: Maya Chari on Coral Reefs, Lark Detweiler on Deaf Dancing, Maya Ghanem on Government and the Public, Gus Gress on Having an Autistic Sister, Sam Herbert on Music, Andie Huff on Grief, and James Pratt on Yo-Yo Competitions.