Teachers train for trauma identification within students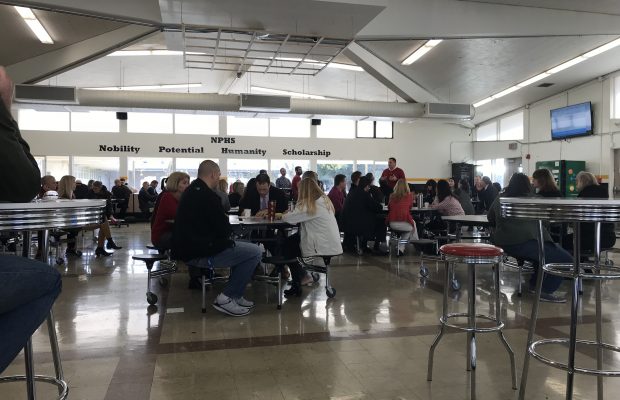 A survey done by NCTSN Child Trauma Toolkit for Educators found that, by age 16, one in four students have experienced some sort of trauma. With this increasing number of students finding themselves in trauma situations, schools have been preparing their teachers to help.
Before school on Feb. 14, the teachers and faculty gathered in the cafeteria to learn about student trauma and how they can identify it in their classroom. Some of the identification signs are changes in behavior, signs of self harm, marked changes in personal hygiene and angry or aggressive behavior among others. Students can become triggered in a classroom when sensitive topics like rape, harassment and abuse are discussed.
Steve Lepire, principal, presented the teachers and faculty with different ways in which they could help students who are in traumatic situations in order to provide help.
"I think that if (it) saves the life of just one student, or it helps just one student out, then we've done our job," Lepire said. "A lot of times we don't know why something happens, but if we can avoid that from happening and the teacher can realize that something's not right or it's just off kilter and they're engaging that kid, that allows them to open up and help the student in a crisis situation."
During his presentation, Lepire called upon Jill Magnante, English teacher, to speak to the staff.
"The main thing that we need to do is continue to make this place a supportive environment," Magnante said. She referred to the staff and administrators as the first line of defense when it came to supporting the students and identifying changes in their behavior. Although teachers and staff members are present on campus to teach students, they also provide a safe place for students to turn to if there is a traumatic situation that they are facing.
"As a high school, our goal is to educate our students and prepare them for college and the world beyond, but sometimes there are things that we need to know about a student in order to help them be successful at school," Kelly Welch, assistant principal, said. "We care about our students' emotional stability, we care about their academic success, we care about their plans and goals for their future and how they can achieve those things."
After students have been identified as being in a traumatic situation, they can be referred to a variety of counseling options, including the school psychologist and private practice therapy offices outside of the school. The school will also provide information to parents and direct them to counselors and advisors who can help them with their situation.
"We have an amazing staff that does this stuff every day and is aware of the students in their classroom," Welch said. "Our hope is that teachers will keep doing what they are doing, continue to be that positive support for students, continue to be a safe place for students."