Tennis underclassmen show promise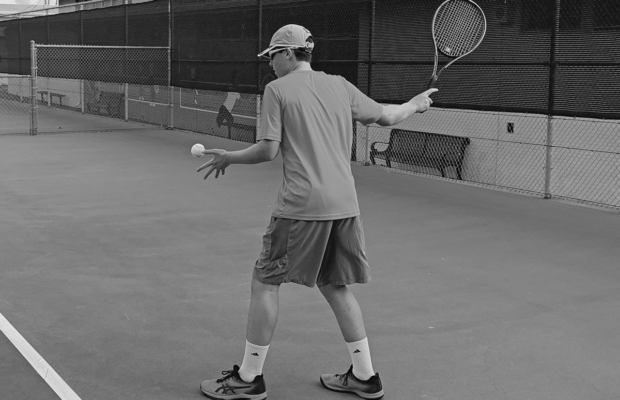 After losing five starting players from last year, the boys' varsity tennis team hopes to carry their momentum from last year forward in the Marmonte League with the support of two key underclassmen: sophomores, Dhilan Patel and Jared Gillespie. 
Both players were starting members of the varsity team as freshmen, and will step into a bigger role on the team as the season approaches in January.
"They are players, like many very good tennis players, from tennis families. Their families were incredibly supportive of them growing up, getting them to competitions and letting them train individually. And because of that support, when they came to this team they both were experienced and ready to compete as freshmen," Richard Kick, head tennis coach, said. 
The team ended their season last year as second in the Marmonte League, and both Patel and Gillespie played a significant part in their success. Patel played as part of the number one doubles team, and Gillespie played as number three singles.
"They have earned the right to be starting varsity players as freshmen. Seeing them progress through the year and for Jared to get to a playoff match against some incredibly tough singles players, and tie back against them. That's amazing," Kick said. 
Both underclassmen feel that their exposure to the high level of play within the league as freshmen will help them during their sophomore season. 
"Last season was really amazing. We had a lot of good players last year, and it was a great experience to watch them. The people from other schools were really good too. So I got beaten a lot, but I also won a lot. It definitely made me better, so I'm super excited for this year," Gillespie said. 
Though the team lost in the first round of CIF playoffs last year, Gillespie was able to get to 6-6 with a very high level singles player as a freshman. Patel was one of four doubles players from Newbury in the tournament and played as the number one seed.
"I know I want to do better in CIF than last year. As a freshman, I played mostly doubles and this year, I expect to play singles. So I know that I would like to get further inside CIF and just the league overall this season," Patel said.
With the season drawing nearer, boys' tennis feels confident in their placement within the league."Because of players like Dhilan and Jared, the expectation is, we're going to be competitive. This year we're going to go in with the attitude that we have as good a chance as anybody to win the Marmonte League title," Kick said. "That's a great place to be right now."