The mall provides a workplace for students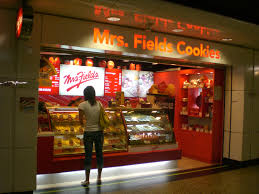 The mall is a popular place for students to spend time shopping and hanging out with friends. However, it also serves as place where students gain work experience and earn money.
Kylee Herbert, senior, has worked at Paw Works, a non-profit animal rescue center that serves areas all over California, as an adoption specialist for the last two-and-a-half months, after previously volunteering for eight months. Herbert enjoys all the benefits the mall has to offer.
"I'd say the best part of working in the mall is being able to go get coffee during my breaks because heaven knows high school students live off caffeine," Herbert said.
Luis Rosales, junior, started working at William Sonoma two months ago. Rosales says his job consists of "opening new shipments, doing trash runs, restocking the shelves, restocking warehouse, helping customers carry out large items, climbing ladders and making stock calls."
Rosales enjoys exploring areas of the mall unknown to the general public. "I get to use secret elevators, secret entrances at the mall and use the trash compactor," Rosales said.
Rory Smith, senior, has work at Mrs. Fields since May 2017 cleaning, making pretzels, baking cookies, working as a cashier, taking out the trash, washing dishes, and working with customers. "My favorite part of working at the mall is that I always see people I know who come and say hi," Smith said.
Working at the mall is not without its stresses. "The most stressful part of the job would have to be when there are several adoptions going on at once because there aren't enough people to help out and we have to make people wait which I know as a consumer can be tedious," Herbert explains.
Rosales' job includes elements of danger that add to the stress.  He cites experiences like "almost dying from the height of the ladders, breaking thing on "accident", scary maintenance elevator (almost broke my arm), finding items that are either lost or never came."
For Smith, the stresses are seasonal. "It can get really stressful and busy around the holidays, the line gets really long, it's hard to find parking, and customers can be rude," she describes.
However, Herbert feels the stress is what makes her job so worthwhile. "The most stressful part happens to be the most rewarding part," she said.