Triple sport athletes do it all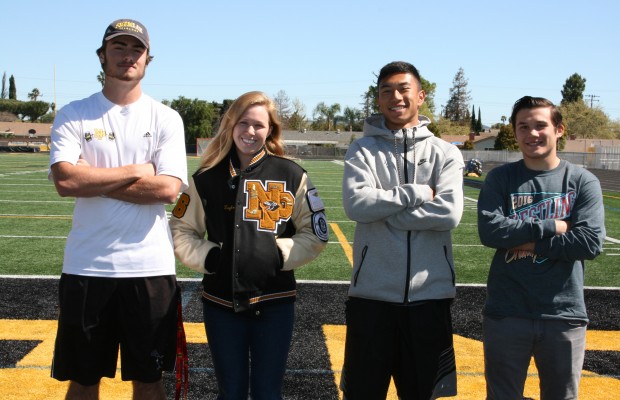 Playing a sport requires skill, dedication, and commitment. The scheduling for one sport can be overwhelming with practice, training, and games. Some athletes balance three sports throughout the school year. Known as triple threat athletes, These players cope with injury and exhaustion  because they love what they do.
Joe Clemen, senior, has been a three sport athlete all throughout his time at the school. He runs and wrestles for the school, and is junior varsity for cross country and track and is varsity for the wrestling.  
Meeting new people is one of Clemen's favorite thing to do. "You get to meet new freshmen and help influence how they are going to be throughout their years. You get to inspire (them), and it's a lot of fun," Clemen said.
Erich Wuesthoff, senior, has been a three sport athlete since freshman year, and plays football, basketball, and lacrosse at the varsity level. Along with the experience of playing, Wuesthoff enjoys the social aspect of being a triple threat athlete.
"My favorite part is meeting all the people. Obviously I have my teams and friends out there, but meeting kids on other teams is fun, too," Wuesthoff said.
Taylor Dederick is one of the only girls at Newbury Park High School who plays three sports – water polo, golf, and swim. "I have been doing three (sports) all four years. I'm the only (female) graduate from 2016 that will be completing the program." Dederick says that her body is exhausted at times, but believes she has adjusted to the physicality of the sports since she has played all of them since freshman year.
For Clemen the hardest challenge of being a three sport athlete is staying healthy. "(It) is really hard, because you get injuries a lot from overworking your muscles," Clemen said. He has had multiple concussions, a pulled hamstring, and an injured calf.
Andrew Noble, junior, is active in a multitude of sports on campus. He plays on the varsity football team  as a wide receiver, a point guard on the basketball team, a sprinter for the track team, and a clearing midfielder for the lacrosse team.
Noble is the only person to play four sports at Newbury Park. He would like to play sports to college. "My dream is to play college football one day. (I want to play) anywhere that's D1," Noble said.
The only thing that may hurt his career is injuries, with which he has been afflicted. He suffered an oblique contusion during football. Wuesthoff has also been affected by injuries, as he was kept from participating in football due to a severe concussion.
Wuesthoff will also be participating in collegiate sports, playing: lacrosse for Saint Mary's College in Maryland.
The athletes believe  playing three or more sports not affects the body, but also makes high school more enjoyable. "It makes the experience (in high school) a lot more fun and awesome," Noble said.
Four triple threats – Erich Wuesthoff, senior, Taylor Dederick, senior, Andrew Noble, junior, and Joe Clemen, senior, pose for a photo, celebrating their achievements as three-sport athletes. Caitlin Henderson/Prowler