Tuning into the news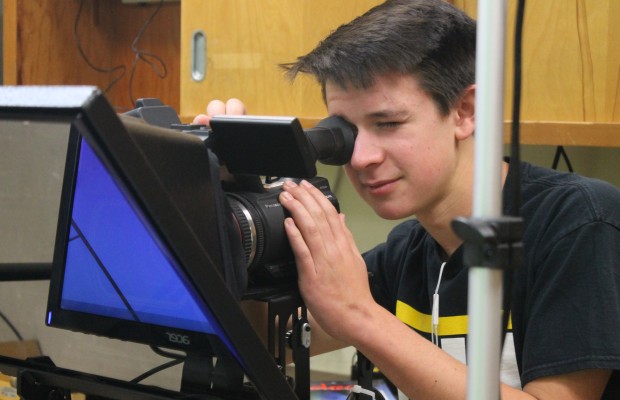 Every Wednesday and Friday during third period, teachers turn their televisions to channel six and await the newest episode of Panther TV (PTV). This year, students were greeted with a whole new set of smiling faces, eager to present the weekly news.
PTV, previously produced by students in Associated Student Government (ASG), is a weekly show that brings students the latest news on campus. Now a fifth period class taught by Derek Grimes, PTV has taken on a whole new style since last year. The class itself has a much larger budget to work with compared to previous years, which has improved by a "few thousand dollars," according to principal Mr. Joshua Eby.
"Mrs. Halpert (ASG advisor) was at a point where she was ready to hand it off," Grimes said. "With the equipment that they had, last year's PTV did fantastic. It was on a shoestring budget … What I wanted to do was take it up a notch and put a professionalism to it."
Grimes explained that he is working to expand the school's video production program, and taking over PTV is one step in that process. After discussing it with principal Joshua Eby, a new budget was decided upon for the Panther TV class. With this, Grimes was able to purchase new equipment such as the editing software necessary to create a professional show each week, also known as a tricaster.
"(Grimes) more or less proposed to me what he needed in order to have good production value and then he kind of selected from there what were the first steps in that," Eby said. "It's probably going to be about a three-year process to really get everything that we want."
This year, the class has been focusing on learning how to properly use the new equipment and create fun segments that still have a sophisticated feel.
"This year has changed from last year because there was only three editors and we had to edit in addition to film, and now this year we have separate people," Steven Owens, junior, said. Owens worked as a PTV editor last year and although he is no longer a part of the class, he still helps in the process of producing each new episode. "We have four people that are solely editors and then we have other people that work the cameras."
In addition to using new equipment, the students have focused on creating a variety of new segments. While some of the segments won't be aired as often, it leaves open spaces for a wider variety of segments to be shown, such as sports, "Off Campus Hot Spots," and "other packages that come in depending on the week," said Andie Huff, an editor of PTV. "Next semester we'll also have Focus on NP."
Grimes explained that although he monitors what is being produced and aired, most of the work and teaching is done by students.
"Some of the reporters are starting to do some of the editing as well. They're learning from our editors. It's kind of a neat thing because students are teaching students," Grimes said. "Over time I start letting them take over and we're about to get to the point to where the show is totally done by students, from start to finish."
Mikey Netka, senior, explained that although his main job is working as an anchor, he has been able to learn about filmmaking and how to use a camera in the PTV class.
"If we do our own package (Mr. Grimes) wants us to learn how to edit," Netka said. "I like that we get to do whatever we want with the show. It's kind of our show."
As students explore these new aspects of the class, the video production program is growing and PTV is becoming a more prominent part of the campus.
"Each episode that you see has a lot of effort put into it," Owens said, "I definitely say that it all comes out great on Fridays, so the effort is definitely worth the outcome."