What Wood Jake do?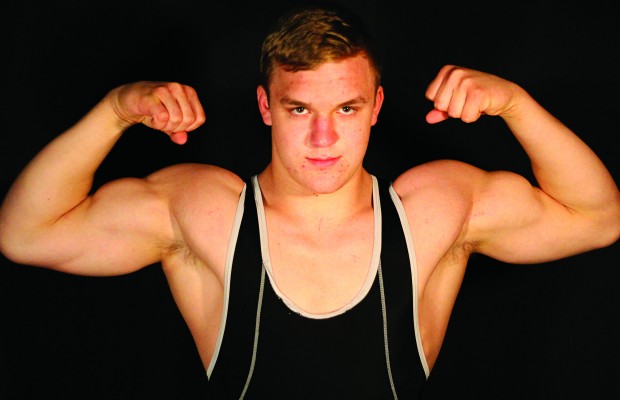 "I don't think he's very good at being a normal person," said Joe Shimamoto, senior and varsity wrestler, about his teammate Jake Wood, senior. After winning the school's first CIF wrestling title since 1992 on March 5, 2016, Wood rose from the mat as "all the other kids there were jumping and screaming," Shimamoto said. The team was celebrating, but Wood just went back to his coaches and "didn't celebrate whatsoever."
Wood's wrestling career began in Feb. of 2010 when he and his father came accross fliers for a wrestling program. Back then, he was a far cry from a CIF title – he only joined the sport in the hope that it would bolster his football career. "I lost every match my first year. After my first year I went to off season all the time and I learned, and that's really what escalated me," Wood said.
The long hours and hard work paid off. "I started to win lots and lots more. I kept that same work ethic and had much more wins than losses," Wood said.  
While it was originally a conditioning tool for football, Wood began to love wrestling, and after two years of playing both, he decided to "build (himself) up in wrestling rather than two sports," Wood said.
But even after he had begun to perform at a higher than normal level, he continued to struggle with the mental aspect of wrestling. "I always kind of thought that my opponent had an edge on me, whether it was strength, conditioning, technique – there was something he had that I didn't have," Wood said. "So I would get really nervous before matches, and sometimes that helped, but most of the time it would just make me lose all of my energy. I had a huge lack of confidence. I'd say I still have a little bit of it now, and that really held me back."
Shimamoto, who has been Wood's teammate for four years, has noticed the effects of Wood's lack of confidence. "He gets nervous really easily and always psyches himself out. So he usually paces around and doesn't talk to anyone to get himself pumped up," Shimamoto said.
Late this fall, in order to cope with the nerves, Wood began a program called Wrestling Mindset. According to its website, the goal of this program is to help "millions of student-athletes reach their potential in sports, school & life."
When he began this program, Wood noticed the positive impact it had on his performance. "I (used to) put pressure on myself because I felt like I had to win because people are there to see me," Wood said. "(Now) I just completely disregard all of that. I just look at the mat, my opponent and the referee, that's all there is. That has brought me a lot of success and victories."
While wrestling is extremely mentally involved, it also takes a physical toll. "Monday, Tuesday, Wednesday you focus on cutting weight and practicing, Thursdays are dual meet day so sometimes (we) run for hours trying to make weight,"  LaDaniel DeGuzman, a former teammate of Wood, said. "Then Fridays we skip school to go for an overnight tournament, and (we) have to make weight both Friday and Saturday. Then Sunday is a recovery day when (we) finish all (our) homework and get to eat whatever (we) want before (we) start cutting weight again on Monday."
Shimamoto also attests to the strenuous physicality of wrestling. "We have to wrestle with zero energy during practice, then go home and not be able to replenish ourselves with food. The hunger rarely goes away and it just makes everything that much harder," Shimamoto said.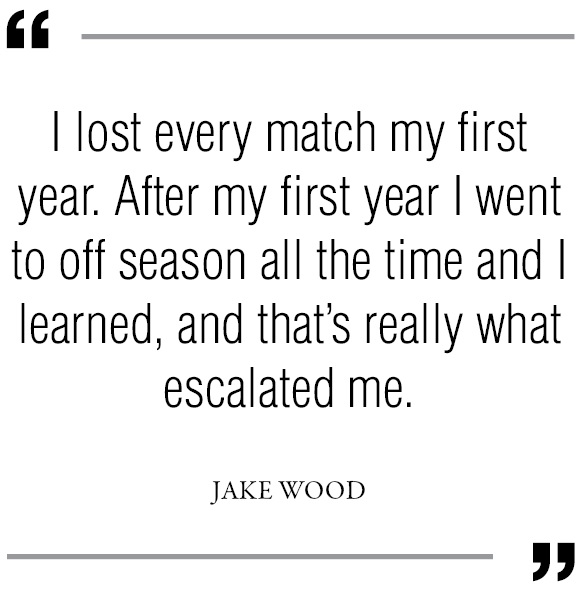 Despite the grueling physical preparations required for matches, Wood still favors the dynamic of wrestling over other sports. "The trouble I've always had is that I don't like when there are some slackers on a team, because that holds the team back from success," Wood said. "So I decided to just put it all on myself and go out there. It's the honesty of the sport. If you put in the work, you're going to get the results."
These results have included not only a CIF title, but have also yielded potential scholarships to various schools. "There are many, many schools that I am interested in that are also interested in me," Wood said. While he has yet to decide which school he will be attending in the fall, the five schools he has narrowed it down to are Hastings College, Briar Cliff University, California Polytechnic San Luis Obispo, San Francisco State University, and King University.
Despite the hardships of wrestling, Wood is excited about continuing the sport at the collegiate level, as well as studying either biology or pre-veterinary medicine. "Right now I'm leaning towards pre-veterinary studies because I really like to take care of animals and I don't like to see them in pain, so that's one of the things I'm interested in studying in college."
Wood attributes his success in wrestling primarily to his evolving mental strength. "It's a very emotional sport, and it's a very mental sport … most people work on their physical side," Wood said. "But given that it's only really 10% physical, where else do they get the mental training? And that's probably where some people don't do as well as they could. It's not because they didn't prepare, it's because they could have better mental strength … wrestling has really taught me how to harness that."
Photos by Samantha Meyer/Prowler