Wicked leaves audiences wonderstruck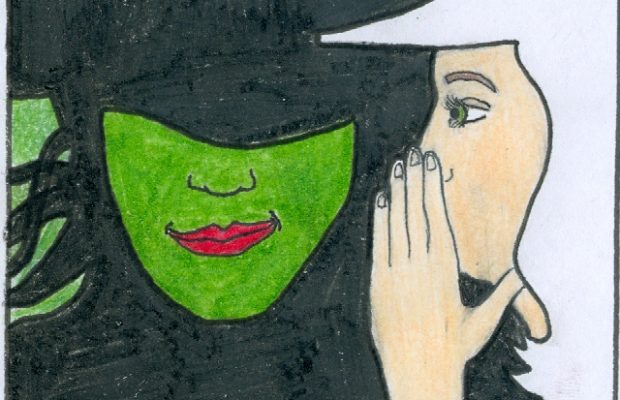 Wicked, a prequel performance to the Wizard of Oz, has been riveting audiences at the Hollywood Pantages Theatre for 15 years, and I was blessed with the opportunity to see the play for the third time on Dec. 13. With catchy songs, witty lines, top notch stage design and a stunningly talented cast, it is, hands down, the best play I have ever seen.
This performance gives insight into the backstory of the infamous Wicked Witch of the West, specifically how she is shaped to be evil due to the way she was treated growing up. She was born with the name Elphaba and was regarded as an abomination since birth. She was also completely isolated by her peers at school, which conveys a compelling message about how neglection can turn a person into a monster.
The other characters which would later appear in the Wizard of Oz, such as the cowardly lion, tin man and scarecrow were all provided with sufficient backstories as well.
Certain characters can make or break the play, and my three favorite ones were executed perfectly. Jackie Burns (Elphaba) had such a powerful voice and nailed the sarcasm when interacting with Kara Lindsay (Glinda). Lindsay was peppy, bubbly and goofy; all the traits that Glinda should be. Not to mention, Jon Robert Hall (Fiyero) was a total heartthrob with his tall, muscular body, smooth voice and overall attractiveness. I follow him on Instagram now.
Packed with political undertones, Wicked is sure to captivate audiences who are not a fan of the cheesy romantic aspect. Glinda becomes a public figure and is forced to smile and wave while all of Oz is trying to kill her best friend (Elphaba). Oz's government also uses scapegoats to blame for their issues, with the government initially blaming talking animals and later shifting the blame toward Elphaba. It is a truly insightful aspect of the play that offers something more than just a series of cheesy musical numbers.
The best part of the play is the end of the first act, which is when Elphaba sings "Defying Gravity" as she rises from the ground. It left everyone shook, just in time for intermission. This song, among others, is stuck in my head all the time.
Wicked is a masterpiece, and I am already excited for the next time I can see it.