Winter (In)Formal: a comparison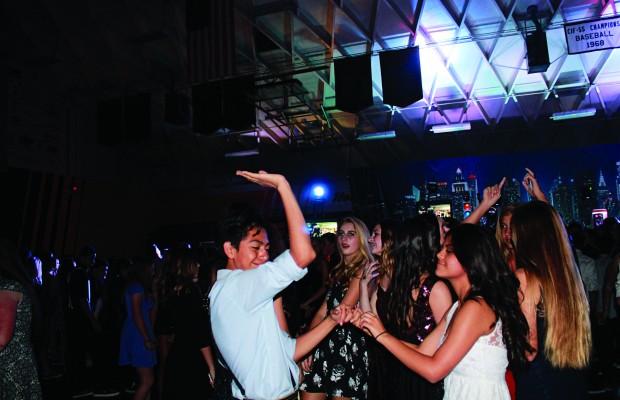 Winter Formal
On Feb. 7, 2015 Newbury Park High School hosted their annual Winter Formal … actually make that Winter Dance (nobody calls it that but let's keep ASG happy). 900 students, primarily from NPHS along with a handful from other schools, attended the New York themed dance (yes, it had a theme), and it knocked their heels off … literally. From having their tic tacs and headphones confiscated to avoiding awkward eye contact with supervising teachers, students overall had mixed emotions. While students almost unanimously gave the formal attire a thumbs up of approval, the music didn't sit well with most and prompted some students, like sophomore Kelson Steele, to say "I will shoot the next DJ that plays The Cupid Shuffle."
Winter Informal
On Dec. 19, the first night of winter break, the Thousand Oaks Teen Center hosted Winter Informal. Josh Eady, senior threw the dance and was the leading DJ. About an hour before the dance, teen girls slipped on their white daisy dukes while boys put on everything white in their wardrobe, preparing for a night under the black light. The dance sold 250 tickets, and made about $2,300. After all of the expenses were paid to the Teen Center, there was $750 profit.  Eady donated $450 of that profit to the senior class of Newbury Park. While the dance was similar to a normal high school dance, featuring mainstream music, and there was no dress code. "It's not a traditional high school dance," Dylan McNey, senior, said.
ATTENDANCE
WF: Although not as packed and sweaty as Homecoming, Winter Formal (or Winter Dance … whatever floats your boat) came in pretty close with 900 attendants.
WIF: Honestly, half the dance floor was empty. But hey, that's what you get with 250 attendants.
WINTER FORMAL WINS
SECURITY
WF: The security upon entrance was fairly relaxed, without thoroughly checking students' possessions.
WIF: The security was uptight and irrational, confiscating perfume, lipgloss, headphones, chapstick, lanyards, tic tacs, and more.
WINTER INFORMAL WINS
ATTIRE
WF: The ladies were in "formal" dresses with their hair and makeup done. The gentlemen suited up with slacks, button up shirts, bow ties and ties, and occasionally a nice vest.
WIF: The girls wore short white daisy dukes or spandex along with a tank top while boys threw on anything white in their wardrobe.
WINTER FORMAL AND INFORMAL TIE
LOCATION
WF: As always, Winter Formal was hosted in the NPHS Gym, complete with its usual dance floor and decor.
WIF: Winter Informal was hosted at the Thousand Oaks Teen Center.
WINTER FORMAL WINS
MUSIC
WF: The music was terrible for the first hour, alternating between dated and not-danceable songs like "We Can't Stop" by Miley Cyrus and "Rude" by MAG!C.
WIF: All of the music was mainstream and sounded the same, but some people seemed to enjoy it.
WINTER FORMAL AND INFORMAL TIE
TICKET SALES
WF: Ticket profits go directly to ASG for the benefit of the entire student body.
WIF: Senior Josh Eady, the brains behind the dance, gave over $400 to the NPHS senior class.
WINTER FORMAL WINS
BREAKS
WF: If someone was in need of a break, there were couches available right by the dance floor, but there were only a few chairs outdoors.
WIF: If the attendants wanted to take a break from dancing, there was a room available specifically for games such as pool, ping pong, and other video games.
WINTER INFORMAL WINS
GETTING IN
WF: Guest students were required to have a pass provided by an NPHS student to attend the dance.
WIF: The dance was open to any high school student.
WINTER FORMAL WINS
SUPERVISION
WF: Teachers prowled the back of the room watching for illicit behavior. However, students managed to pull off crude dancing despite supervision.
WIF: The only difference between middle school Teen Center dances and Winter Informal was that they didn't shine a flashlight in your face when you were grinding with someone. In short, students danced crudely without
WINTER INFORMAL WINS
DANCING
WF: Teens were dancing all around the gym, but there was an incredibly tight cluster in the center of the dance floor.
WIF: Teens were dancing behind the DJ station, in clusters on the dance floor, and on the tables.
WINTER FORMAL WINS
FOOD AND DRINKS
WF: The snacks laid out for the students were cookies, brownies, and goldfish. For refreshments, a straight-faced group of parents handed out dixie cups of ice water.
WIF: The snacks available included licorice, pizza and a various selection of chips. Also, there was water on a table for anyone who got thirsty from all the dancing.
WINTER INFORMAL WINS
THEME
WF: The theme was New York … which very few people knew. The only decoration was a backdrop of New York skyline.
WIF: The theme was white out. Everyone there seemed to be aware and had fun dressing up for it. A few people even wore white masks.
WINTER INFORMAL WINS
OVERALL EXPERIENCE
WF: With more attendants and excitement leading up to the event, students appeared to be having more fun overall. Consistent advertisement created enough hype to last months in advance, as well as planning dates and matching outfits. Winter Formal was more personal, yet still had a wide variety of people.
WIF: The music was rather monotonous, but the theme had a great reaction, with most atttendants sporting white outfits. In response to the dance, it was a hit or miss… mainly a miss. On the bright side, it was something new for the kids of Ventura County to enjoy.
WINTER FORMAL WINS