Young man, young students unite for music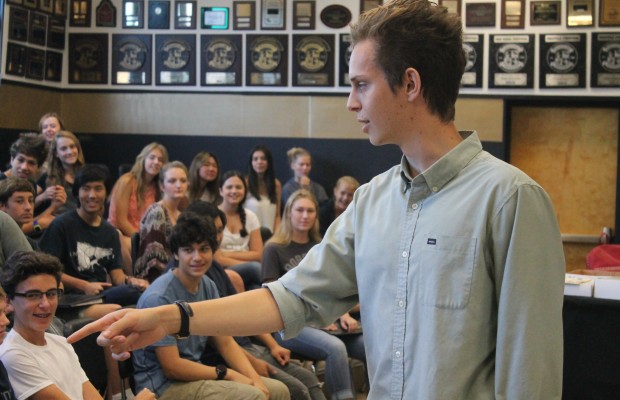 Marcus Klotz, one of the new choir directors for Advanced Women's Ensemble as well as Concert Choir, has begun his first teaching job at a high school. Despite teaching at a high school level, he is only twenty-three years old.
"Everyone thinks he's pretty chill," Madison Kasper, a member of Advanced Women's Ensemble states, "They like what he has to bring to the table. I think he has a lot of fresh ideas that could help out our choirs."
Klotz is also very passionate about music, and brings a new energy to the Performing Arts Center.  "In high school, I actually started singing, and I had a really awesome choir director," he says, "He inspired me to enjoy and love singing, and because of the way that he taught, he made me realize how much I appreciated teaching and how important it is."
Klotz believes his music director is what made him find his passion for teaching. "I felt very much changed as a person after going through his program," he added, " and I realize as well that I've already set myself up in ways and experiences for having the skills to teach. In high school, I'd always bring people together for bands, acapella groups, and all sorts of things, and just make music together. I realized I have a natural passion for it, and I love it."
However, this is not Klotz's first time teaching anyone before. "I've taught different classes in the past," he stated. He taught at a school in Brazil, and lead the university choir at Pepperdine, however this is his first full teaching job.
Klotz is also currently attending Pepperdine University. "It's really weird to be back, since I was in high school four years ago," said Klotz. "The students overall I would say are very responsible; they have a higher level of interest and just caring about education in general, in the music department here especially."
Klotz also shared his enthusiasm for the coming school year. "I'm really excited (for the school year)," said Klotz, "I'm excited to learn more about it, be more in the community and understand everyone and the way everyone works here."
Overall, the 2015-2016 school year includes some changes, but is looking bright for the intermediate choir groups.