Zara Jordan leaps for victory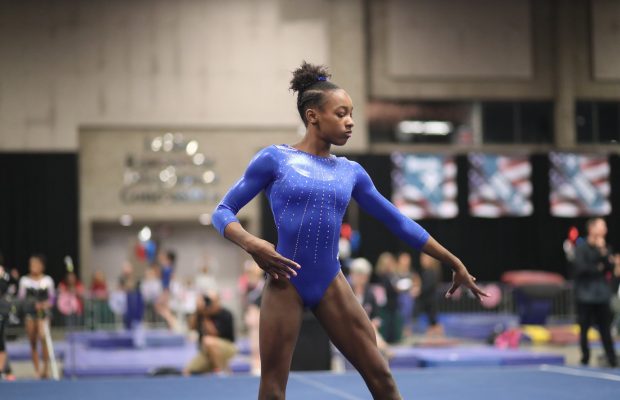 With big dreams, Zara Jordan, freshman, flies from bar to bar in the gym with only chalk and her own strength she overcomes any obstacle in the daunting sport of gymnastics.
Despite the many challenges that come with being a student-athlete, Jordan continues to work hard and find the best in everything.
"I typically train six hours, five days a week, but currently I am injured. The tough part was figuring out a balance between your social life school and gym. Gymnastics makes me feel accomplished; I love overcoming challenges and all of the life lessons it has taught me. Being a teenager and a gymnast is hard," Jordan said. "I have to say no to a lot of things, because everyone wants to hang out on the weekend, but I have to be at the gym."
 Jordan leaped into gymnastics at the age of five. "I originally started gymnastics because at a young age I had so much energy, and my mom thought it would be a good sport for me to do," Jordan said.
Competing nationally in all four events: vault, beam, bars and floor, Jordan's long-term goal is to continue gymnastics on a higher level and push herself in every area.
"I want to compete more nationally and eventually go to the elite level, which is what Olympians compete in," Jordan said.
Now verbally committed to UC Berkeley after a recruit saw her performance at several competitions, Jordan has checked off her most recent goal.
"I love Berkeley's balance between academics and gymnastics. I believe it will be a really good fit for me, even when I visited the campus it felt like home," Jordan said.
With so many aspects and events in gymnastics, it's hard to choose just one. Jordan chooses the challenge, always pushing herself.
"Even though bars isn't typically my best event, it's my favorite. I love working and trying  to accomplish more. My favorite part about competitions is being able to show off everything that I've been working for, going out on the floor and support my teammates," Jordan said.
Recently, Jordan moved from Michigan to California, helping her progress and move up levels in gymnastics. "Since I moved gyms, my parents have been really helpful and supportive and driving me to the gym every day… and stand behind me with all my decisions, even with college," Jordan said.
In her spare time Jordan enjoys drawing and spending time with her friends. One of her closest friends, Ava Zedlar, is very supportive of Jordan and her gymnastics career.
"I feel like gymnastics shapes her mindset in a way. Since her whole career and future is based on it she's more mature. I'm glad that she does so gym because it's given her such a great future and gives her so many opportunities," Zedlar said.
Another friend, Brianna Souza, is constantly amazed with Jordan. "She inspires me all the time, and I'm so proud that she has made it as far as she has," Souza said.
While only being a freshman Jordan has a lot more to look forward to. She and many other student-athletes continue to pursue their passion in sports, overcoming any obstacle to do what they love most.
"If you want to do a sport you should do it, because it teaches you a lot about life values and how to balance everything," Jordan said.