Dance team named national champions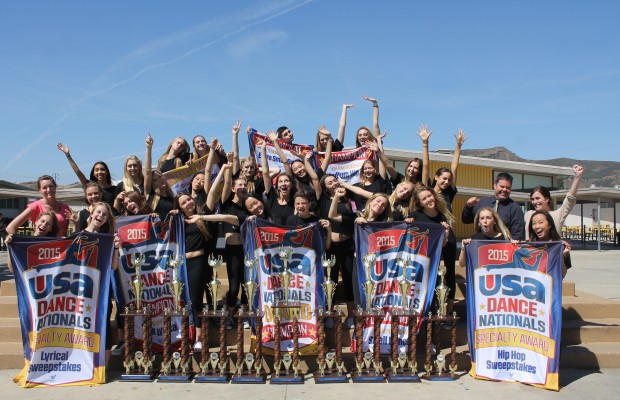 Members of the Dance Team jumped up and began crying tears of joy when the announcer shouted the much anticipated news that they had won the Overall Sweepstakes at USA Nationals. After a year of constant practices and numerous rehearsals, the family of 28 dancers reached their ultimate goal: receiving the highest national title.
"The moment when we won nationals was so surreal and exciting," Ashlyn Smith, junior and dance team member said. "You don't really expect it until that moment when they say your name. It was so exciting when all that hard work that you put in throughout the year paid off … it is just the greatest feeling."
Dance Team competed in two national championships, West Coast Elite Nationals (WCE) on March 14-15 and USA (United Spirit Association) Nationals on March 21-22. At both, the team received the Grand Champions title, winning a total of $3,000. In addition to the top overall title, the team also took home the national titles for Small Jazz, Large Hip-Hop, and Small Lyrical at the WCE competition as well as X-Small, Small Dance, Small Lyrical, and Medium Hip-Hop at the USA competition. Dance Team also achieved second place in Elite Dance and Character, fourth place in Medium Dance, and fifth place in Intermediate at WCE Nationals and second place in Novelty Production at USA Nationals. The group won Highest Scoring Jazz Routine, Lyrical Routine, and Hip Hop Routine in the WCE Nationals, and Highest Scoring Small Lyrical and Medium Hip Hop for USA Nationals. At the WCE Nationals, soloists and seniors Sabrina Parker, Camryn Marshall, and Shelby Rini placed in the top 14 of 60 dances. Parker and Rini continued their winning streak at the USA Nationals, placing 3rd and 4th respectively.
"In all my years of dancing, I have never seen this happen," Cameo Carolan, team director, said.
In order for the team to win the National Grand Champion title, they had to reach the gold division and championship category at both WCE and USA regionals respectively, in five different categories. In previous years, the dance team was unable to qualify for the grand championship title, as they only performed dances in four different categories. This year, the team increased the amount of dances they performed, adding the Novelty category to their competition schedule in order to perform in enough categories to qualify for grand champions. The Novelty category requires the team to tell a story through their dance, and is mostly intended to entertain and make the audiences laugh.
"We started off this year with insane goals that were basically impossible to reach," Carolan said, "to be grand national champions … and in the end we did that."
This year, the team participated in Novelty, Small Lyrical, Medium Hip-Hop, X-Small Dance, and Small Dance, with 16 members ranging from freshman to seniors, also performing solos. Judges scored each dance on multiple criteria, including routine, execution, and showmanship. The scores are then added up to receive a total individual score and contribute to the cumulative team score.
The team credits their success to not only each individual dancer's work ethic and their shared goals, but also to the dedication of the dancers and the coaching staff.
"I think we won because of our dedication and commitment, and how we build our foundation," Samantha Parker, freshman and dance team member said. "We aren't just a dance team that does a bunch of kicks and stuff … we push each other to go further."
"They are unbelievably dedicated. Many of them practice at high school in the afternoon then go to their own studio afterwards … some of our dancers actually have injuries from practicing so hard, which is something we have to watch out for," Carolan said.
From daily two-hour practices to eight-hour rehearsals the day before a competition and on many weekends throughout the year, the dance team has been "through a lot this year", according to Lily Agulia, sophomore. But after they achieved the grand national champion title, they knew it was all worth it in the end.
"It feels pretty good … just knowing that all that hard work I dreaded during the season and going to all the rehearsals where we did the same thing over and over again, but in the end," Parker said, "everything paid off."