Meet the 2020 School Board Candidates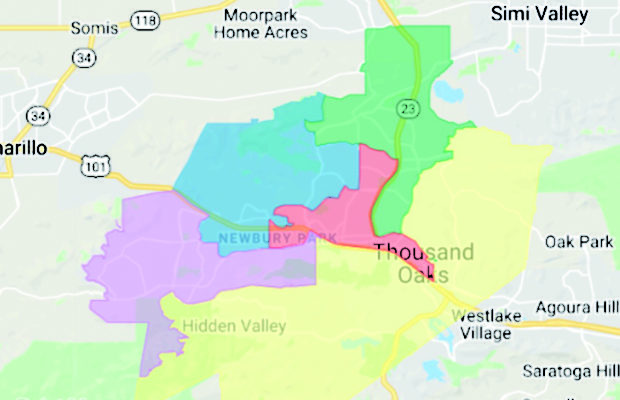 Despite these new circumstances regarding the coronavirus, democracy goes on. In this year's election for School Board, CVUSD has adopted a new by-trustee area election system with two positions up for election, Trustee Area No. One (in yellow on the map) and Trustee Area No. Five (in purple on the map). The incumbent of Area Five is Sandee Everett, up for re-election and running against school board-hopeful Lauren Gill, whilst Area One is rare in that no incumbent exists, making it the first open seat election in years. The only candidate currently in the race publically at time of this publication is Karen Sylvester. On May 6th, 2020, candidates Gill (Area Five) and Sylvester (Area One) officially received endorsements from the UACT union and Conejo Together. More and more pressing issues face our community, and our district needs to be full of the most effective leaders we, as a public, can elect to the board. I asked Gill and Sylvester the same questions (below) to share their views on some main policy points. Everett was contacted on several platforms but she did not respond to any inquiry. 
Can you tell me a little bit about your background?
Gill: "I am a product of public schools. My father was a teacher, my stepmother was a teacher, my husband's dad was a teacher, with lots and lots more teachers in our family. After college, I went to work at an education publisher company called DC Heath. I worked there for 10 years and then that company was sold. And then, I started my own branding and marketing consultancy when I had my children, so that I could be with them and be working as well. And then, as the children got a little bit older, I realized: this is kind of isolating to run your own business, so I went back to work full time for Pearson Education. And that's where I am now."
Sylvester:"Let me start with the basics. So, I have three kids, all K-12 in the CVUSD, my youngest is currently a senior at Westlake High School. I've been an involved parent volunteer in this district, really since my oldest started kindergarten, which goes all the way back to 2001. So, I started over at Westlake Hills Elementary, I was president of the PFA there, moved on to Colina Middle School, was the EVP of their PTSA, and then ultimately at Westlake High School, was the president of [their] PTSA. And then, you know, numerous other positions throughout the years. About nine years ago, I started attending DAC meetings, and so, that's really when I started learning more about issues facing the district, and getting to hear from other schools, and kind of the issues and challenges faced by those school sites. So, that's been that's been the past 18 years. Prior to that, I had a whole career in the business world. So for myself, I have an undergraduate degree from the Wharton School at the University of Pennsylvania. Then, I have an MBA from Harvard. I've spent about 15 years in the workforce, mostly working with large financial service organizations and other types of companies, helping guide them on their strategy or their operational effectiveness, those types of things. So, like, what I bring to the school board is really two very distinct types of backgrounds. You know, my school involvement, which has been lengthy, and then my business experience."
What are your cardinal issues?
Gill: "I want to see every student thriving and succeeding in our schools. I think we have opportunities to make it better, and to be a bit more inclusive, to always strive to be more inclusive. The second thing is post-graduation possibilities. I think that we can do more to help students prepare for a life of productive work, lifelong learning, and contributing in their families and their communities. And, I think part of that maybe starts with being a bit more intentional, early on, about making students aware of different career possibilities, and about giving them opportunities through experience to understand what things appeal, what they want to become better at. And then, sort of connecting the dots about, well, how do you pursue that path and what feels right. Students and their families can think about these questions, and there isn't real pressure to make a choice, but that they go into making choices with a lot more information. I think that now, students growing up may be looking at combining work and learning in different ways where you may have multiple careers, and there may be lots of education that happens in intervals throughout that time period, in structured and less formal ways. So I think that that picture, that more sort of diverse, rich picture, means that we can prepare students a little bit differently than maybe we have in the past. The final thing is really making our district more sustainable. We know that there are lots and lots of pressures. We know that money is going to continue to be tight. And yet we want to ensure that every student has the very best experience they have. So how do we do that? How do we draw on public and private partnerships and all of the parts of the community that are proud of our district, and can maybe contribute in different ways."
Sylvester: "All of the issues that I would have said three or four months ago, I think, in the era of the Coronavirus, have worsened. So, number one is obviously what's going on with the achievement gap and all of the different special populations. I think there has been progress being made in the district and I think there's been some strong parent support groups, and I think there's been some organizational changes that have helped that. Unfortunately, with this distance learning, those are the groups that are really being impacted. And in fact, I think the distance learning has really highlighted what I would call the built in inequities of the system, which really transcends the school district, but is definitely part of it. So I think, you know, making sure that our ELLs and our students with disabilities, just to name a couple, can adapt and thrive moving forward, I think, has been a challenge and will become an even more significant challenge. I mean, obviously, the thing on everyone's mind is, what is school going to look like? We know what it looks like now. What we really don't know is, what is it going to look like when it reopens, and what is it going to look like long-term, so that, that's obviously a huge deal. And then, I think, the third one of the issues, and again, it's been exacerbated by this crisis, is just some of the budgetary implications. And, I don't think anyone really has a handle on what that's going to look like, but I'm going to tell you, it's going to be ugly."
What is your plan for dealing with the effects of Coronavirus?
Gill: "Well, I can tell you how I think about things. But in truth, the work of Trustee means that you don't just come in with your own sort of knowledge and background and opinions, but you work as a collaborative team, and you pull in all the personal and knowledge resources around the district to contribute before decisions are made, and then those decisions are made together. But, I can tell you how I think about it. So, in my work for Pearson, I've been on lots and lots of webinars and discussion groups since I can't go out to campuses like I normally would, and sit down in people's offices and talk with them. So I'm listening, where they are. And, I'm hearing lots and lots of what very smart people who are confronting this question in the college environment are thinking about. You know, on the one hand, we are very conscious of what we're losing. And, I think all of us miss the interpersonal, the ability to just be together very, very much. But, there also are people figuring out that what's most important is really good teaching and really good learning. We do still have the opportunity to engage in those most essential activities. And, you know, I don't know that I would go so far as to say that there's a silver lining, but there definitely are people figuring out things that work well in the remote teaching and learning environment that they might want to retain and bring back to a new normal when we get to be together again. So, I am just listening hard to lots and lots of smart people who are considering these questions and trying to, you know, soak it all in and be ready when the opportunity is there to engage with others who are making these kinds of, really difficult plans for how we'll move forward."
Sylvester: "So there's the long term, which I think is kind of interesting to speculate, which would be a couple years out: What does education look like once we've kind of moved past this? And what have we learned in terms of distance learning and tools? Then there's what I would call the near-term, which is: how do schools reopen? When two schools reopen? What does that come to look like? And, I think, that's really the first hurdle. Governor Newsom keeps coming out and talking about his various id, and I think all of that needs to be looked at. But, in terms of timing, I really think the district has to take its cues from the public health officials. And, if you're going to talk about reopening the economy, then part of that is reopening schools. So, everything has to kind of be done in one seamless type of transition, opening up businesses as well as opening up schools, as far as how they look. I think that there's teams being put in place. I know that the superintendent, the State Superintendent of Schools, has convened an ad hoc team to kind of look at some of these issues, and has included educators and unions on that. I think getting input from all of the stakeholders is going to be what's going to inform how that's going to look."
What do you feel is the best way to involve parents in the district?
Gill: "When we made the decision to redo the policy around the core lit program, we adopted a different mindset as well. We said, you know, we have an awesome core lit program, but it's ripe for expansion, right, because we were teaching the same books that we were teaching, you know, two generations ago. Maybe there's room to diversify. But, let's celebrate what we have, and let's celebrate the opportunity to expand it, and let's bring the community in and have everybody have an opportunity to look at these selections, read the selections and ask questions about them. And for the folks who are recommending them, our expert teachers, to talk about why they're suggesting that we add a particular book. So, we use a sort of different mindset and much more inclusive process to look at the health curriculum, and lots and lots of people weighed in and said, this could be improved, or this isn't too thin, we need to expand this. And the district was very open and listened, and we're going to get a better health curriculum out of that process."
Sylvester: "So I personally think actually, the way they're going about the health curriculum is is a good one. I think that you start with the educators because those are the people who teach it and understand how to put curriculum together so that it always in my view, should start with that. And I think having it open for parents and students and community members to comment and review which is what the district did, incorporating any suggestions that seem reasonable on to me as a great way to involve Parents, but in my view, ultimately it is the educators who need to come up with the curriculum. And then obviously, that it gets to the point and it goes to marriage processes. And it's the school board who approves it. But I do think that parent input in this case, and I think that the community heard from parents of students with disabilities, and realize they needed to make that accessible. The community heard from parents saying, you need to make the materials available in Spanish, because there's parents who can't even look at the material and see how they feel about it unless it's in Spanish. So the district listened to all that. So I think that that approach is worked very well. And I think going forward, they're doing that with some of the correlate books as well. They make it available for parents they get input, they take that into account and then they move on."
What is your stance on increasing student involvement in major CVUSD decisions?
Gill: "Yeah, absolutely. Shouldn't you have a voice in what you're being asked to learn? Well, I'm thrilled that we have a student trustee sitting on the board. I think that was a major step, it's been very successful, it's been terrific to have that voice. And, you know, why stop there? There must be more ways that we can, why not let students look at what the options are and have their feedback heard? And I think the way to find out what are the best avenues to increase student participation is to ask students."
Sylvester: "I am so impressed with in general students involvement. So you know, you guys are a great example of that on the Prowler. I mean I worked on Cindy Goldberg's campaign. So I went to all those forums and, and whatnot and there was always a Prowler reporter there and it was recorded. So I think having a student voice in journalism, it's great. That aside, the new student dock is something that's been missing for a while. And I think that's been wonderful having Jordan Scott on the school board as a student opinion, um, she believes what she's so well spoken. I mean, she's, it's just really powerful to have that voice. I think in terms of students looking at materials and offering an opinion. I'm all for that. I think that students, parents, teachers, administrators, all all groups are key stakeholders to all decisions, right? And students are certainly really often a source of really good tips, whether it's bathroom policies or sex ed curriculum."