Around the World Fair connects cultures worldwide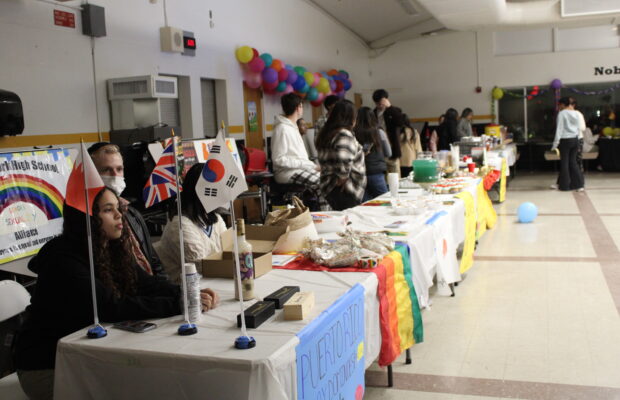 Food, music and games were only three of the things found at the Newbury Park High School Around the World Fair. The fair was an event run by the Asian Culture Club, Latino Connection Club and the Black Student Union. It took place in the school cafeteria on Dec.16, and multiple clubs set up tables filled with cultural food, drinks, music and plenty of games. The cafeteria was decorated with balloons, lights as well as flags from different countries whose cultures were represented in the fair.
A multicultural event is an opportunity for many people to come together to appreciate cultures and broaden their cultural scopes. Nathan In, senior and president of the Asian Culture Club, believes that the event was great for the school and students. "I think it was really good because we're trying to raise a lot of awareness towards these cultures, and a lot of things that Asian Culture Club tries to work on is trying to stop cultural appropriation. We're trying to make things so that everyone can appreciate the cultures that we're trying to present," In said. "I think it's really fun to kind of show your own culture and kind of introduce them to what they don't really know."
This year was the first year that the fair has taken place, but Kimberly Flores, senior and president of the Latino Connection Club, planned it with her club because their usual annual event got cancelled. "We do a Latin dance for our Latin students here, but this year it got cancelled for some weird reasons. So we [planned] to do something different," Flores said. "We decided to open it up to the whole school. We want the whole school to feel like part of something."
The fair also served as an entertaining activity for both the members of each club and the attending students. Mayka Ahamadi, sophomore and president of the Black Student Union, ran the table for her club, serving food and drinks. "The World Fair was a really fun experience for both the people visiting and the people running the tables. I think that the World Fair was a valuable experience for students to experience different cultures' foods and games," Ahmadi said.
As a joint event, the fair is the culmination of the hard work done by multiple clubs, and it would not have been possible without the effort of every club member. "Thank you to all the clubs and people who have been helping us […] we've [put] a lot of effort into it," Flores said
The fair is an opportunity for students from different cultural backgrounds to come together and have a fun time experiencing it. Beyond its value for appreciating individual cultures, the fair had a goal of bringing together the community. "We're trying to show people different cultures because we have three different clubs all [trying] to express their own cultures," In said.