Baseball swings back into season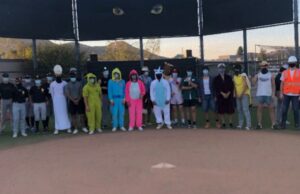 Baseball has always fascinated people, whether it has been through major victories or pop culture icons like Babe Ruth. But now what has been called America's pastime has joined the legions of things that have been changed due to COVID-19. 
Griffin Campero, junior, is a member of NPHS baseball. Like other sports, the team has had to adhere to restrictions placed on the game. "We have to stay six feet apart from each other, wear masks and stuff like that," Campero said. "We can only have two people throwing to each other at a time, so I can't throw with you one day and then warm up with somebody else another day…we've got to keep as few people interacting with the baseballs as we can."
Nick Leehey, senior, believes that the restrictions are not as strict as they may be perceived. "[The restrictions are] not as crazy as you would probably think. Three people maximum for one ball before it has to get sanitized again. When the balls are thrown and we hit, the coach has to pick them up," Leehey said. 
Along with the restrictions, players are worried about getting back on the field. Campero thinks that it is best to observe the statistics to deem when it would be safe to start playing games. "I want to get out there and play as soon as possible. But, the biggest thing obviously is just staying safe…I think that we, personally, should not play games until January," Campero said. "That is the time where everyone is allowed to go back to school…if our cases have started to go down by then that would be a good point to actually start playing games." 
Leehey, however, thinks that they should start playing as soon as possible. "I definitely want to get a schedule in this year and a season in this year so… I think that there [are] obviously the safety precautions and what not but I do believe that we should get a season in no matter what," Leehey said.
Curtis Scott, coach of the varsity team, believes that baseball is still worth playing, even with the restrictions. "Now that we're in Phase 2, the guys can do some baseball activities as long as we can follow all the protocols….it's good for morale and it's good for the guys to be around each other and it's good for the coaches like myself and the other coaches to be interacting with the players," Scott said.