Boys' basketball team shoots and scores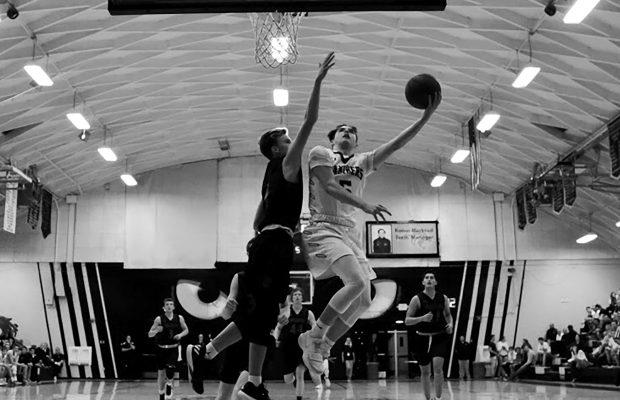 The boys' varsity basketball team made history this month by advancing to CIF playoffs for the first time in several years, bringing their overall state rank up 21 places as they finished out the season.
Brandon Smith, senior, has been playing for the school team for four years, and believes that the change in coaching style, in part, brought about the season's success. "We went from winning 8 games last year to 20 games this year," Smith said. "As a team we really bonded to our new coach's philosophy and game plan: taking better shots and taking pride defensively."
"We focused a lot on maximizing our strengths and trying to take what teams want to do against us away from them," Matt Eichinger, head coach, said. A first year coach and history teacher at NPHS, Eichinger has already started training athletes for domination next season.
To prepare for the big game, the panthers watched lots of film of their opposing team, Diamond Bar high school. "We watched their press, and how we could beat their press and stop their offense," Smith said. Overall, he thinks that he and the team played well.
Part of what helped the team to success was the sense of brotherhood between players. "The chemistry that we have had as a team– a lot of us have been playing together for a long time– shows on the court," said Smith. "We were moving the ball a lot better this years than previous years, taking better shots, and defensively getting stops."
"When you're a senior, sometimes there's a sense of urgency and these guys were determined to create a different legacy for themselves," Steve Johnson, coach and History teacher, said.
The game was extremely close, with only a four point difference with a minute to go and after a few fouls, ended with a final score of 62-54. "They hit shots that they probably don't usually hit and we missed shots that we don't usually miss," Eichinger said. "Sometimes the ball doesn't bounce your way."
Now that the final game of the season has been played, seniors on the team are saying goodbye to their high school basketball years. "It has been such a big part of my life for the past few years, and now that it's over, it's kind of crazy," Smith said. Although he his upset that he has to leave the team, he is hopeful for the future. "I think that we're leaving the program in good hands with some of our underclassman that are coming up."