Boys' cross country races into nationals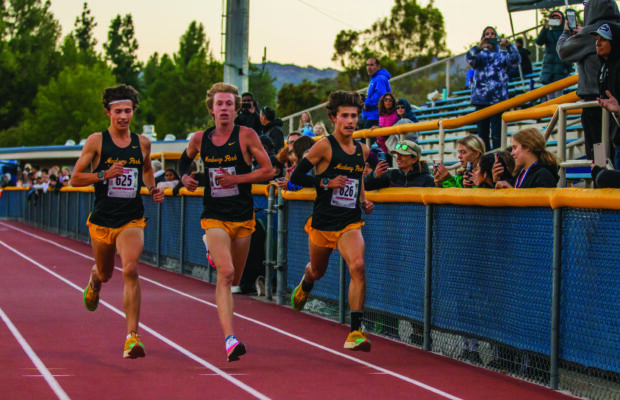 Our boys' cross country team traveled to Portland, Oregon on Dec. 3 for Nationals at Nike's headquarters. Teams for all over the national who qualified participated in the 5k race. The team placed first.
Senior, Aaron Sahlman, feels the team did a really good job in CIF's leaving him with a good feeling. "Winning state was a huge accomplishment because it shows that Newbury park is the number one team in California," Sahlman said. After winning state it was a good indicator at determining their fitness level as a team heading to nationals. "Practices definitely change [when] prepping for nationals. We start tapering and conserving for nationals," Sahlman said.
Before heading to nationals he said he felt extra nervous about the race that happened on Dec.3 "I am most nervous about how I will do. I do not want to let my team down," Sahlman said.
Dev Doshi, junior, was also excited that the boys' cross country team has kept their streak of winning CIFS. Doshi went to nationals last year as a sophomore and has been with the team for the last two years. He said that winning state helped the team's confidence. "It gave us a good idea where our strengths and our weaknesses were as a team, knowing that allowed us to make adjustments for nationals the week after," Doshi said. When prepping for nationals, most of their routines are kept the same. "We typically keep everything the same heading into nationals. Tapering in simple terms is cutting down the miles and volume of our runs and workouts. We like to keep the same intensity of our training but with more rest," Doshi said.
Leo Young, senior, has run on the varsity boys' cross country team for the past four years. Young believes it was an incredible experience to be able to travel to Portland, Oregon and race with all the best of the best athletes in the U.S. "I was on the team in 2019 where we won the first time and I am on the team this year when we won again. It means everything," Young said. He competes at a high level because he trains at a high level. "I am confident in my training. I can be confident in my ability to go to nationals," Young said.
Tanya Brosnan, head coach of the boys' Cross Country team, was looking forward to the excitement and thrill of watching the race. "Heading into Nationals, I was looking forward to the race itself. Watching this team race is fun because they enjoy making themselves and others hurt in order to get the win," Brosnan said. With an athlete being sick leading up to the race Brosnan was nervous of how this would affect the team. "He was better on race day and able to compete, I was confident in the team's ability to compete in the race," Brosnan said. In Brosnan's first year as head coach of the cross country team, she wanted to keep the winning streak of the team."It's a very strong program and a large responsibility to keep this program on top. With the commitment from the athletes and the support from the school and parents, I was confident our team would perform well," Brosnan said.
One of the most important rules Sahlman likes to remember when training for competition is this:." take your easy days easy and your hard days hard."