Boys' tennis makes a "racquet"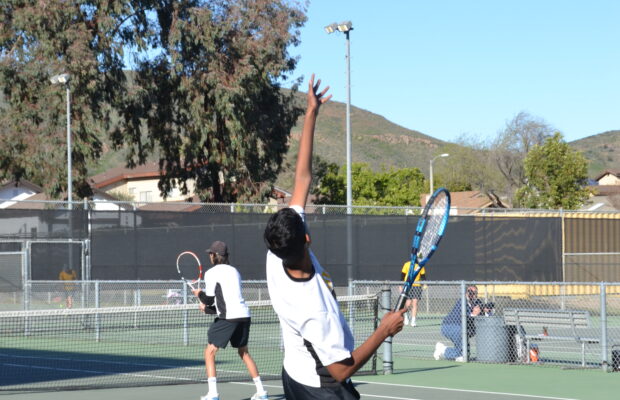 With the new spring season approaching, many sports teams are making their way back onto the fields and courts. For the NPHS boys tennis team, the start of this new season means more opportunities and more excitement.
Ronak Santhosh, junior and varsity singles player, has been on the team since his freshman year and is very excited to be getting back into routine."Typically, we have practice on every single school day of the week when we don't have a game, so essentially Monday, Wednesday, Friday, and these practices are from 2:30 p.m to 4 p.m. and we start out with some warm ups, like stretching, and then some sprints and working on movements that we use in tennis," Santhosh said. "Then we go on to hit some balls and play some double sets."
Prior to the start of the season, the players got together to play a group scrimmage against each other to get into the feel for the game. For Jared Gillespie, senior, this has been an annual event that he has gone through for all of his time on the team. "We also have something called Black and Gold, which is basically where just the Newbury Park team itself splits into two teams and they play against each other in a normal match style format," Gillespie said.
When debating over doubles or singles, there are a few factors that these players look at before going in. Jackson Kurtz, sophomore, is speaking his first year on the varsity team as a doubles player. "I like playing doubles more because you have more opportunities to come up to the net and the play-style is different, which I happen to like more," Kurtz said. "In doubles, there's a lot less running around and a lot more team spirit because you have a partner when you're playing and there's a lot more opportunities to get really nice shots and the game plays a lot quicker because you have more people on the court."
For many of the seniors, this is the last sports season before their graduation. "I hope that we'll be able to go to CIF this year as we've actually been able to go to every year that I've been on the team so far, except for the year they got canceled because of COVID," Gillespie said. "Personally, I haven't been playing as much as I was in the past couple years so I just hope that I can go out there and play my best and stay positive and just have fun."
No matter what challenges there are, the players are excited to see what this new season holds. "I'm excited to have a lot more different varieties of players and a more diverse set of high schools around the state [to play against], especially considering since last year with COVID there were a limited number of high schools participating [in the season] and we didn't get to play as many teams as we usually would've," Santhosh said.