2022-2023 Staff
Allison Nguyen (12) // Co-Editor in Chief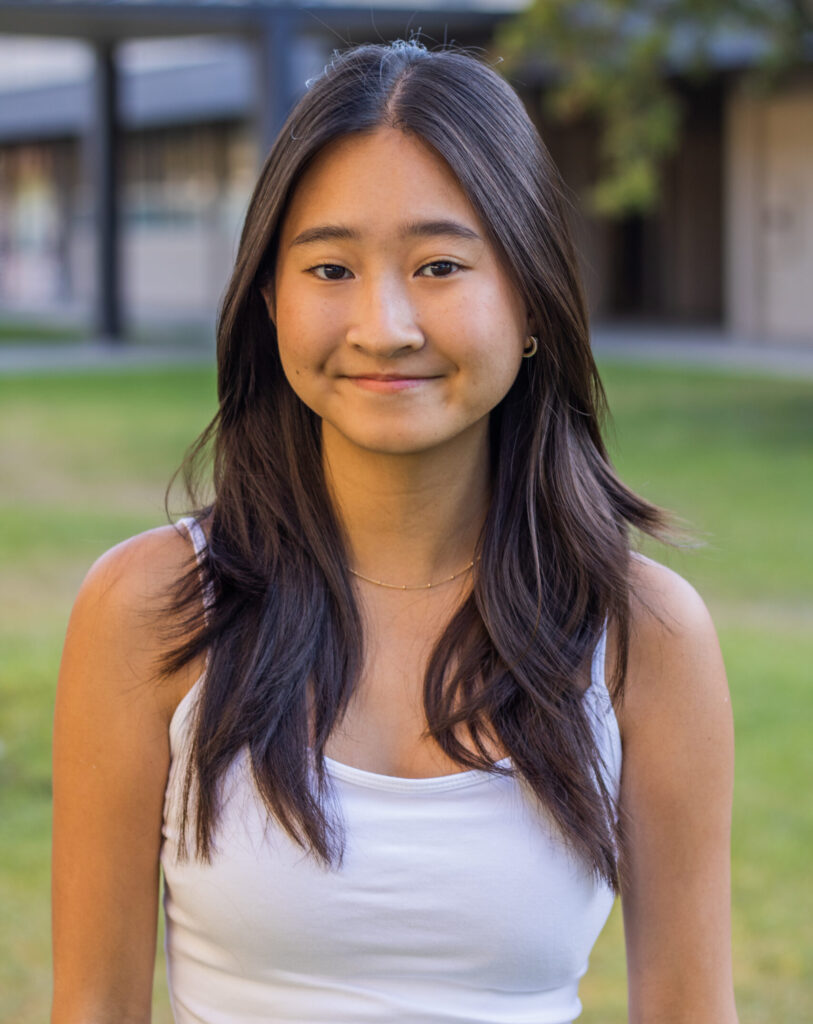 Allison Nguyen, senior, came to the Prowler through a friend who told her about it her freshman year. The following year, she decided to apply and got the role of Staff Writer, "I was interested in writing and kind of like spreading news". She works hard to make sure everyone is on task and doing their part in collaboration with her fellow co-editor, "…communication is like a major role rather than just like talking with the rest of staff, making sure everyone understands what they're doing." When she isn't at school or working on the Prowler, she utilizes many creativity centric outlets to cool down and take a break, "I really like music. So I play the piano and I play the violin. I'm in the school orchestra. I like reading, baking, photography, stuff like that. Hanging out with friends." She also had goals to cover certain events well with the newspaper through her interest in spreading news, "This upcoming DPS for the school board is something that I'm looking forward to getting to like listen in on…I'm also excited for like all the different like fun events like we've already covered like football games, Panther Pit and stuff like that, but things like homecoming, prom, like the pictures for those usually end out like really well."
Dhruv Patel (12) // Co-Editor in Chief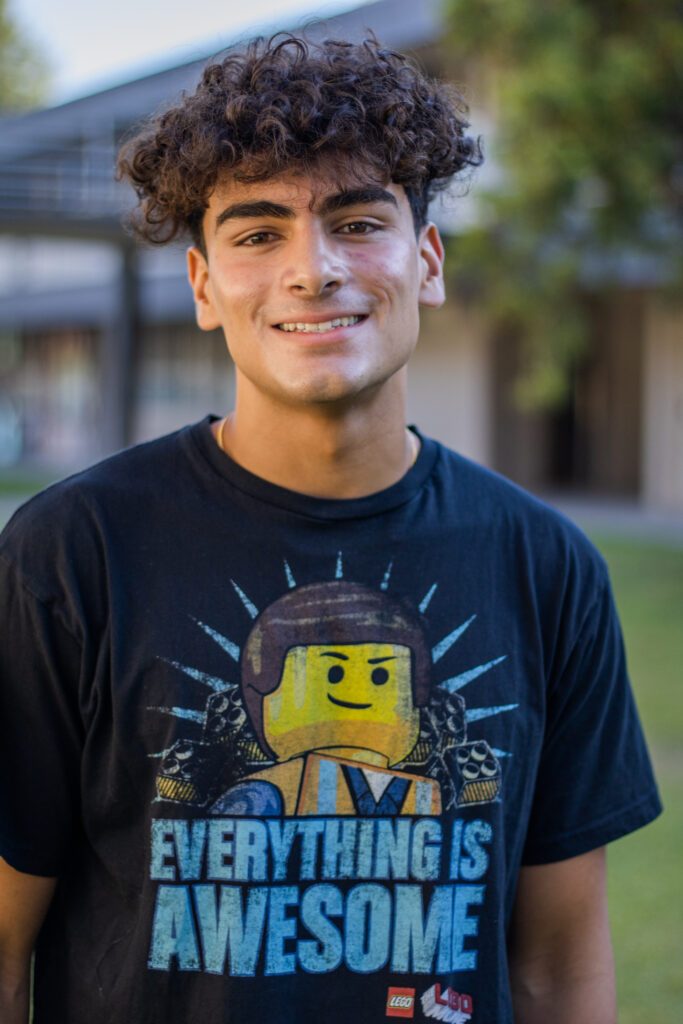 Dhruv Patel, senior and Co-editor in Chief at The Prowler, has slightly different plans for the future than the average student at Newbury Park High School. "Hopefully [in five years] I will have a really nice job. I'm on a yacht or something in the Caribbean, or in space," Patel said. Before Patel goes to space, he plans to go to college, ideally UCLA, for a degree in computer science and eventually go to grad school for an MBA. Patel also shares his dream of traveling to Paris. "I've been to Paris when I was young but I want to go back because I was young and I don't remember it at all. I feel like that feeling of sitting in a cafe next to one of the rivers in France, eating a baguette you know, saying 'oui oui' to everyone you see, would be really fun," Patel said. Although school can be stressful, Patel is able to find many outlets to balance his mental health. "I find outlets like screaming at the wall [and] talking to my sister and brother or my parents because whenever I start talking, I just keep on talking. That helps me just unload my problems to them and then they give me feedback," Patel said. "Also I like reading because when I'm reading, I just don't think about anything." Patel is also a concert enthusiast and plans to see some of his favorite artists with his siblings. "We do fun things together. We're going to a Kendrick Lamar and Baby Keem concert in September so that should be fun," Patel said. Along with Kendrick Lamar and Baby Keem, Patel also enjoys R&B artists like Tyler the Creator, Steve Lacy, and Brent Faiyaz. Patel hopes to do everything he can to make his last year on The Prowler as memorable as possible. "I like the late nights, like when you're just having fun with the staff and then when you see the finished project come together," Patel said. "I also like seeing some people read [The Prowler]. It makes me feel warm and fuzzy inside."
Téa Sklar (12) // Managing Editor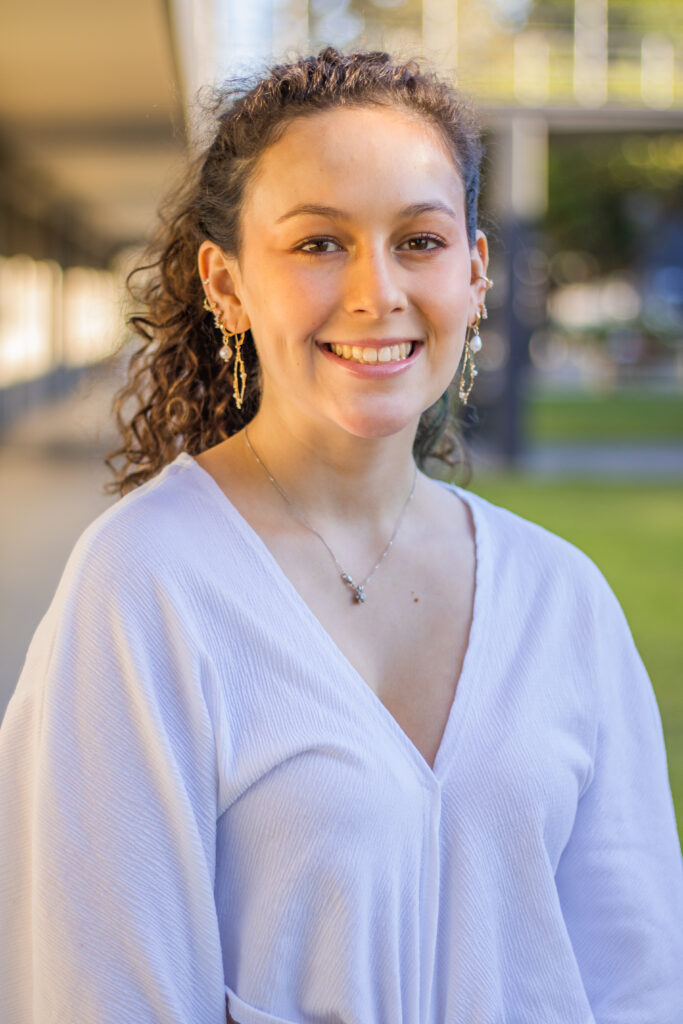 Most students find themselves gravitating towards jobs within the U.S., but not Téa Sklar, senior, who hopes to study abroad in Japan or Barcelona at some point within her life. "My current goal is to be a criminal defense attorney who owns an international law firm so I can move to another country," Sklar said. In addition to Sklar's passion for law, she is also an avid reader and constantly expresses herself through the use of art. "I wanted to be an artist for a long time, like my main goal in life for a long time was to have a studio apartment in France and paint for the rest of my life," Sklar said. Sklar joined the Panther Prowler halfway through her sophomore year and has loved it ever since. She now heads into the position of managing editor and continues as a graphic artist. As she dives into another year on staff, she anticipates how the first genuinely normal year away from Covid will unfold. "I always love graphics so I'm really excited to see how those turn out this year and last year I think they were really great with just everyone together," Sklar said. Sklar hopes to embody her voice through writing opinion pieces as she describes herself as a parrot because of all her opinions and love for talking. Not only does Sklar love indulging herself in writing and drawing, she also enjoys critiquing the pieces sent to Literary Magazine, a club at NPHS that she is president of. "Literary magazine is a club that focuses on showcasing other students' work such as writing, poems, short stories, and artwork," Sklar said. With the end of high school coming up fast, she has begun to plan a visionary of her life in the future. "I want to go to law school and then minor in art so when I'm older I can be an art teacher. I have a whole life planned out for myself which will probably change but at the moment I'm pretty content with it," Sklar said. The list of Sklar's passions is boundless through its constant growth and with that she is bound to accomplish anything! 
Vincent Bennet (12) // Movie Reviewer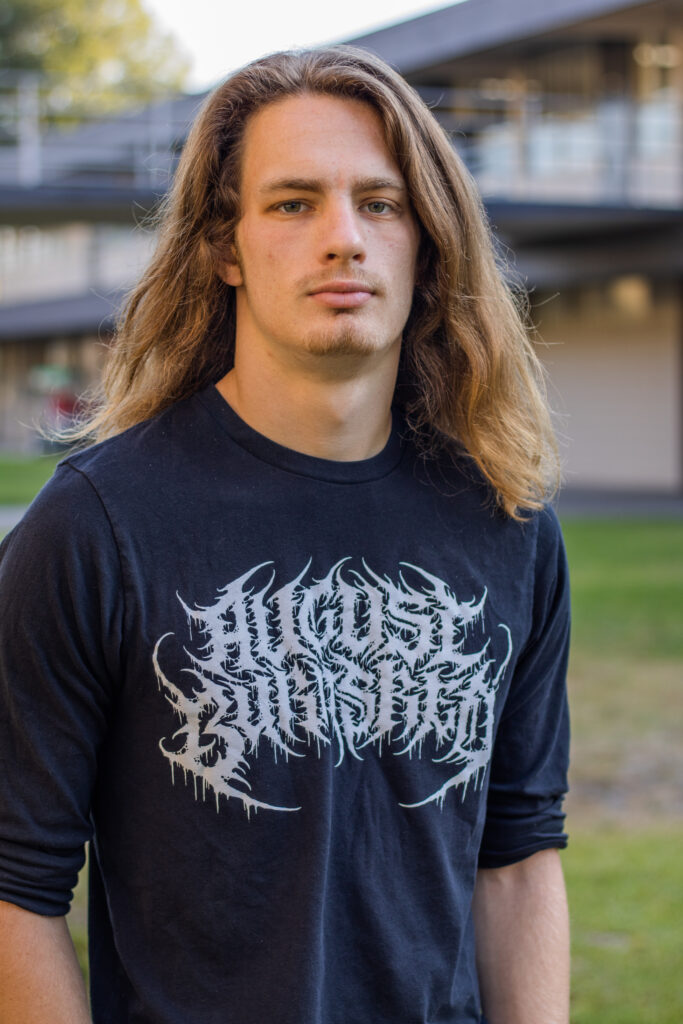 As a fellow writer and movie fanatic, Vincent Bennet, senior, has decided to join the Panther Prowler staff this year in hopes of sharing his love for film. Although he has had a passion for entertainment his entire life, it was movies like "Batman" and "Godzilla vs Kong" that really sparked his interest in reviewing them. "My goal with writing reviews has always been to write them in a way that's objectively honest. I'm going to give it as it is, and admit the things I like and the things I didn't like, even if it's a bit of a contradicting thing to do," Bennet said. Aspiring to be an actual writer in his future, Bennet wants to showcase all of his different thoughts in the form of stories that others can read about. "I always want to be thinking about what words I'm saying," Bennet said. "If it comes to like passions or things that could help people when they read it, then that interests me [in writing it]." Besides his love for writing, Bennet enjoys playing the drums in his free time. At the age of 11, his father had encouraged him and his siblings to pick up different instruments and that was when he fell in love with the drums. "I participate in different bands or I'll play [the drums] at church on Sundays," Bennet said. On campus, one can find Bennet roaming around near the theater department, which he is most active in. With his love for entertainment and showbiz, his involvement in the IB and technical theater programs comes to no surprise. "It [theater] can have its ups and downs, but at the end of the day, we all care about each other. It's the community that gets you coming back to and it's also just an art that I can enjoy because it's similar to film," Bennet said.
Parker Bohl (11) // Chief Photographer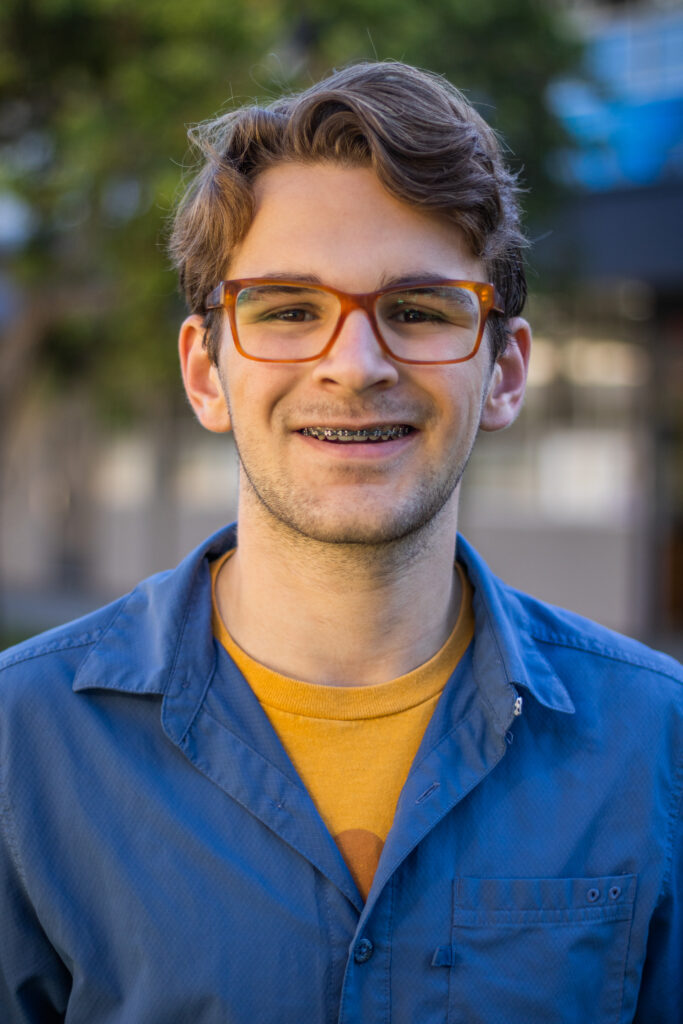 Parker Bohl, junior and Chief Photographer on the Panther Prowler, first heard about the Prowler when he was in only seventh grade. "I joined the Prowler because I love storytelling both visual and writing, but primarily because I would have a reason to take photos," Bohl said. Before Bohl joined the Prowler, he experimented with street photography during his free time by riding his bike around Newbury Park. "Having access to cameras and stuff changes a lot because then I'm able to change settings and make them whatever I want, which adds a different look to the photos and different lenses give you different fields of view with different sort of feeling," Bohl said. This is Bohl's third year on staff, and he initially joined for many reasons. "I've wanted to be the chief photographer since I joined. So having that responsibility, and a bit more say in the kinds of visuals in the prowler, I feel like it's going to be really good for me, because that's the main thing I'm interested in," Bohl said. "What keeps me motivated is the spirit of the team, I guess you could say, where everybody is dedicated to making the newspaper, and there's some artistic expression involved with that in the sense of there's writing and photography and design and all these things that have to come together to make something in a certain amount of time," Bohl said. His favorite thing to write about has always been filmmaking, which goes along with his obsession with the camera. "Both reviewing films and talking about what I think about making movies and that kind of thing…And it is just an extension of photography. So its filmmaking is combining photography, writing and music and every other thing you can imagine," Bohl said.
Ariela Behar (11) // Entertainment Editor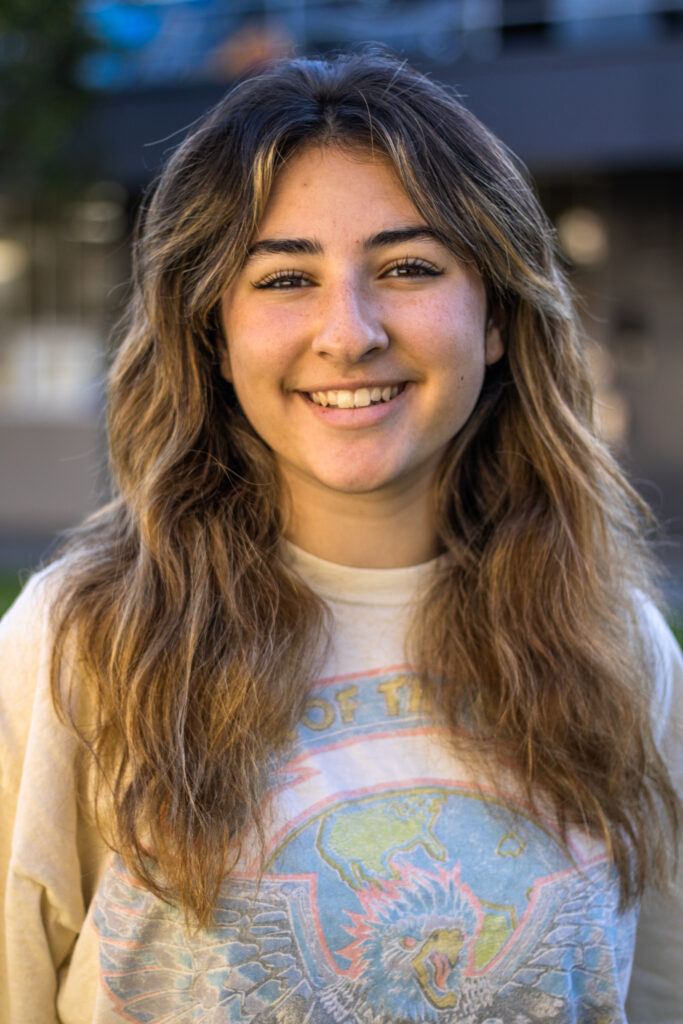 Ariela Behar, junior and Entertainment Editor, has been an avid writer since elementary school. "I remember we had this creative writing project. And I ended up writing like this story for it that was like 30 pages in my notebook. I had all my friends as characters and I renamed them and stuff," Behar said. This is Behar's second year on the  Panther Prowler staff, but she has been interested to join since 8th grade. "I remember in eighth grade during [Panther Night], I came into the journalism room, I heard about Prowler and I wanted to see what it was about. And it was so coo," Behar said.hen of course the next year was COVID year. So I had a conflicting fifth period. So I was really sad that I couldn't do it. So when we came back on campus, I was like applying was like the first thing that I wanted to do."  When she started writing for Prowler last year, she initially thought that she would love opinion articles the most, but she learned that she enjoyed writing entertainment articles more. This change did not surprise her, since watching movies and TV shows, as well as listening to music, are some of her favorite pastimes. Her favorite movie is "Ferris Bueller's Day Off," but she also greatly enjoys a multitude of other movies. When she is not writing articles, you can find Behar participating in Drama Club or dancing. "I like the being on stage aspect of [theater], I've been doing it since I was, I think eight years old," Behar said. She also enjoys working behind the scenes by directing and helping with production. "I'm also going to be directing Mystery Dinner Theater, which is a really cool event that I think everyone should come and see," Behar said.
Emerson Fuentes-Alabanza (11) // Front Page Editor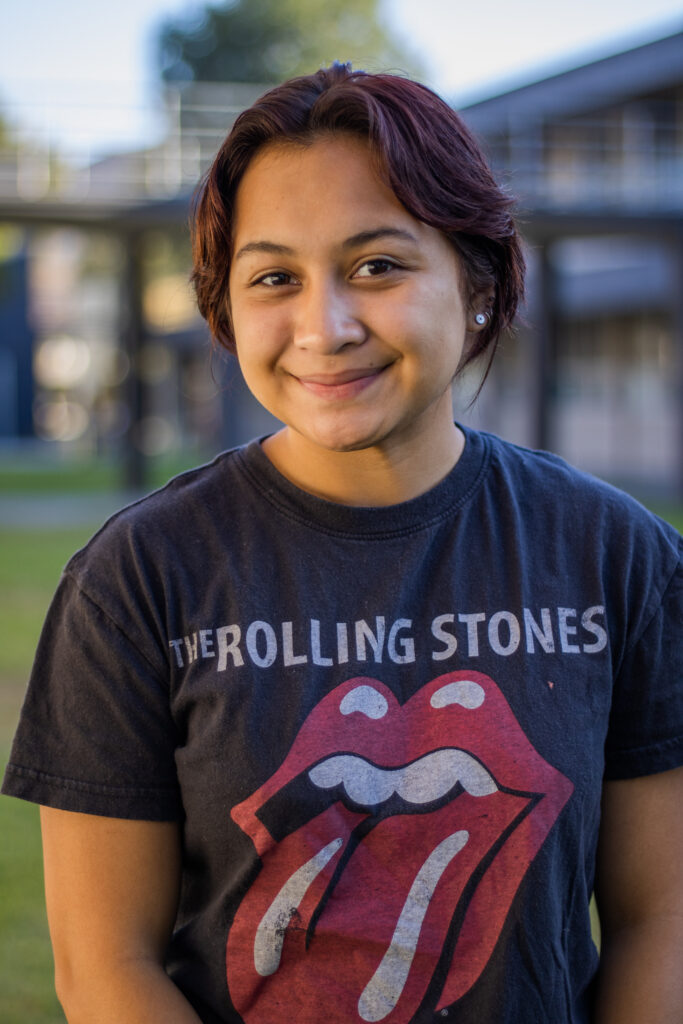 Emmy Fuentes-Alabanza is heading into her third year on Staff at the Panther Prowler, and having been a part of the publication since day one of high school, she is excited to continue pursuing what she considered to be a big part of her high school identity. "Our staff is really, really close… I think that we have a good variety of people," Fuentes-Alabanza said. Fuentes-Alabanza works on staff as a graphic designer, she learned her drawing skills from a graduated staff member over 10 years ago. "It was a full circle moment," Fuentes-Alabanza said. Over the summer, Fuentes-Alabanza went to Disneyland with her grandma, who she considered one of her best friends. "We went on a bunch of rides, we stayed at a hotel afterwards and hung out by the pool,"  Fuentes-Alabanza said. Besides writing and graphic designing for The Prowler, she enjoys competing in varsity level wrestling at NPHS where she places second of her weight class, in the local Marmonte League. She spends her free time working at a sushi restaurant and is also the treasurer of a club called Stop Drowning Now. The club's goal is to, "Teach kids about drowning and pool and water safety," Fuentes-Alabanza said. The best piece of advice Fuentes-Alabanza has ever received from a fellow staff member was to let an interviewee keep talking. "You can always go back and pick through [quotes],"  Fuentes-Alabanza said.
Hayden Meixner (11) // Backcover Editor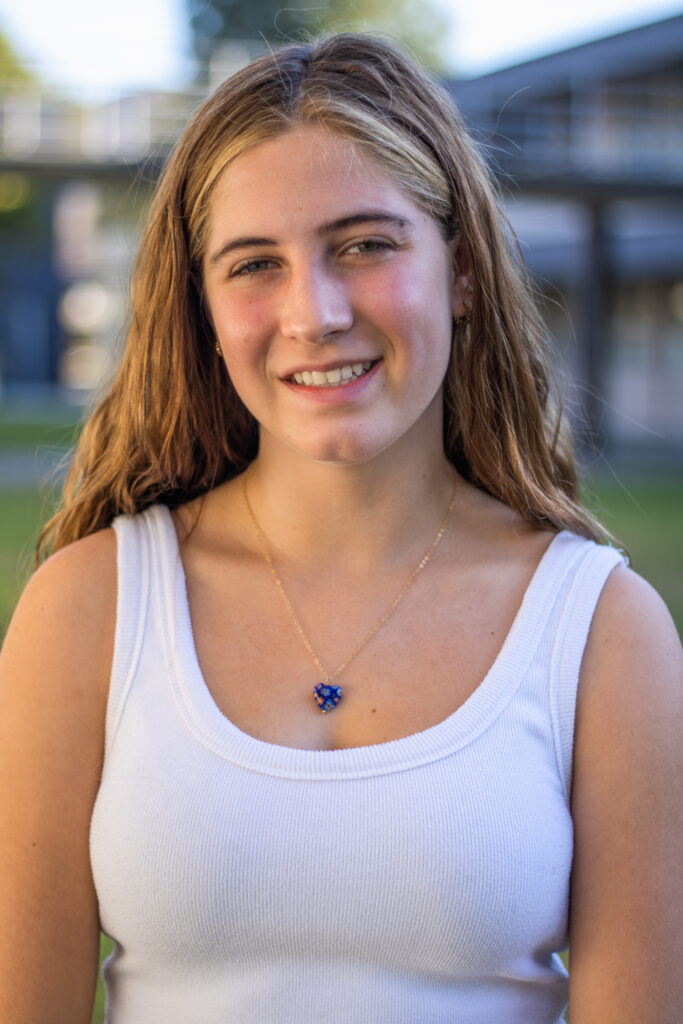 IB Diploma Candidate and Back Cover editor on staff, Hayden Meixner, junior, is curious to see what this new year holds for the staff of the Panther Prowler. Even though many of the mentors that she has relied on in previous years have since graduated, Meixner is excited to be a part of the senior staff and see what new members can do. "It's very different not having the people here from last year because we kind of leaned on them for a lot of things. So it's gonna be fun and interesting to learn how to run the whole newspaper by ourselves without the help of the older kids that are now gone," Meixner said. Meixner has not only been on staff since her freshman year, but she has also been a setter on the NPHS volleyball team. "This is my first year on varsity. So it's been very physically tolling, but I love my team and we have a lot of really good players…and we are just learning a lot from them," Meixner said. While she is very busy during the school year, Meixner also kept busy over this last summer with a trip to New York city. "I loved going to Broadway, Broadway Street. So cool. We went to this diner where the waiters sing to you, and they're like incredible singers. And we saw a show and it was really cool," Meixner said. Overall, she is excited to bring the new people on staff and expand the family the Prowler has built for her. "The Prowler has become like my second family and we're just all so close. And it's so fun. We have a great time together," Meixner said.
Melina Wagner (11) // Entertainment Editor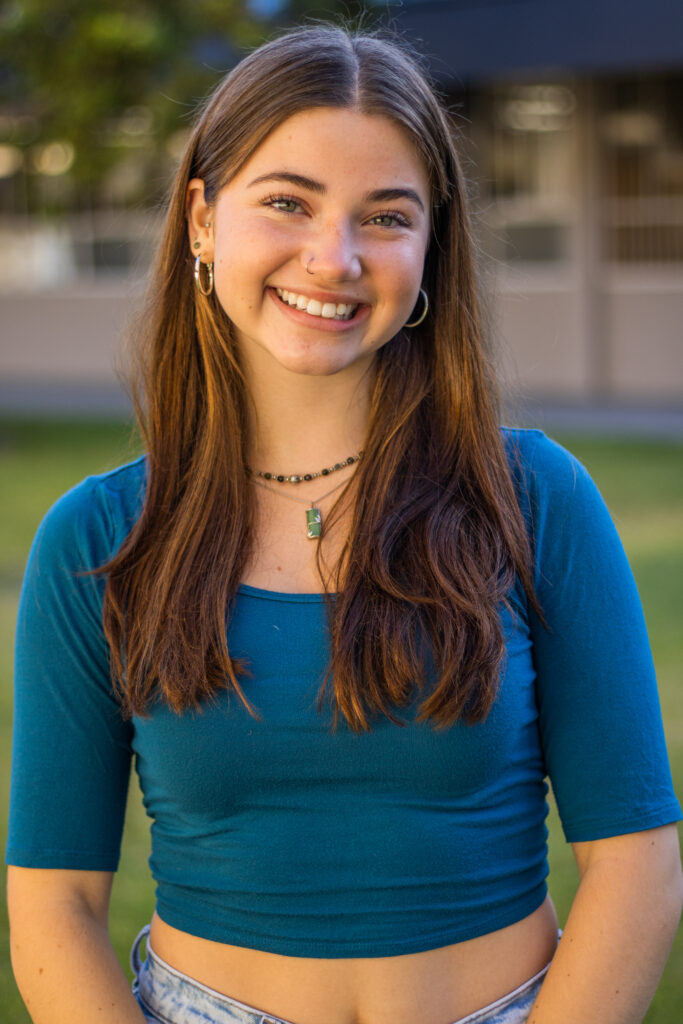 In five years, Melina Wagner, junior, hopes to be strutting around Boston, attending college for a psychology degree. Her interest in psychology stems from a fascination in how forensic psychologists work, and how they dive into criminals' minds. "Forensic pyschology is interesting because you get to work with people who are murders and pyschopaths," Wagner said. Even though Wagner wants to major in psychology, she has a love for writing, and is proud to be the front cover editor and a copy editor on the journalism staff. She likes to write about subjects that she is passionate about, and she also enjoys spreading information to other people. "I like writing about subjects I don't necessarily know about because it allows me to learn about them and then inform others," Wagner said. In her free time, Wagner enjoys reading and dancing. She embraces her Greek heritage by participating in Greek dance, going to competitions against other Greek dance troupes. "I have always been influenced by my culture," Wagner said. "I think it's important to have another part of you that isn't school-based." She also likes reading a good mystery or thriller book, the suspense of the book encapsulating her attention. Wagner also loves listening to music, and is an avid Weezer fan, even if the band is only her sixth favorite artist. "My top five artists would be Rex Orange County, Brent Faiyaz, Her's, The Weeknd, and Steve Lacy," Wagner said. Being a leader is very important to Wagner, and she is able to refine her leadership skills at Girls Leadership Club (GLC) which is online. "GLC is an organization that works towards empowering women and teaching them about feminism history," Wagner said. After highschool, Wagner hopes to continue her education on the east coast, touring schools in October to find her perfect fit. "I'm really interested in Massachusetts and Rhode Island because my dad lived there and he inspired me to live there," Wagner said.
Kira Ivarsdottir (11) // Staff Writer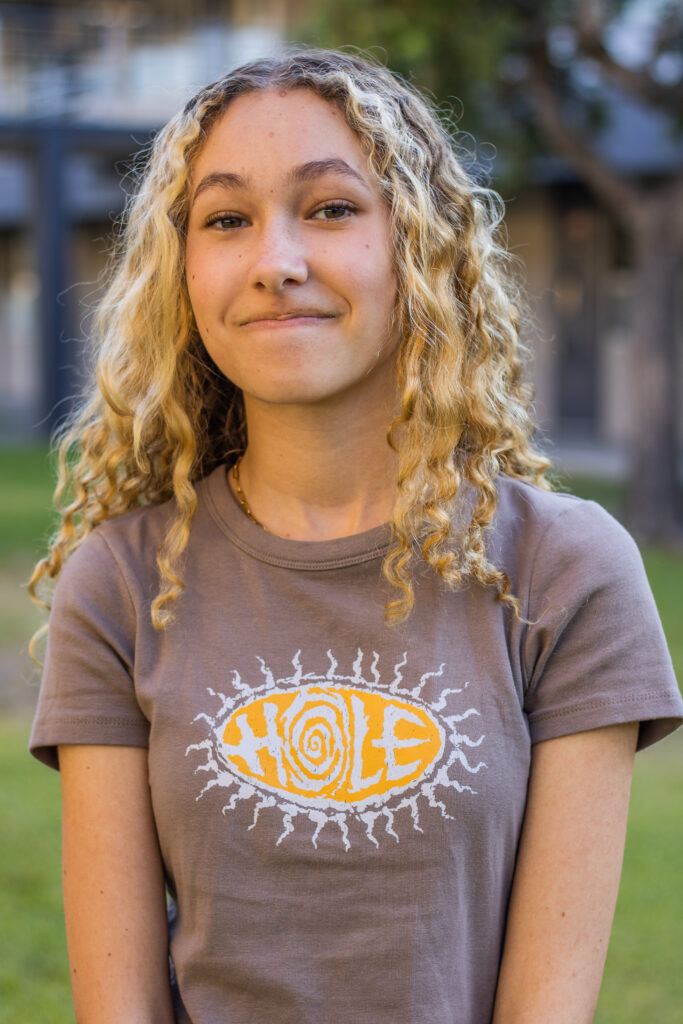 A passion for writing and reading defines a large part of Kira Ivarsdottir, junior's life, including being a part of the Panther Prowler.  "[I enjoy] the people in the class, but also getting the opportunity to write something that goes outwards [in which] I can express myself," said Ivarsdottir. This is Ivarsdottir's second year writing for the Prowler and the feature she wrote about Harrison Cancilla last year is a memorable one for her as it was the first feature article she'd ever written. Her favorite genre of writing is journalism which is perfect as she is one of the Prowler's news and copy editors this year. She is also involved on campus as a tutor at the writing center.  Ivarsdottir enjoys reading romance/comedy books in her spare time, with her favorite book being "Love in Other Words" by Christina Lauren. Because of these interests, Ivarsdottir hopes to go into the English field. In the debate on whether milk or cereal goes first, Ivarsdottir shares the popular belief that cereal should go first. "If you put milk first, it's just weird. It's a red flag," said Ivarsdottir. Aside from her passion for English, Ivarsdottir is looking forward to seeing her friends this school year. "One of my friends who was going to school in Ventura is now going to Newbury Park and because she's going to Newbury Park now she's meeting all my friends..so I [enjoy] just hanging out and seeing the friends I haven't been able to see during the summer," said Ivarsdottir.  
Melissa Geher (11) // Opinion Editor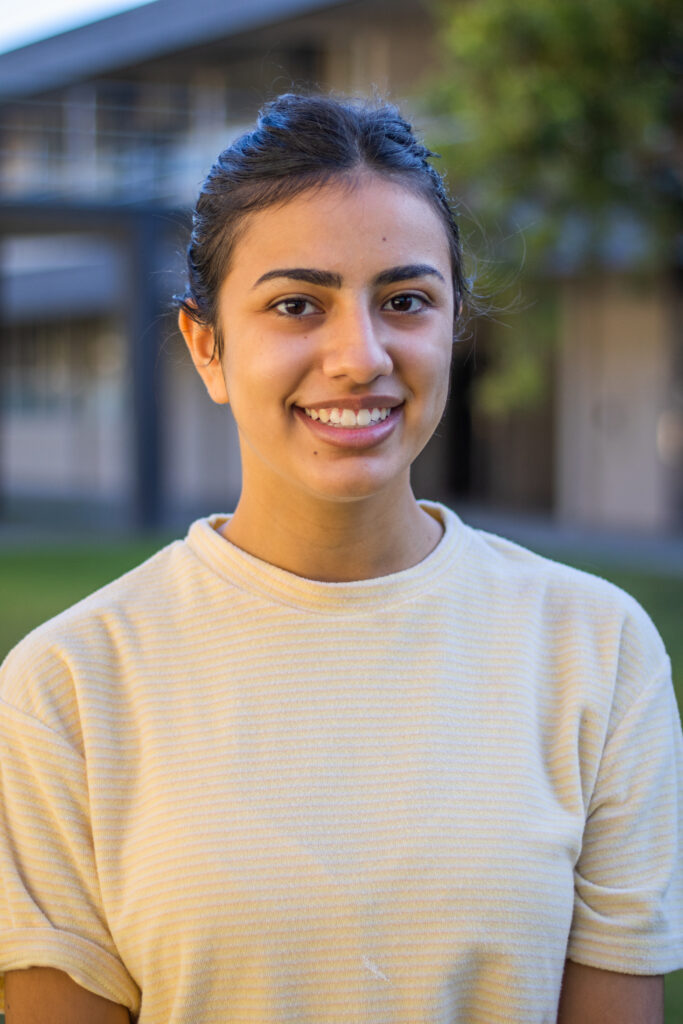 When she is not studying or sleeping, Melissa Geher, junior, has many hobbies she likes to explore in her free time. Geher loves to read, dance, and she uses her writing skills as an outlet for expression and opinion. Outside of school, she volunteers in her community at a dance hip-hop class at the community center. Not only does she participate in community activities, but she also volunteers at a hospital for practice with medical studies. She is looking to build a career in medicine and help others in her community, along with helping people around the world. Geher is always keeping herself busy, whether it be outside of school with dance and volunteering or in school with writing and high level classes. Her love for journalism and writing started when she heard about the Prowler in 9th grade and decided, "Let me just give it a try," Geher said. Her interest flourished from there and she has now been on staff for 2 years as an opinion editor and copy editor. Melissa would describe herself as a diligent person saying, "If I know I'm going to do something, I'm going to stick to it," Geher said. Geher's work ethic and love for medicine are going to take her great places going into college, as she would like to major in the medical field and continue studying science. Although she does not want to continue with a career in journalism, Geher would like to further her studies. "You can always sharpen your writing skills," Geher said.
Nandini Patro (11) // DPS Editor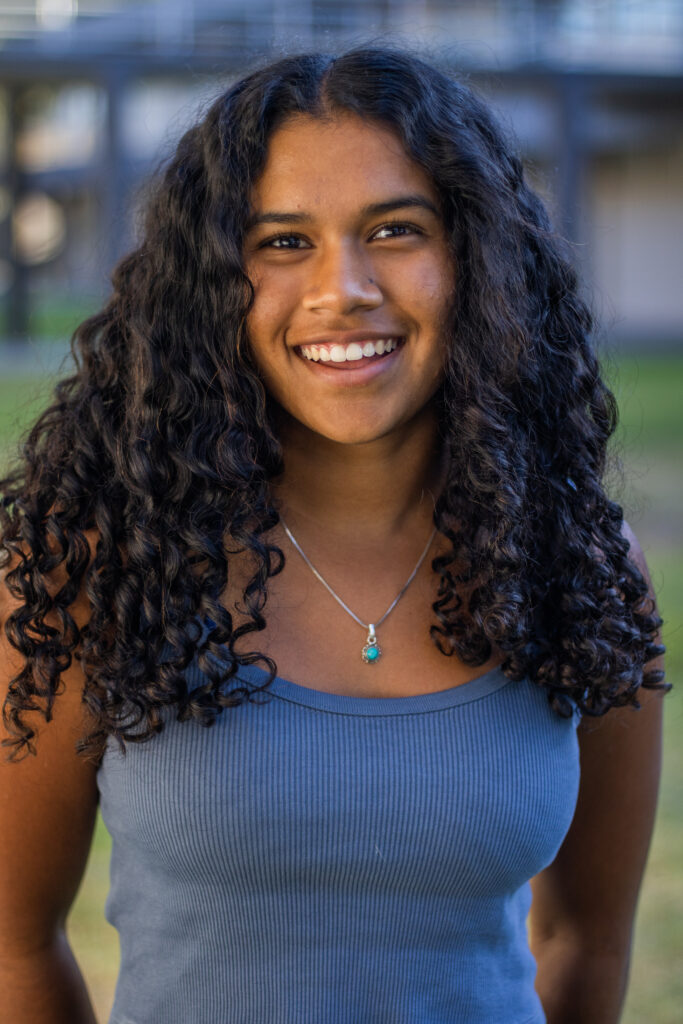 Nandini Patro, junior and Double-page Spread Editor for the Panther Prowler. Patro has been a member for two years and enjoys the class for many reasons, all stemming back to its environment. "I enjoy the environment, the people. Everyone's like a family you know, it's a very nice environment. Like, no one's really going to judge you for anything," Patro said. Additionally, "I love the environment of the class and… [Saremi is] very hands off, lets us do what we want. It's a student publication at the end of the day so I really enjoy the freedom," Patro said. Patro is a person with many interests and talents, all of which she will make sure to make time for. "I play piano and I sing when I play and it's the only thing that calms me down," Patro said. She explored her interests in detail this summer, "I've gotten a lot more into reading and like art and painting. I just also enjoy working out. I've gone to the gym a lot this summer, like consistently every single day," Patro said. When she isn't creating various art forms, newspaper pages, or articles, she spends her little free time interning for the district attorney and playing singles tennis. When Patro isn't creating the double-page spread, she enjoys writing opinion articles. "I love writing opinion articles [they] are my favorite thing. Maybe that's because I have a lot of opinions, but I love writing opinion articles because I also feel like…there's no really boundaries," Patro said.
Dylan Kaseno (11) // Features Editor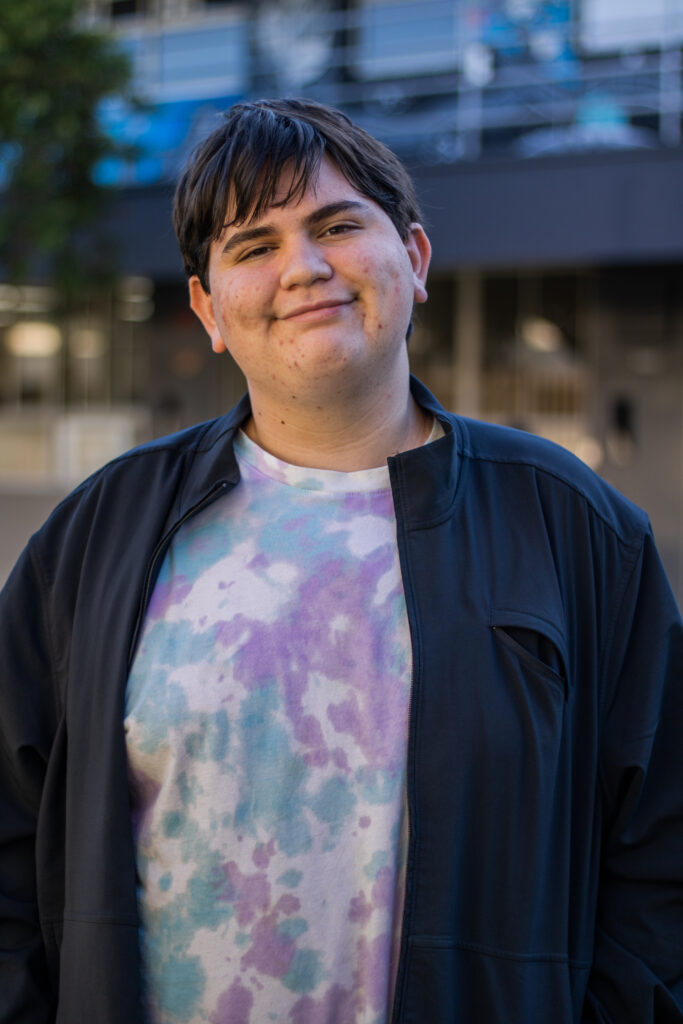 The self acclaimed jazz soul enthusiast, Dylan Kaseno, junior, found a cure to the dull monotony of summer by taking countless walks. "I just pretty much walk around my neighborhood and I live near the Santa Monica Mountains so sometimes I like going there," Kaseno said. During his long walks, Kaseno found comfort in jazz soul and although he has never played a jazz instrument, it does not take away from his admiration for the music, but adds to it. "It just relaxes me," Kaseno said, "Other music annoys me but jazz doesn't." Similar to jazz, writing relaxes Kaseno as well. Kaseno is continuing with the Panther Prowler for his second year as the newly established Features Editor. For Kaseno, writing has always come naturally, "I always liked writing and I was always the kid who would not be struggling to meet the word count but trying to cut down on my words," Kaseno said. Most of all, Kaseno is drawn to the family aspect of the newspaper. "It's nice to find people who are so similar," Kaseno said. As he begins his junior year, Kaseno is prepared to venture into the world of Chemistry and History as they are his two favorite subjects. "I am also a fan of more late 19th century and early 20th century history, definitely not American, more on a global scale," Kaseno said. Overall, however, Kaseno finds himself wanting to pursue a career in law. As the thoughtful man he is, he still plans to keep his options open, "I think I just want to get the best grades so I can get into where I want to go," Kaseno said. The "where I want to go" for Kaseno is Los Angeles's very own University of California Los Angeles (UCLA). Kaseno is aware of the school's prestige but also appreciates its proximity to home. "I don't really want to go that far," Kaseno said, "I have five dogs and two cats and I'm really emotionally attached to them." Apart from his long walks, his animal-filled house, and his new title as features editor, Kaseno is excited for the new school year and prepared for what may come: "I'm really looking forward to exploring my interests in a way with more freedom now," Kaseno said.
Rohit Ukkan (11) // Features Editor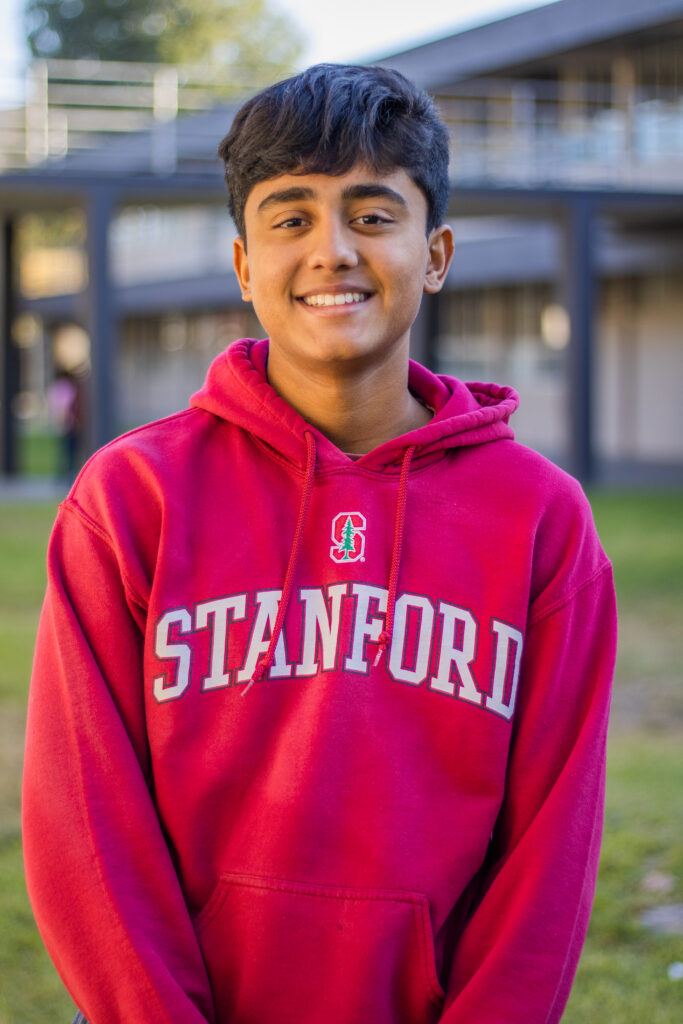 An aspiring doctor, Rohit Ukkan, sophomore, is inspired by the actions of those around him. "Seeing other people around me doing good and helping out makes me want to help out," Ukkan said. At six, on his very first visit to the hospital, Ukkan watched as doctors huddled around to try to save his grandfather. It is this motivation that has brought Ukkan this far, encouraging him to join the medical program Post 9-11 of Ventura County. "[The experience] made me want to go into medicine," he explained. "Being a doctor, you can save lives." This year, Ukkan is focused on the various extracurriculars he does around the school, including Mock Trial, swimming, and playing the violin. In his off-time, Ukkan enjoys playing Valorant with his friends and spending time with his family. Ukkan hopes to bring his easy-going nature and humor to the communities he is a part of and use his unique set of traits for the better. As a member of the Prowler, Ukkan is looking forward  to writing sports articles for the newspaper. "When I saw the Prowler issue [with] boys swimming as the cover and saw that article, that's what initially made me want to join," he explained. "I really wanted to write about sports because I also swim and I like swimming- I like sports and I watch sports." 
Taylor Gibson (11) // Editorial Editor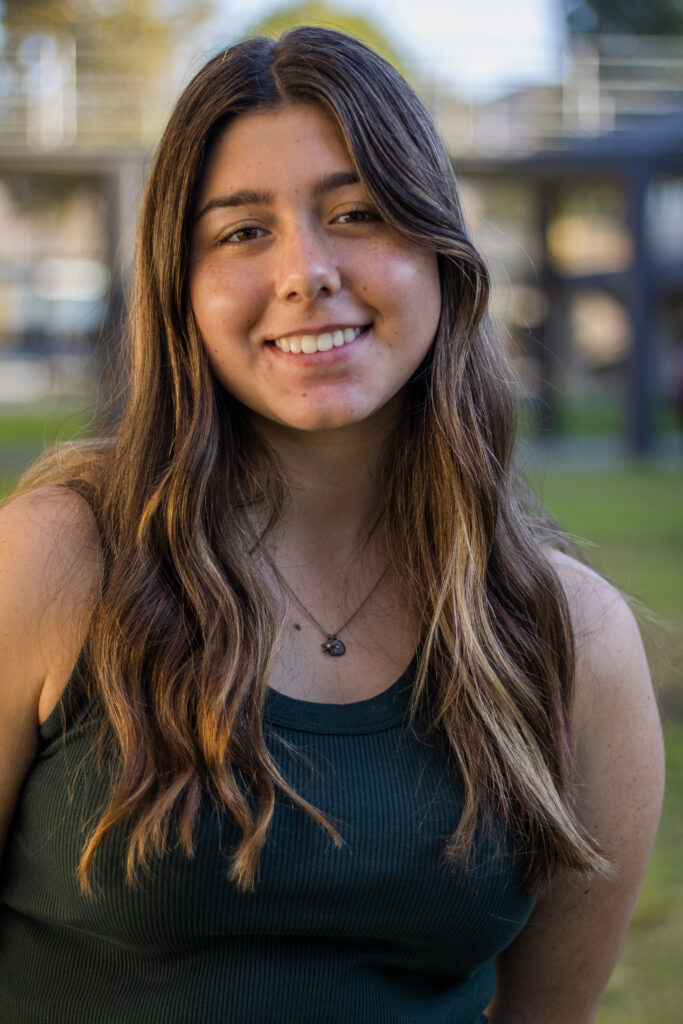 Being an adrenaline junkie is not all that easy. It comes with being brave and courageous enough to perform actions that other people may be afraid to do. "I really like trying new and thrilling things, and I especially love doing so with friends because honestly friends just make everything so much more fun and enjoyable," Taylor Gibson, sophomore, said. During this last summer, Gibson visited Maui for a week. "We got to go parasailing [for the first time]… It wasn't scary at all. They dunked you underwater for a little bit. It was really amazing to be able to be up in the air and see the island from a different perspective," Gibson said. Not only is Gibson an adrenaline enthusiast, she has a fondness towards dance. "I used to dance a lot. [It was] a big part of my life…I did ballet for a really long time [and it] is probably my favorite, but I also really like jazz," she said. Gibson likes to write, and therefore joined the Panther Prowler this year. "In eighth grade, we had this one assignment and I really enjoyed it. It sparked my interest in writing and I wanted to start writing a lot more," Gibson said. "I decided that it'd probably be a good learning experience and it'd be fun to be able to make friends." In the past, Gibson was much more introverted than she is today. "In middle school, I was super duper shy and I feel like when school started, I started to get bigger and branch out," Gibson said. With the new school year beginning, Gibson looks forward to being able to interact with people. "I am looking to kind of be able to branch out more [and] feel like I'm getting better at [not being quiet] and I would love to make more friends and be more adventurous," Gibson said.
Jack Ranney (11) // Staff Writer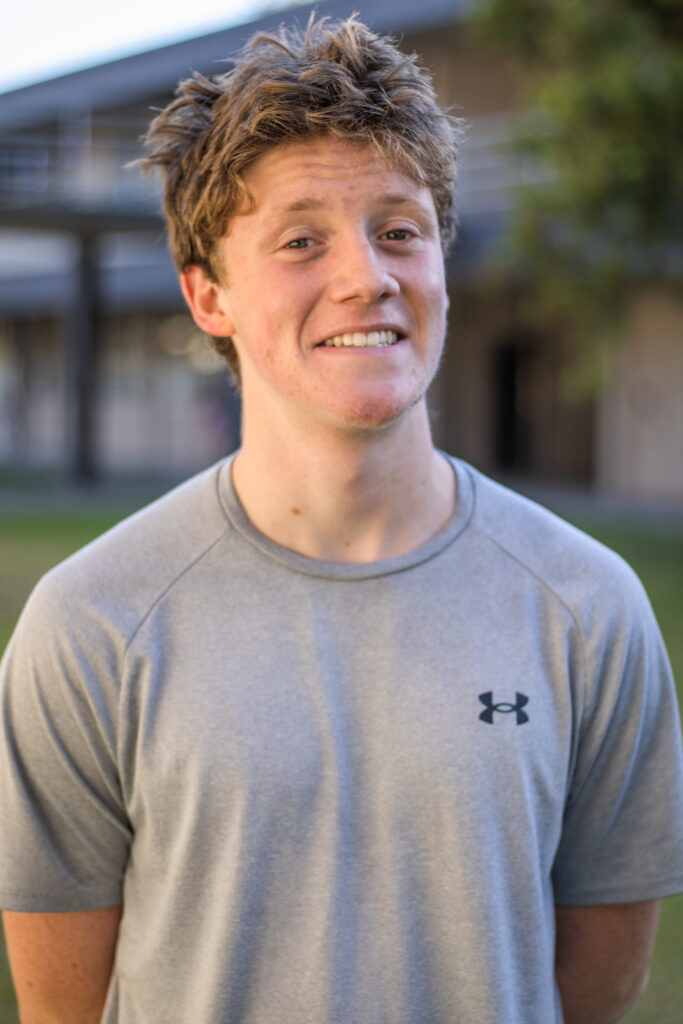 Jack Ranney, junior and staff writer for the Prowler, enjoys hiking mountains and playing guitar in his free time. Although snow isn't common in Newbury Park, CA, Ranney loves to ski whenever he can make the trip. Adventuring isn't uncommon for Ranney, as he has been to several dozen states in primarily the western United States. "I've been to every state west of Texas except for Hawaii, and also Florida and Michigan," Ranney said. Ranney joined the Prowler this year and is excited to go to Prowler events."I look forward to being able to go to the events and being able to write about what I see there," Ranney said. After spending time on Yearbook staff, Ranney believes that his passion for writing led him directly to the Prowler."I was primarily a writer, but Saremi told me that next year, we're going to do things differently and that we're going to have fewer writers. So I figured I would join[Prowler Newspaper] where I could continue to write," Ranney said. Ranney has not joined any other clubs or programs outside of the Prowler and yearbook but might attend the club rush event this year where he hopes to find clubs with his similar interests. "I am not in any clubs at the moment. I'm going to see if I'm going to go to club rush though," Ranney said. Most of all, Ranney is excited to be back on campus after summer break and able to enjoy school life whilst simultaneously writing about the events that he attends. "I look forward to being able to go to the events and being able to write about what I see there," Ranney said.
Brody Sinutko (11) // Staff Writer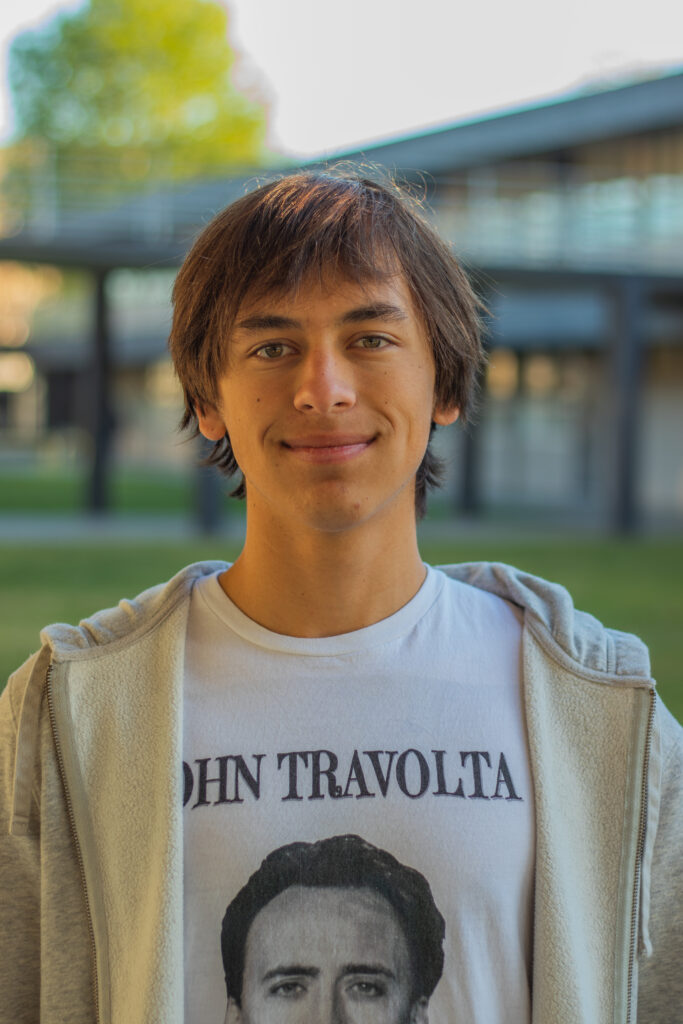 Brodie Sinutko, joined the Prowler staff in his junior year because it was recommended to him multiple times. "I was encouraged to join by a fellow classmate after I showed them my horrible news account," Sinutko said. He has a fun and bright personality, but knows when to get serious. He listens to a lot of classic music, and classic rock is his favorite genre "It sounds good," Sinutko said. He'd rather go outside in his freetime than stay home. "I would go out and do something, probably backpacking, or do a comedy show," Sinutko said. Finally, his favorite season is summer, "School is out, and the parks are always open. People are more high energy in the summer," Sinutko said.
Kai Mekari (10) // Staff Writer, Graphic Artist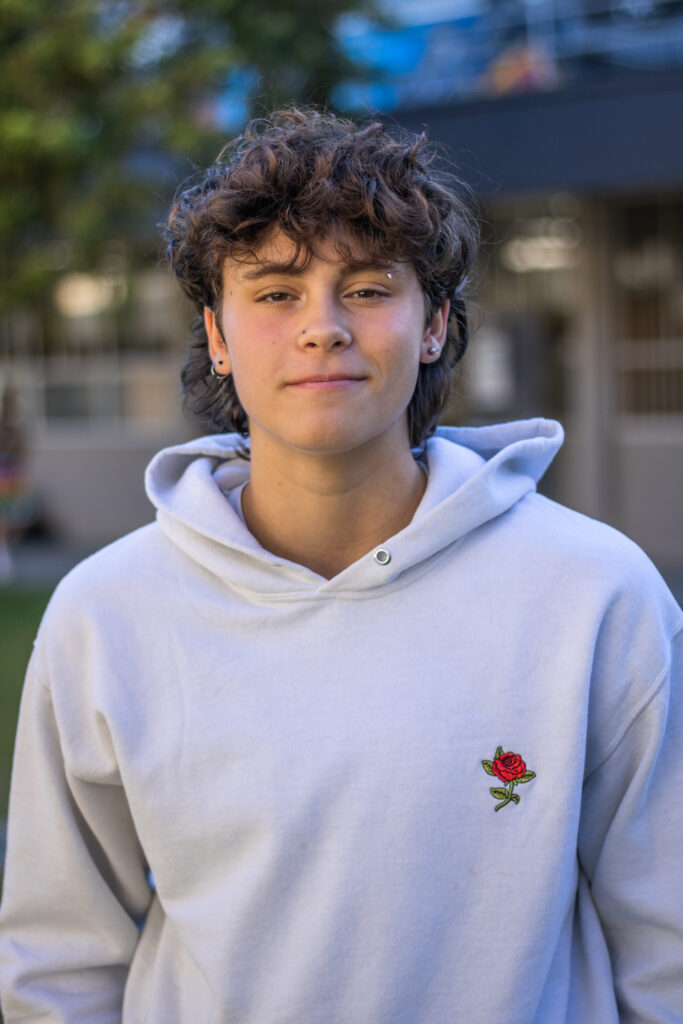 Even before stepping foot on campus, Kai Mekari, sophomore, has always utilized their artistic side. As a graphic artist and staff writer, Mekari is ecstatic to start their second year on the Prowler and originally joined to continue their love for writing. "…Writing has always been a big outlet for me, so I thought it might be great to share my opinions and voice them at my new school," Mekari said. "I never wrote any articles or anything like that. I usually wrote short stories, poems, more creative things like that." Even though they still have quite a bit of schooling left, Mekari always keeps a positive attitude and solid work ethic while on campus. "Some of my favorite aspects of school are what I can make of it, I take most of my classes seriously, and I can make something good out of it later, so it's not the best right now, but it will be," Mekari said. When they're not writing for the Prowler or doing schoolwork, Mekari plays basketball on the school's varsity team and draws for fun. "I'm going to do what makes me happy. I'm going to play basketball, do my art classes, take journalism, [and] those are really what's going to make this year good," Mekari said. With a year of journalism experience under their belt, Mekari doesn't plan to stop writing and making memories on staff soon. "Some of my favorite things about being on staff are late nights and the friendships that you create," Mekari said. "[Prowler] is kind of like a family, and just getting to express my opinion and I have the right to share, feels really good." As a very thoughtful individual, Mekari will not hesitate to give advice when in doubt. "…Trust your gut," Mekari said. "If you think something is right, do it. If you're having second thoughts…trust your gut."
Shana Blair (10) // Graphic Artist, Staff Writer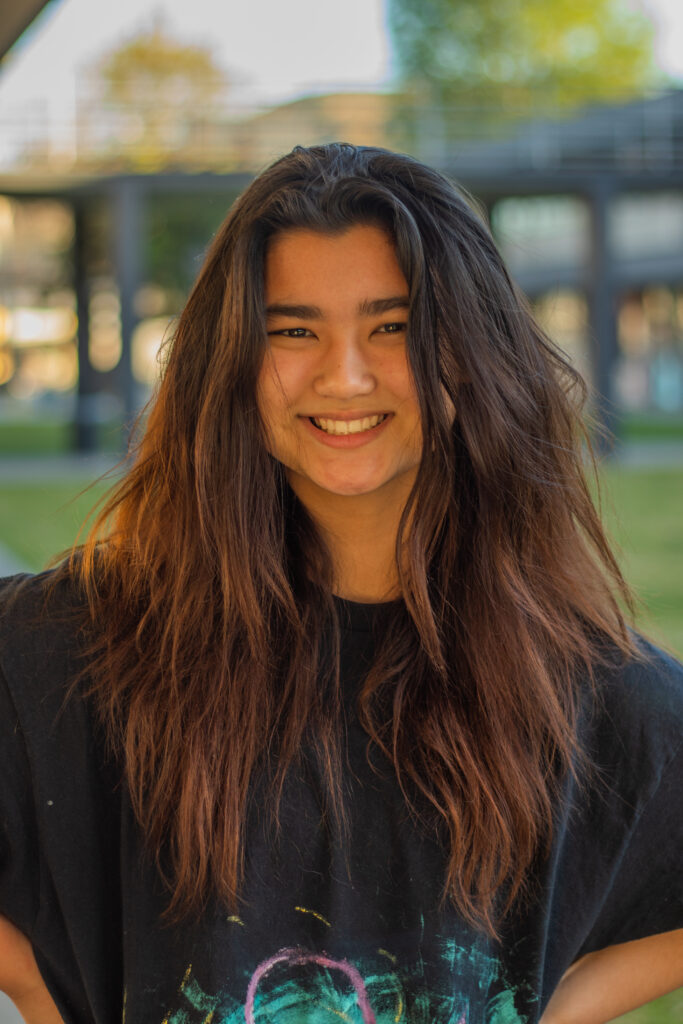 Shana Blair, sophomore, draws her dreams and ideas into reality. New to the Panther Prowler, Blair joined as a graphic artist, and plans to convey her opinions and entertain readers through her artwork. "I didn't think about joining a newspaper until we got to editorial cartoons [in myIntro to Journalism class] and then I asked Mrs. Saremi if the Prowler had an editorial cartoonist, and she said no," Blair said. "I was like, wow, I would love to [apply] for that.". The world of art has always been a dominant force in Blair's life, as she has been sketching since preschool, where her pieces were focused on more unconventional topics, "I would draw these kinds of alternative cheetahs. They had very long bodies. I don't know how the rib cage like that would have even looked. But yeah I've been interested in art for forever," Blair said. In addition to being a huge part of Blair's past, she also plans to have drawing as the main part of her future. After attending college, Blair wants to pursue a career in some form of storytelling, and joining the Panther Prowler is a step in that direction. Furthermore, Blair grew up in a world surrounding words as well. Her favorite class has always been English, and one of her other hobbies includes reading."Some of my favorite [books] that I read this summer are 'A Room of One's Own' by Virginia Woolf and I really liked 'Crime and Punishment'." Although, one shocking fact about Blair is that she is not a huge fan of movies, and instead prefers to watch documentaries and listen to folksy music by her favorite singers: Joni Mitchell, the Go-Gos and Tracy Chapman. Overall, the Prowler staff is thrilled to have Blair on staff, and eagerly awaits to see the positive impact of her work.
Isabella Boggs (10) // Staff Writer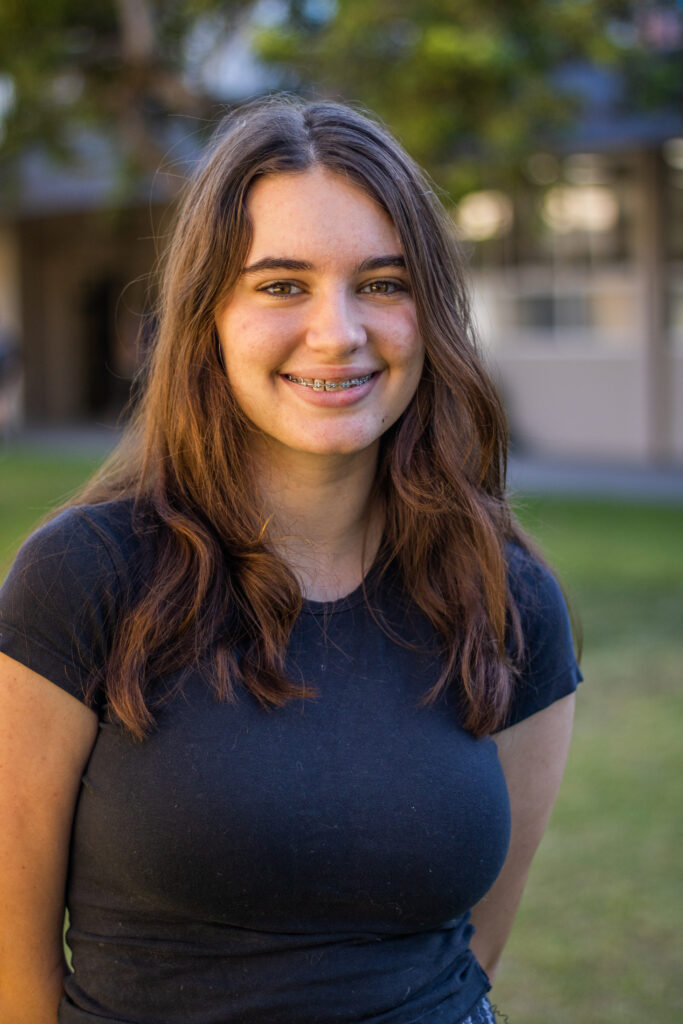 After taking her "Intro to Journalism" class last year, Isabella Boggs, sophomore, took an interest in the idea of joining the Panther Prowler. Joining at the beginning of the 2022 school year as a staff writer and photographer, Boggs has expressed what led her to be set on the path of journalism: "I really like English based classes, whether that's writing or reading, because I think that they both come from my hobbies," Boggs said. Her collection of hobbies range from the physical to the mental, "Aside from the Prowler, I am on the Newbury Park High School Tennis Team, so I do a lot of tennis after school and on the weekends," Boggs said. "Also, I spend a lot of my time reading, listening to music, and just overall spending time with my friends, whether that's on the court or just out and about." She is also an avid reader, checking out everything from "The Picture of Dorian Gray" by Oscar Wilde to "The Secret History" by Donna Tartt. "They're really interesting because they're so far away from my normal life that I can't relate to them at all. That's why I like them," Boggs said. In terms of post-high school plans, she has desires for college and travel: "My main goal after high school [is] planning to go to college for four years somewhere in Europe," Boggs said. "Whether that's the U.K. or France, that is where I want to go." In terms of a career, Boggs has narrowed it down, "I think it would be really cool career-wise to be a professor of classical literature," Boggs said. Anticipating a new year of opportunities, Boggs said, "I really like English because it allows me to be much more creative than other, more concrete subjects do… And I think journalism, while there's a lot of hard facts to incorporate, there's also room for opinion articles and entertainment articles, where you're allowed to put in your own thoughts."
Jason Kiang (10)  // Staff Writer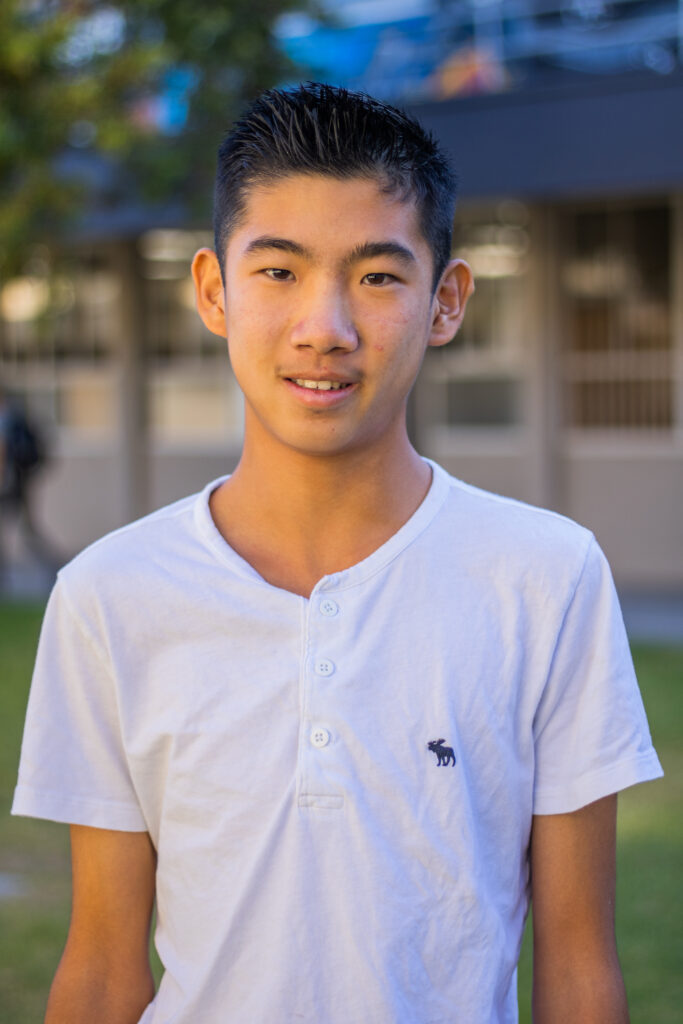 While most circus juggling acts are performed with objects, Jason Kiang, sophomore, juggles with his schedule while balancing tennis, clubs and more. Before joining the Prowler, Kiang participated in Key Club which sparked his extracurricular journey. "I was only in Key Club last year. And I actually didn't do that much. But I think this year, [I'll try] to do debate because I have a few friends in debate," Kiang said. After spending a year at NPHS, Kiang recalled hearing his friends speak fondly about journalism which influenced him to check out his own school newspaper. "I was looking through classes and I thought it'd be fun to write for the newspaper and I know people from other schools that like the school newspaper and they enjoyed it, so I thought I'd go in," Kiang said. Though having to wake up every day before 7:30 in the morning may not have been the most appealing concept regarding the Prowler, Kiang was surprised by room B-9's atmosphere amidst his first day of school. "Everyone's like, pretty energetic, I guess. Yeah. It'd been like 7:30 in the morning," Kiang said. Not only does Kiang enjoy offering his time to academic clubs, he also takes part in a Tennis club run by his friend that gears towards helping players with autism. "[Ronak is] running [a club] based on autism. So it's like he helped kids with autism and you play tennis with them. So I'm joining that club as well," Kiang said. In terms of what Kiang is hoping to accomplish in his first year on the Prowler, Kiang is eager to see how the first issue pans out. "[I like] learning about how this class works, So just like putting together our first issue [of the Prowler] newspaper, and then just like, I think writing articles myself and seeing how that goes," Kiang said.
Nikhil Satyagal (10) // Staff Writer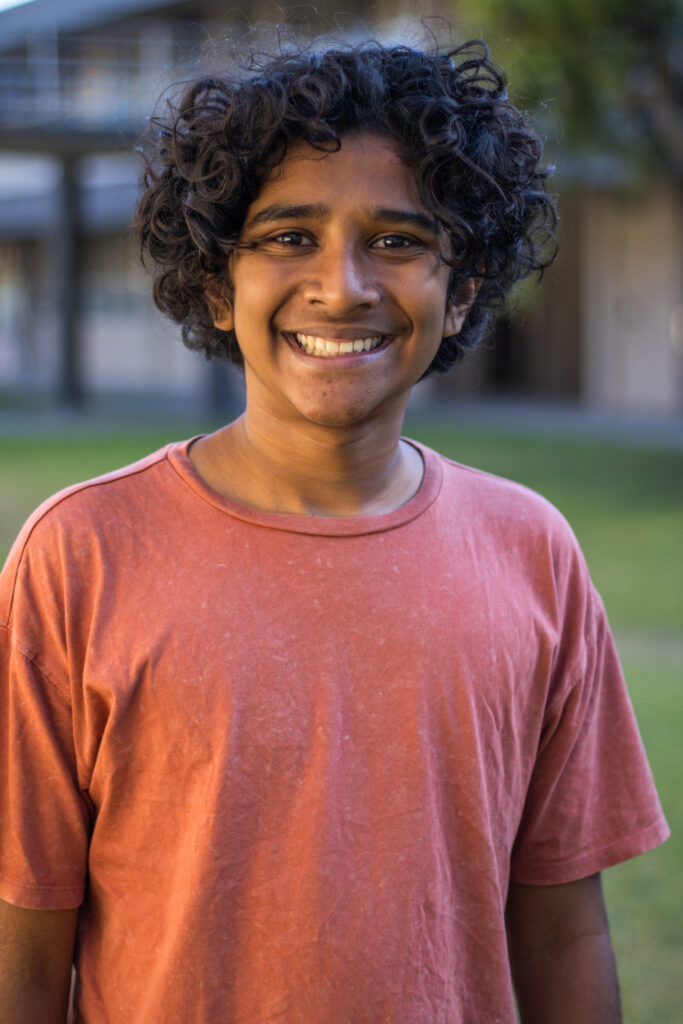 Nikhil Satyagal, sophomore, may be entering his first year on the Prowler staff, but he is certainly no stranger to working for newspaper publications. "In third grade, I started a newspaper in my class with some of my friends," Satyagal said. "We randomly wrote [about] different subjects and what we were doing in class and, with my friend, reached out and gave it to people. I think we actually had like a currency at that time in our class [and] our teachers would like pay us to make them," Satyagal's journalistic influence does not end there, seeing as he has had some connections to the Panther Prowler growing up. "My sister was in Prowler in high school and I'm also interested in writing so I thought it would be a good fit for me… I do look up to my sister because I can see what she did and try to aim to do that," Satyagal said. Outside of Prowler, Satyagal can be found in a range of activities, such as participating in debate club or practicing violin. "I've been playing violin [since] 2013 and [participate in]speech and debate. I did that last year in high school and I've been doing it since sixth grade. I'm pretty good at it and I have a lot of friends in the class," Satyagal said. The sophomore student also enjoys science, whether it's in the form of sci-fi movies or chemistry. "I just find it interesting. Like all the experiments we do…  I just find it a lot more interesting than certain subjects and I just enjoy it," Satyagal said. Being as knowledgeable as he is, Satyagal is more than ready to begin this year with the Panther Prowler. "I just want to have a good time and enjoy writing more," Satyagal said.
Josie Gardner (10) // News Editor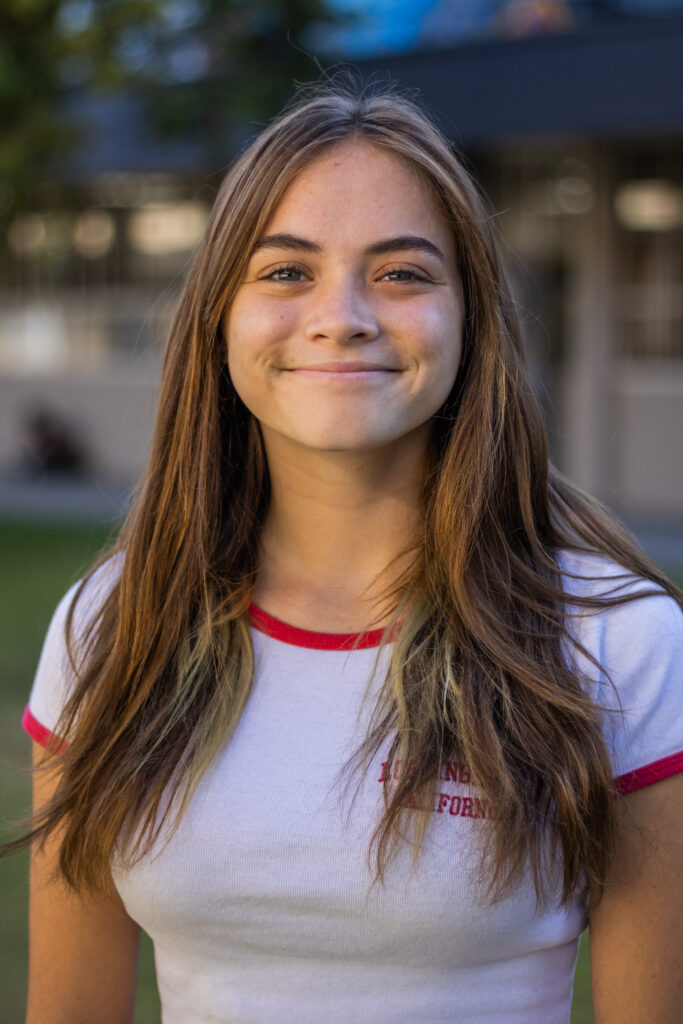 Josie Gardner, sophomore, news editor and online editor of the prowler has a love for cooking in her home. "I like making cookies," Gardner said. Gardner enjoys playing volleyball for NPHS' frosh soph team. Gardner has played volleyball since the 6th grade at Sycamore Canyon Middle School. Gardner's favorite food is waffles. Garner has been involved in journalism since her freshman year. "I decided to join advanced journalism, which is the prowler," Gardner said.  Gardner is involved in the drama club at NPHS as well.  "I did the spring play last year and it was Shakespere and I was Juliet," Gardner said.  Besides writing, acting and playing volleyball, Gardner also likes to spend her free time listening to music. "I like to listen to a lot of different music….it depends on the day, of course,"  Gardner said. If Gardner could go any place in the world on vacation she would go to Ireland.  "I have never been there before and it sounds beautiful,"  Gardner said. Gardner previously attended an award winning local blue ribbon school Sycamore Canyon in Newbury park where she was born and raised. Gardner's favorite season is summer. "I love the beach and the sun and it just makes me so happy." Gardner said.  Gardner has a love for reading, though her current favorite author is Taylor Jenkins Reid, she does not have just one favorite book. "I would never be able to choose, there are so many options and I love all types of genres," Gardner said. Gardner looks most forward to being editor and working on her writing this year in The Prowler.
Ava Prapaniku (10) // Sports Editor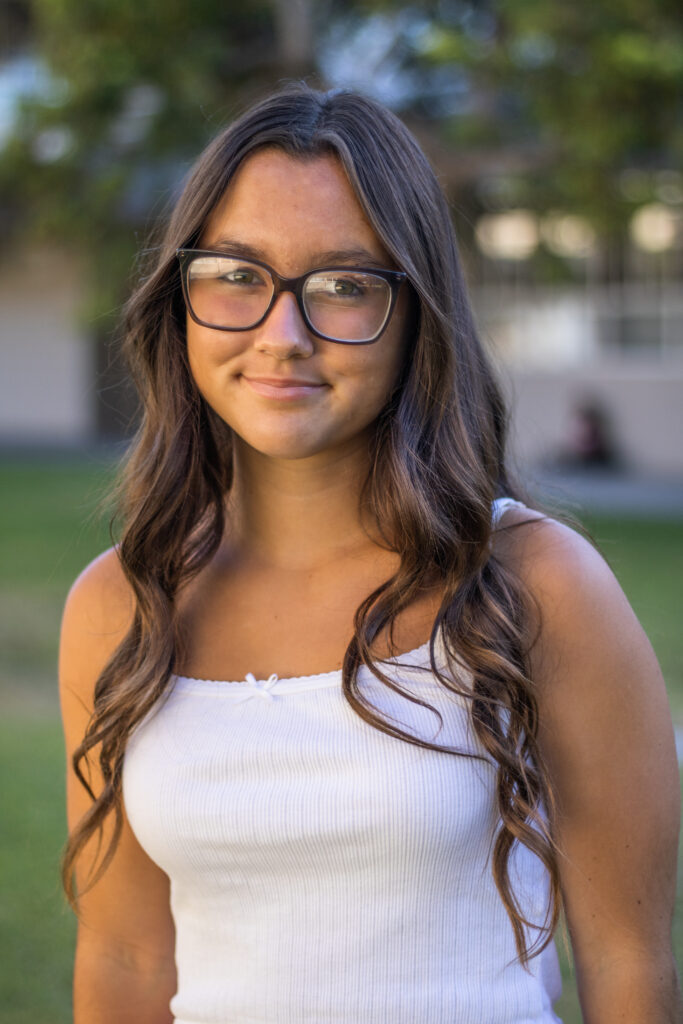 For Ava Prapaniku, sophomore, writing articles that feature specific people is definitely one of her favorite articles. "I went in [Prowler class] originally wanting to write a lot of opinion pieces…but the one that I found myself really enjoying was feature articles because they weren't as straightforward as news articles so you kind of got a little inside light on the story," Prapaniku said. Despite her interest in the newspaper now, Prapaniku wasn't originally planning on joining the Prowler staff. "I was originally put into 'Emergency Medical Responder,' and I didn't want that class but I couldn't get my other elective… I emailed my counselor…and she said that Intro to Journalism had opened, so I went in there spontaneously," Prapaniku said. Prapaniku has always loved writing, making Prowler a great fit for her. "I've always loved writing. I've loved writing since 3rd grade. I would write little short stories on Google Drive and just save them. So I felt like [the Prowler] was just another outlet I could use to express my passion in writing," Prapaniku said. Prapaniku sees the Prowler as a team; a group of people she can rely on and share common interests. "I wanted the experience of working with a team especially since I'm not really into sports. I feel like I could get that experience from being on staff," Prapaniku said. One of Prapaniku's other hobbies includes traveling. "I love traveling. It's really exciting. Every time I travel I feel like I learned a lot more," Prapaniku said. Just this summer Prapaniku went to Oahu, summer camp, and Yosemite. To further her love of traveling, Prapaniku would like to live in Europe. "In the summer of fourth grade, my aunt lives in Europe, we traveled and stayed at her house…we drove everywhere. We went to Scotland, London, Bath… We would get up early, walk around all day, see [England] and go back to sleep," Prapaniku said. This year, Prapaniku is most excited to meet new people and learn more about life. "Meeting new people, and just gaining more experiences in life, and growing as a person," Prapaniku said.
Cameron Winick (10) // Staff Writer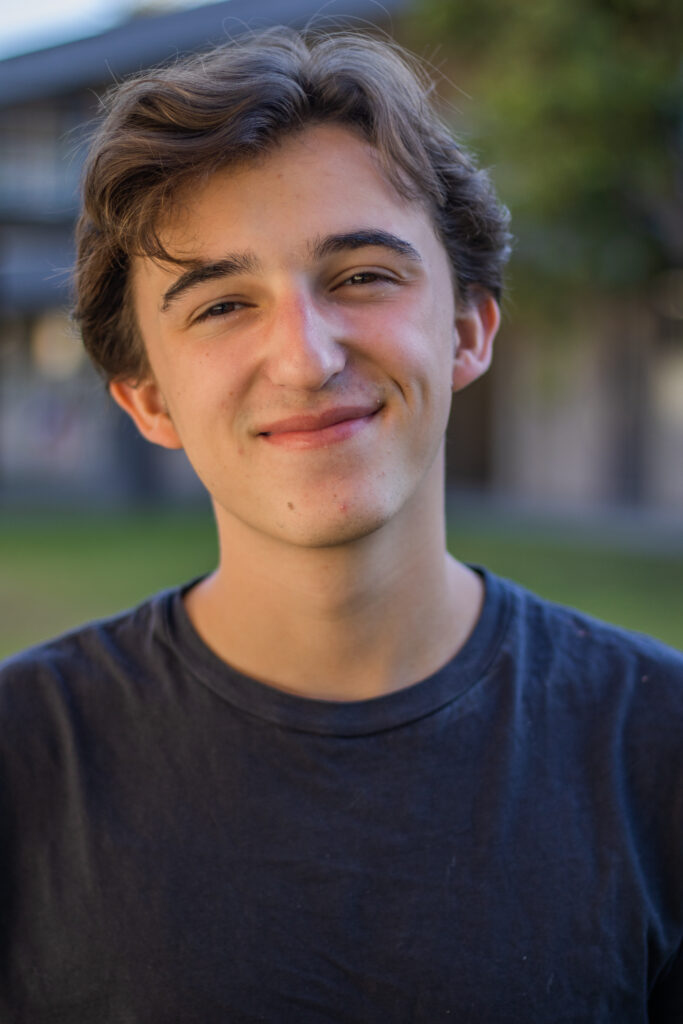 Cameron Winick, sophomore, staff writer and photographer for the Panther Prowler, spends practically his entire life jotting down ideas and opinions. "I've always kinda been interested in reporting on the happenings of the school. My focus was especially dedicated to the entertainment column, in which I love to write about all the movies and shows I am currently watching," Winick said. In addition to being on the Panther Prowler, Winick spends the majority of his free-time writing screenplays or movies. "My goal is to be a director, but being a writer would also be very, very cool," Winick said. "I normally find myself writing comedic scripts and directing more comedic based films so I think it's safe to say I have my calling." Winick is also an active participant in the NPHS theater department and took part in multiple productions throughout his freshman year. "I was in the musical ['All Together Now!'] last year. I've done Mystery Dinner Theater, I did Student One Acts and 24 Hour Theater," Winick said. He plans to partake in all of these performances again during the 2022-2023 school year. Winick feels as though he can connect to and take something away from many of the characters he has portrayed. "In Mystery Dinner Theater I played a character called Uncle Arthur, who is this wacky uncle of some of the main characters. He's always doing little jokes, always playing tricks and I thought he was just a very interesting, very funny character," Winick said. He is also an avid movie watcher, with his all time favorite being "Whiplash", directed by Damien Chazelle, his favorite director. Overall, Winick is extremely excited to further his journey with the Panther Prowler. "I hope to continue my endeavors in journalism, improve my creative writing, and write more journalistic articles rather than entertainment and opinion pieces," Winick said.
Gwen McCarthy (9) // Staff Writer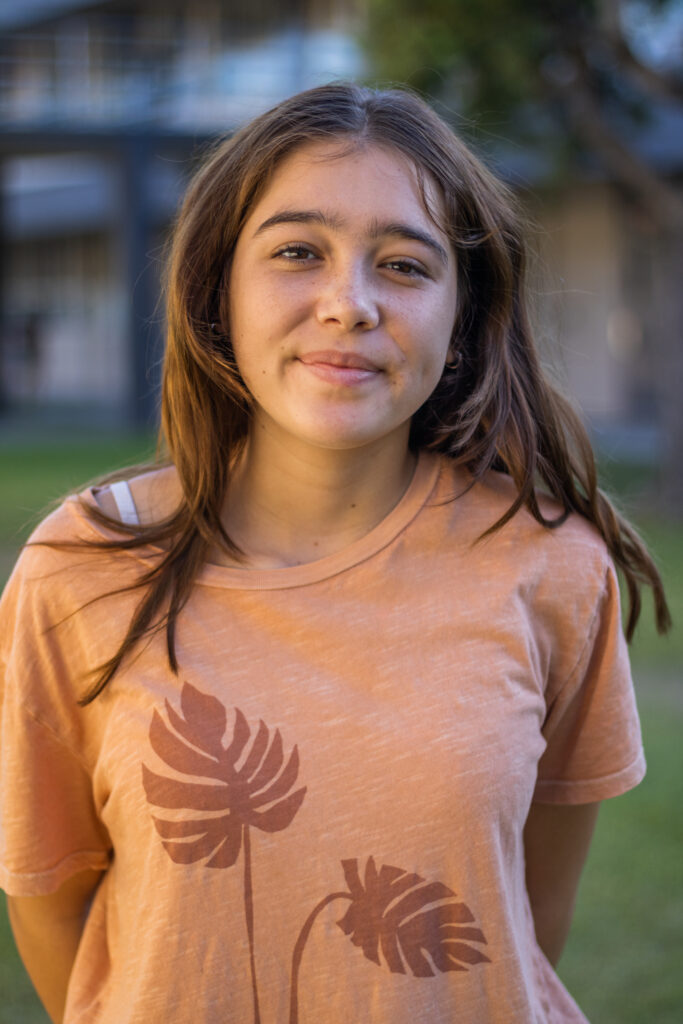 Gwen McCarthy is the only freshman on the Prowler staff, and she is ready to write. McCarthy will be writing articles and hopes to take her chances with photography as the year progresses. McCarthy enjoys playing soccer with her family, spending quality time with her friends and writing. "I joined because I really like to write and I wanted to be able to do something [with it] instead of writing alone," McCarthy said. While she enjoys playing soccer with family and friends, she will not be participating in the school's soccer program. She may not know much about the Prowler, but she is prepared to learn. "I'm not sure too much about what features [articles] are but…I'm looking forward to learning about it," McCarthy said. McCarthy plans to stay with the Prowler throughout her highschool experience, and wants to hone in her skills before moving up the Prowler ladder. "I've never done features [articles] or any part of the newspaper so I want to be able to experience that before I move up," McCarthy said. In her first year of highschool, she is looking forward to meeting new people and taking photos for the paper. "I have never done this before and I like trying new things," McCarthy said. Outside of Prowler, McCarthy has participated in Drama club and volleyball. McCarthy also has a love for cooking meals with her family. "I really like making spaghetti, chicken and rice and street tacos," McCarthy said. With so many hobbies, McCarthy has a lot on her plate but she is ready to prioritize our newspaper and expand her writing.
Michelle Saremi // Adviser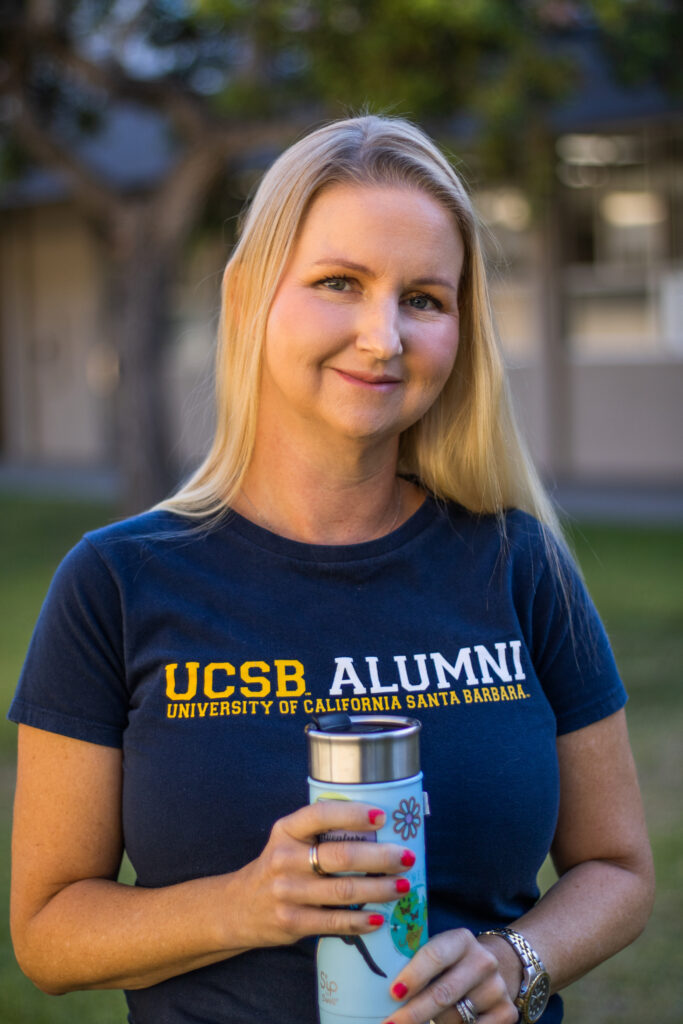 Michelle Saremi has been advisor to the Panther Prowler for 16 years. Before accepting the position, she didn't know anything about journalism and took the job in order to teach English. "[The principal] said, 'If you want the job, you also have to teach journalism,'" Saremi said. In addition to the Panther Prowler, Saremi oversees the yearbook, teaches an Introduction to Journalism class and 11th grade English at NPHS. When Saremi is not busy reading articles and reviewing page designs, she can be found doing Megaformer Lagree, playing the flute or cozying up with a good novel. "I love the book 'The Shadow of the Wind', and right now I'm reading 'The Story Life of AJ Fikry'," Saremi said. She also is an animal lover, and in addition to owning two cats and an aquatic frog she often volunteers at local shelters. Over the summer, Saremi fostered a litter of newborn kittens. "They were three days old when I got them. Then I bottle fed them and taught them how to eat and use the litter box and then found them homes," Saremi said. Saremi is excited to improve The Prowler during the 2022-2023 school year and can not wait to watch as the Prowler staff continues to better their abilities as journalists. "When [the staff] first started three weeks ago, [they] had nothing, no material, no design, no ideas and now I recently got to look at the pages and they're just they're coming into their own. They've taken shape," Saremi said. Saremi carries her positive attitude with her wherever she goes and is always living up to her favorite motto. "I may look small but I'm mighty," Saremi said.
---
Former Editors-in-Chief:
2021-2022: Abby Gorman & Carter Castillo
2020-2021: Jessica Zhou & Manas Khatore
2019-2020: Emily Nagamoto & Aditya Vunnum
2018-2019: Clare Wang & Connor Keep
2017-2018: Lindsay Filgas & Caitlin Henderson
2016-2017: Victoria Juan & Nina Chiuchiarelli
2015-2016: Adrianna Robakowski & Shreya Chattopadhyay
2014-2015: Grace O'Toole & Courtney Brousseau
2013-2014: Cassie Stephenson & Patrick Rewers
2012-2013: Rachel Cross & John Dichirico
2011-2012: Sophie Li & Maia Laabs
2010-2011: Shannon Alavi & Melissa Han
2009-2010: Kylie Foo & Larisa Owechko
2008-2009: Katherine Light & Naveen Balan
2007-2008: Mark Alphonso & Katherine Light
Former Chief Photographers:
2021-2022: Reese Kelem
2020-2021: Reese Kelem
2019-2020: Rahul D'Souza
2018-2019: Emily Nagamoto
2017-2018: Megan Vlietstra
2016-2017: Caitlin Henderson
2015-2016: Samantha Meyers
2014-2015: Samantha Meyers