2023-2024 Staff
Kira Ivarsdottir (12) // Co-Editor in Chief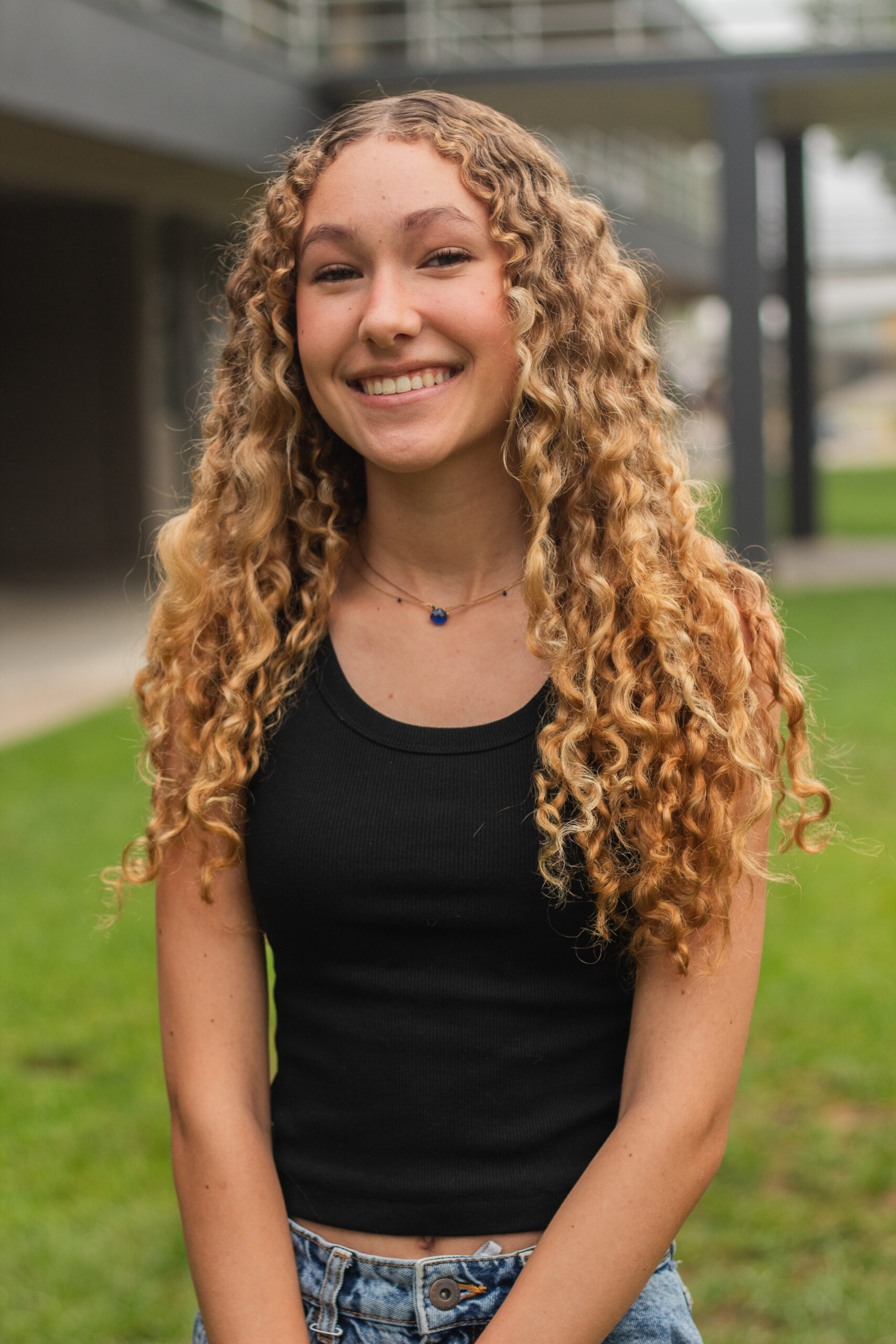 Kira Ivarsdottir, senior and co-editor-in-chief of the Panther Prowler, sang her summer away attending concerts, "I had an amazing summer, I saw two concerts, Taylor Swift and Beabadoobee. I had a lot of fun and they were great shows. They were a great way to spend my time because I love music," Ivarsdottir said. Having been on staff since Freshman year, Ivarsdottir was inspired to join after seeing a presentation about the program, "I tried to get like all of my friends to do it with me because I didn't want to do it alone. But I did it anyway," Ivarsdottir said. The leap of faith was worth it for Ivarsdottir who met many friends and developed her passion for writing within her time on staff. Besides the Panther Prowler, Ivarsdottir is actively involved at school in many different ways, "I am an ambassador for the school and I also tutor for English every couple of days," Ivarsdottir said. Even with the full schedule, Iversottir is sure to lead the Prowler with grace and knowledge from her past three years on staff. The newest co-editor-in-chief enjoys all things English and writing and was inspired to lead the Prowler to further this interest. Even chiefs need days off, Ivarsdottir has many activities she likes to do in her free time, "I like to listen to music. I like to read and just go on random walks around the house cleaning, a lot of stress cleaning," Ivarsdottir said. Ivarsdottir is excited to facilitate a family-like dynamic that Prowler has created for many this school year, "It's sort of a different perspective than any position that I've been in." Ivarsdottir said. 
Hayden Meixner (12) // Co-Editor in Chief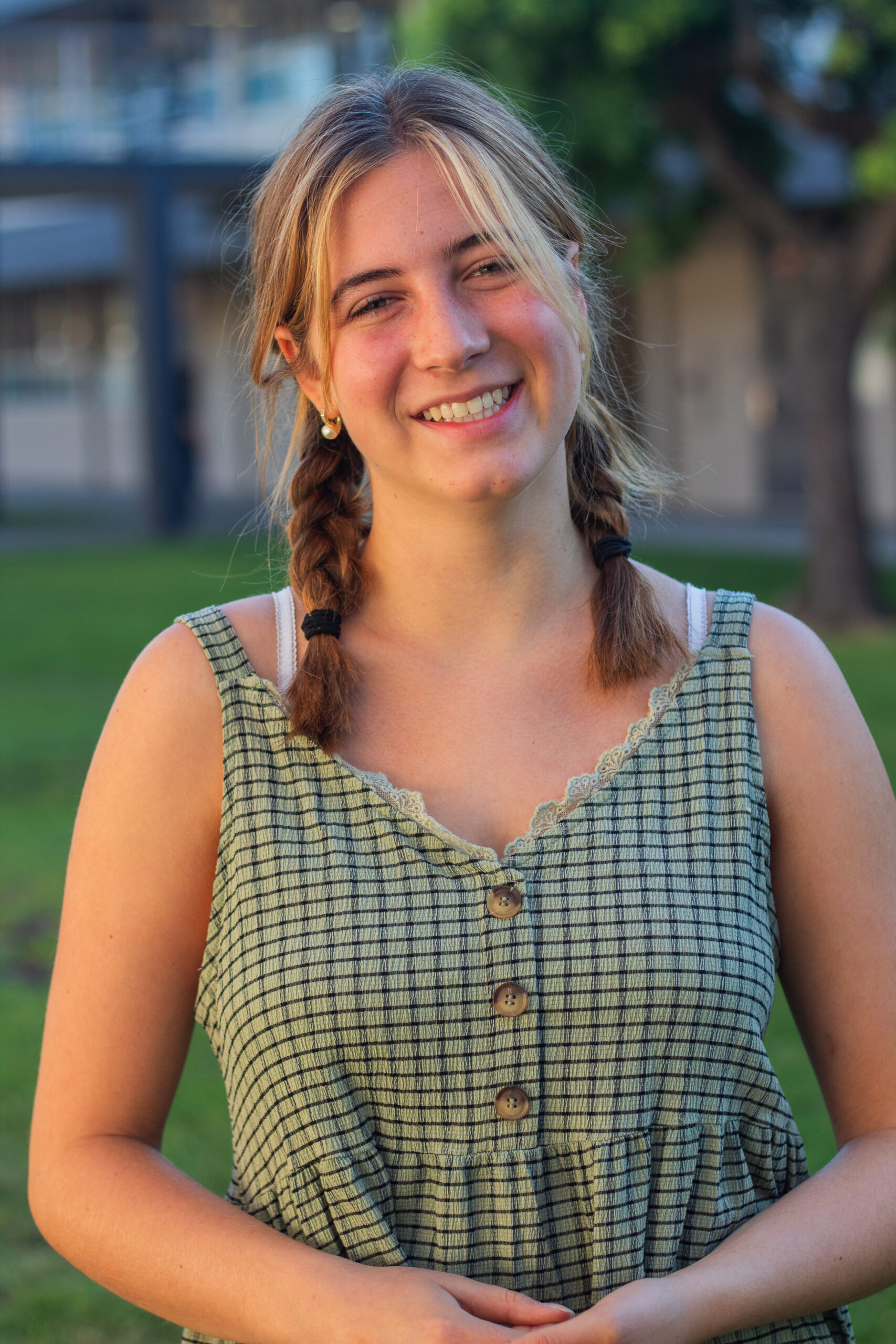 From journaling in elementary school to being Co-Editor in Chief of the Panther Prowler, Hayden Meixner, senior, is opening herself up to new perspectives for the upcoming school year. Because Meixner was already well versed in the language of literature, all it took was an application form to launch her ever-growing love for journalism. "When I was in eighth grade, my English teacher sent everyone in our class the link to apply. And she said that she thought I should apply and I wanted to join to have kind of an outlet and I also really enjoyed writing," Meixner said. After starting Prowler her freshman year, Meixner has seen her fair share of chiefs and hoped to one day share the title. "When I was a freshman I remember looking at Madison and Jessica, the editors in Chief at the time, [like] Oh my god they are so big and so smart and I could never measure up to them but now that I'm here, it doesn't seem as big and obviously it's a big responsibility but I like it" Meixner said. Regarding her future, Meixner wants to work behind the big screen while still living in California. "I hope to go to a four year college like UCSB or UCLA. I want to write as a career, maybe not journalism, but I think I'm more interested in writing like TV or film" Meixner said. Though her high school newspaper is technically a graded class, Meixner has altruistic intentions. "We've always been a big family so I just want to be sure that we are able to continue that dynamic in this class," Meixner said. 
Ariela Behar (12) // Co-Managing Editor/Backcover Editor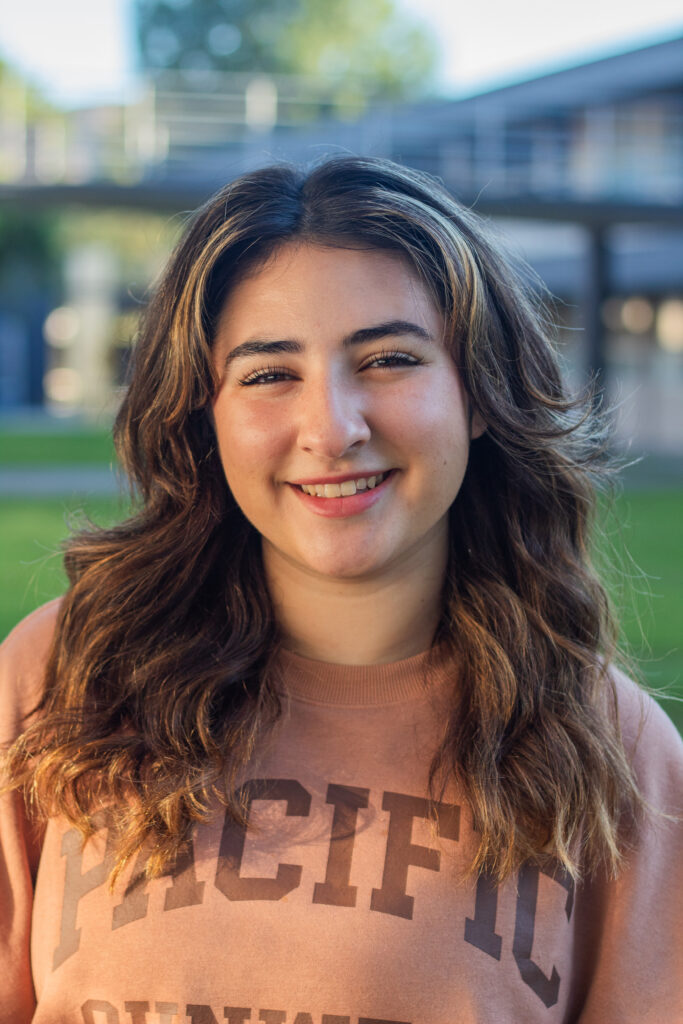 "It sounded kind of professional, which drew me to it. It just didn't seem like a silly little thing." Ariela Behar said of the first time she learned about the Panther Prowler. "I was in eighth grade," she continued, "the old chiefs were here and Saremi was here, and everything they said just totally interested me." Joining the Prowler in her sophomore year was Behar's first real experience with journalism. She had been interested in other kinds of writing for a while, beginning with a thirty page story she wrote as a third grader. Ariela has also recently developed an interest in reading, and is currently making her way through the book Normal People by Sally Rooney. Behar has an avid interest in musical theater and dance, both of which she has been doing for many years. She danced at Thrive Dance Studio for a while, and later took classes here at the high school. As for musical theater, in addition to performing in community theater productions, she played Donna in last year's musical Mamma Mia, and is preparing to try out for Oklahoma this year. Behar is also the president of the drama club, which puts on an annual fundraiser for Broadway Cares, a philanthropic organization that provides assistance to people with life-threatening illnesses, and an event called "24 Hour," where students write, cast, and perform a play all in the span of  24 hours! Watching plays and musicals is also a passion of Behar's. She will often go to community shows when her friends are in the cast and used to have a season pass to the Pantages in Hollywood, where she could see a variety of different types of shows. This lifelong Newbury Park resident has found creative ways to spend her time outside of her studies at NPHS with drama, dancing and journalism. Her Panther Prowler team will be excited to watch Oklahoma, and cheer on Behar, or watch her perform in whichever production she's cast in next. 
Dylan Kaseno (12) // Co-Managing Editor/Editorial Editor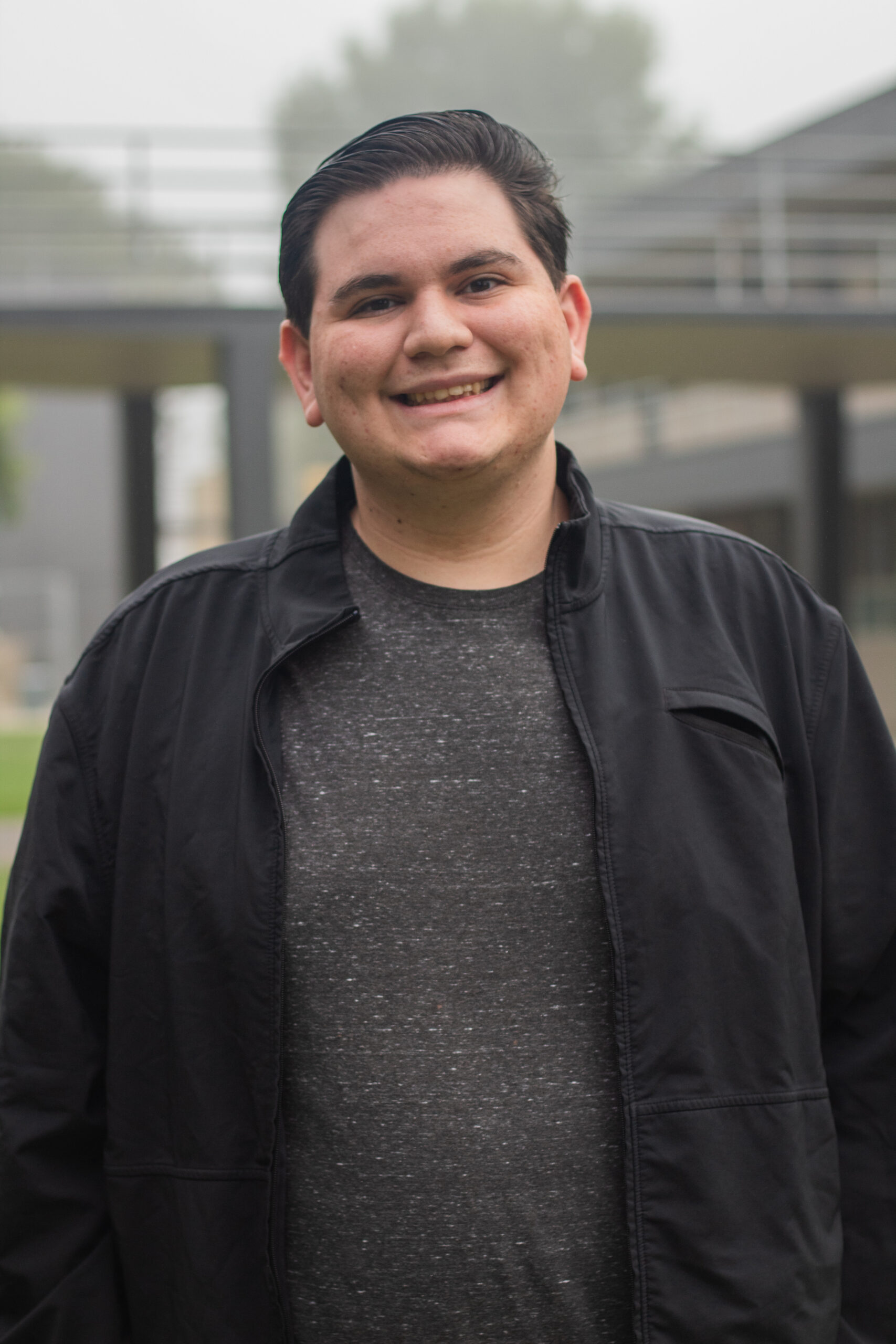 Dylan Kaseno, Senior, has been a member of the Prowler Staff since the second semester of his Sophomore year. He initially joined the class for intro to journalism at the recommendation of his friend, and enjoyed it so much that he decided to become a staff writer for the Panther Prowler. "I had initially joined the intro to journalism class, because my friend told me to join journalism, and I hadn't known that she had just joined the actual newspaper, because it's called advanced journalism, and after completing the course, I found out that I enjoyed it and really didn't want it to end, so I joined advanced journalism with her," Kaseno recalled. During his time on staff, Kaseno enjoyed writing, but was able to take up new tasks quickly over time. "Initially, I joined because I liked writing, but as I spent more time in the room, I grew into newer roles. I've found I really enjoy designing pages," Kaseno said. After working as a staff writer and page designer for a year and a half, Kaseno decided to apply for the position of co-managing editor with fellow staff member Ariela Behar. Kaseno looks forward to this new job, which mainly focuses on coordinating advertising and fundraising for the paper. In addition to his new role, Kaseno is also looking forward to having a more relaxing Senior year with a lighter workload."It is probably going to be great, because of how stressful last year was," Kaseno said. He hopes to spend more time with his friends this year. Over the past few years, Kaseno has enjoyed making new friends and cementing relationships in spite of the COVID pandemic. In his spare time, Kaseno enjoys collecting crystals and playing with his many pets.
Parker Bohl (12) //  Photographer/News Editor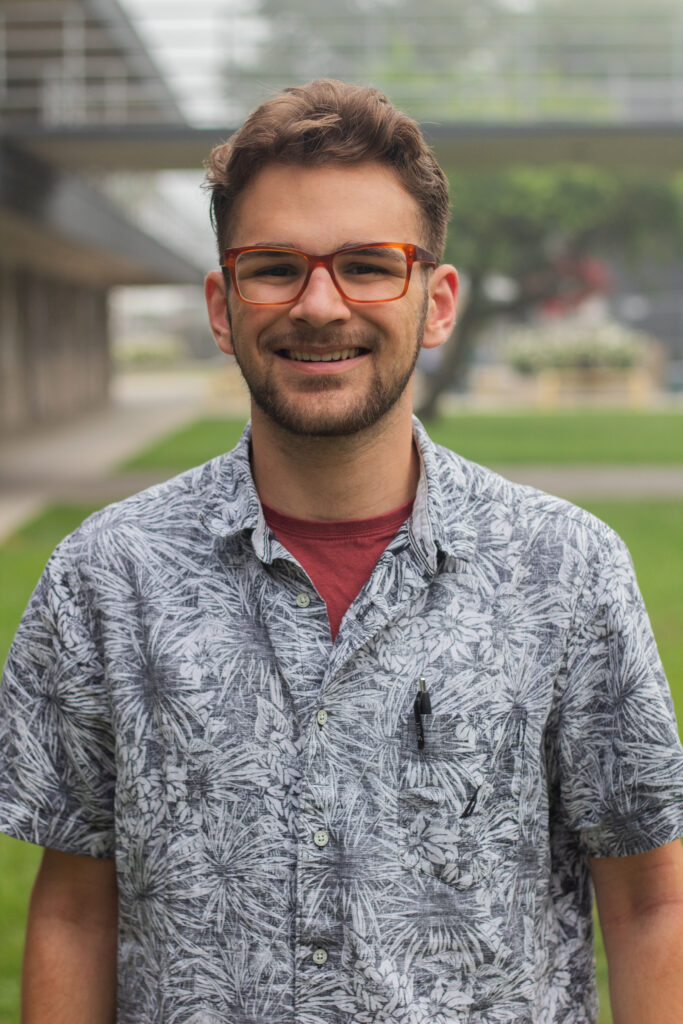 Parker Bohl, senior, has been involved with the Prowler since his freshman year. Over the years, he's enjoyed many things, especially all of the publication dates. "Whenever we publish something is very exciting as well and getting to see my photos and my friends' articles in like a physical piece of paper." In addition to the Prowler, he is involved with Yearbook and enjoys taking photos. Bohl learned the art of photography by using an old camera gifted to him. He mainly enjoys photographing people because, "You have a sense of scale and maybe even a sense of personality…who that person is can be seen even just in the way they walk." His advice for incoming photographers is to pay attention to lighting. "That is the key to the entire thing…finding lighting that looks good and knowing how to recognize lighting that looks good." Although Bohl is an avid photographer, he used to have dreams of becoming an author. "Before middle school, I always wanted to be an author, and then in middle school, I got really into photography. And I felt kind of bad because I felt like I was leaving behind the idea of being an author that I'd been focused on for so long." His creative inspirations include Orson Welles, director of Citizen Kane, which is subjectively called the best film in the history of cinema. He also enjoys Werner Herzog. "He is a German filmmaker with some very interesting theories about how you convey truth in film and the difference between representing a fact and representing what he calls an ecstatic truth." Post graduation, Bohl hopes to study film and linguistics in college in California.
Cameron Winick (11) // Chief Photographer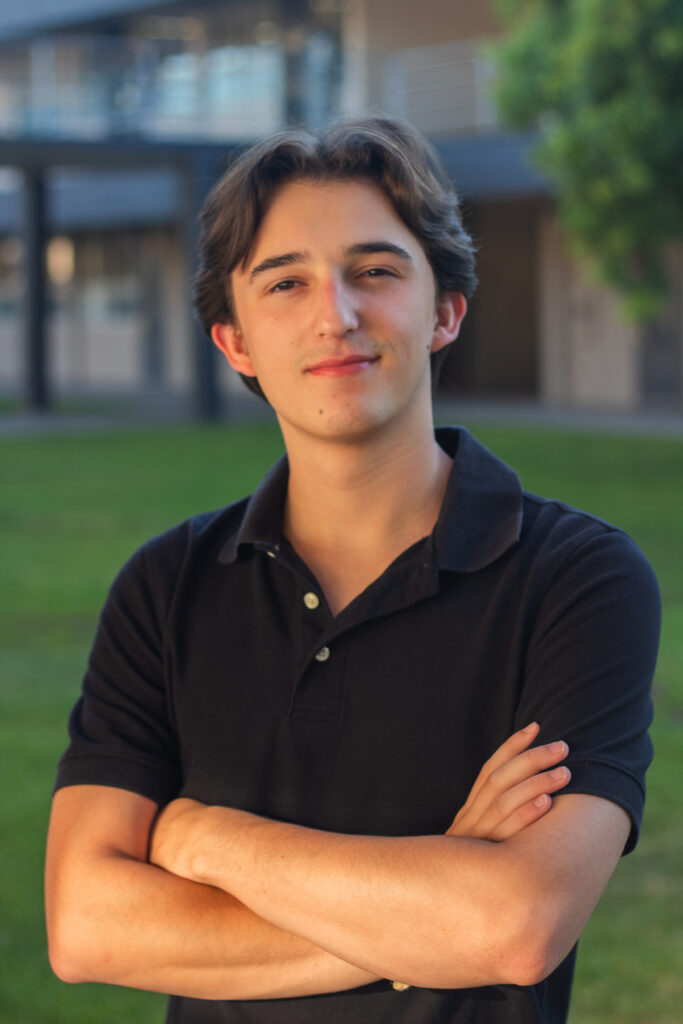 Cameron Winick, junior and newly elected chief photographer on the Prowler, can be described as a 'Renaissance man' with his variety of talents and interests. Winick enjoys the liberal arts side of the world and his hobbies include filmmaking, writing, drawing cartoons, watching movies, and hanging out with his friends. His favorite movies, 'Paul Thomas Anderson's Punch Drunk Love', 'Whiplash', and 'Singing in the Rain' have all inspired Winick to pursue filmmaking. "I've always had a passion for musical movies because I mean, I love them, they're the most joyous films out there," Winick said. Even though he hasn't been in theater long, his love for musicals and producing has flourished since his freshman year and continues to in his high school and college career. "I think what sparked my interest in theater the most was seeing the film 'The Producers', starring Zero Mostel and Gene Wilder, directed by Mel Brooks," Winick said. "That movie was just so funny and when I learned it was a musical I was like, 'Oh my God, I want to see this'". Not only does he enjoy theater, but he also finds joy in R&B music and other artists such as Elton John, Supertramp, AC DC, and Queen. Although Winick enjoys newer music artists and albums, his music taste stems from a place deeper than just the beat. "I just think that it's all retrospective," Winick said. "You are able to see their whole discography and how each of their songs has been remembered". In addition to theater and music, Winick is a travel enthusiast and shares his adventures in Europe this summer. "I traveled to Rome, Florence, Verona, Munich, Innsbruck, and Prague this past summer," Winick said. "If I could go back to Italy or Germany or Austria, that would be wonderful because those countries were just so amazing. Maybe I would spend a little more time in jolly ol London or England because I only got to go to Heathrow Airport". After a busy summer spent traveling, Winick is ready for his junior year and has a goal to balance school and his life beyond NPHS.  "This year, I want to make a plan for myself in terms of both mental health and schoolwork," Winick said.
Josie Gardner (11) // Entertainment Editor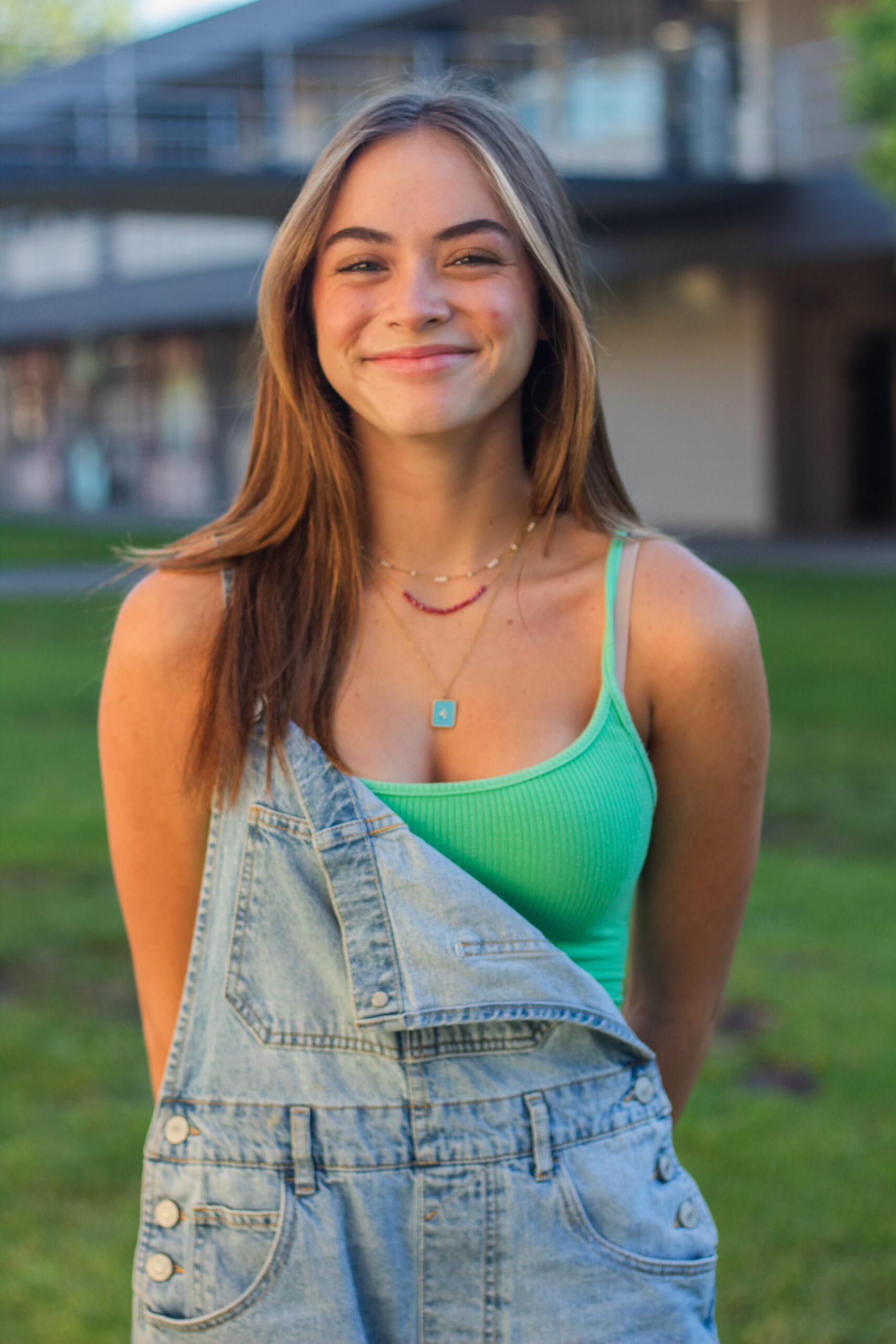 Josie Gardner, junior, is a copy and online editor for Newbury Park High School's newspaper, The Panther Prowler. With a passion for writing, she found her calling in journalism after taking an introductory course taught by Mrs. Saremi, the head of The Prowler. Encouraged by Saremi, Gardner joined the newspaper, quickly proving herself as a valuable asset. Within the realm of journalism, Gardner's heart lies in crafting engaging reviews, particularly in entertainment. "I am most passionate about writing," Gardner said. Her enthusiasm is evident in her fervently composed articles. Her preference for the news and entertainment sections showcases her dedication to keeping students informed and entertained. Outside of her journalistic pursuits, Gardner balances her time by working at Cold Stone, an experience that allows her to channel her assertiveness. "I don't like when I'm making their [people's] ice cream and they look at it and they say that I'm doing too much or too little. Like, let me do my job!," Gardner said. with a mixture of determination and humor. Her aspirations extend beyond the local scene, however. Gardner dreams of visiting the iconic cities of London and Paris. Memories of her childhood trips fuel her desire to revisit these locations with a newfound appreciation. Gardner's involvement in The Prowler's late-night sessions is a testament to her growth. "All the late nights are really, really fun. I remember on my first one I hadn't really opened up…I'm quiet when I don't know people, but the second that I even know their name, I can be very, very loud." Highlighting her evolution from introvert to a confident contributor to the paper. Her journey in journalism and high school has also taught her valuable life lessons. "I've learned that not all friends are the realest of friends…and that boys are stupid." said Gardner with a grin. While her journalistic journey is a personal pursuit, Gardner finds joy in making her grandfather smile by sharing her articles with him. "I do it because I want to write, obviously, but also because he's really happy when he gets to read the newspapers." said Gardner warmly, revealing the significance of her work beyond her own ambitions. In her dual roles as an ice cream artisan and journalistic writer, Gardner thrives as a young individual with her unwavering dedication and heart full of passion.
Melina Wagner (12) // Front Page Editor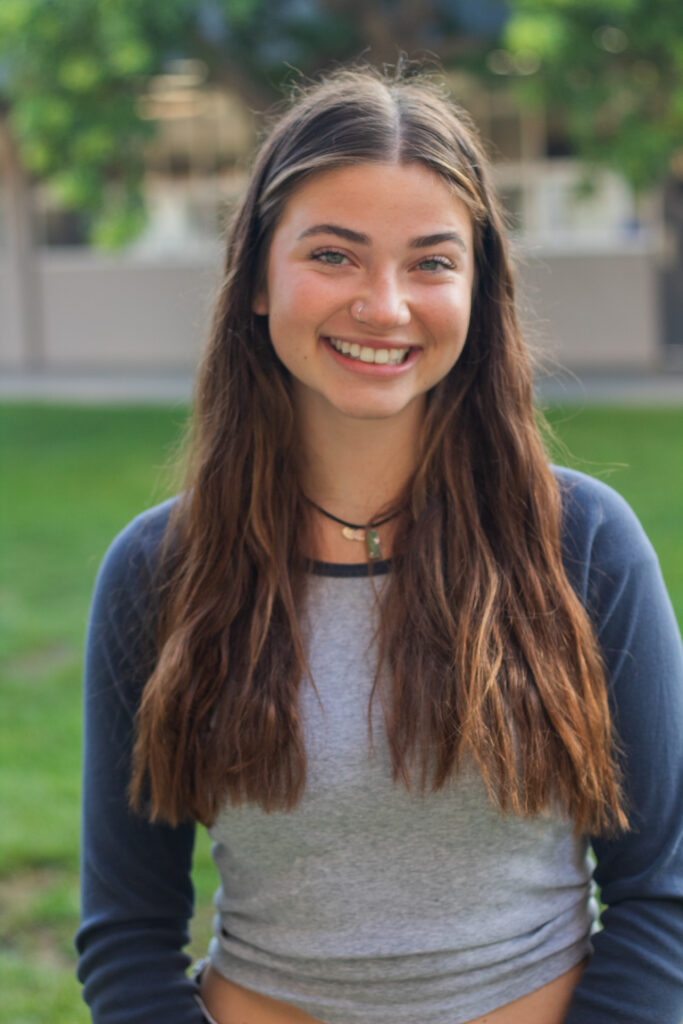 You might find her writing a review for the latest Netflix show or unveiling some breaking news, but when Melina Wagner, senior, isn't hard at work on the Panther Prowler, she's enjoying the simplicities of life. "I'm a person who enjoys the little things," Wagner said. Wagner works as a copy editor and page designer for the Prowler. "I feel like I've always liked writing. I just never really knew of this opportunity until my sophomore year. So once I joined, I just enjoyed spreading news, especially to our school and educating students on current events," Wagner said. Wagner is known by her peers as being particularly thoughtful and empathetic. "I value other people's opinions and ideas and thoughts, as well as my own interests," Wagner said. As a senior, Wagner is looking at her future outside of high school. "I want to major in psychology. So hopefully [I'll be] getting my masters and PhD in psychology and nutrition," Wagner said. She is currently eyeing schools in either Southern California or the East Coast. In addition to the Prowler, Wagner is a participant in several clubs and other extracurriculars. "I'm part of a club called Teen Angels. It partners up with Casa Pacifica to donate food and clothing, and I'm [also] part of the Monarch Butterfly Project club where you plant indigenous plants," Wagner said. Additionally, Wagner says she happens to struggle somewhat with keeping a balance between school work and her personal life, but tries to figure out ways around it. "I feel like the main thing that I try to do is not procrastinate. I feel like if I don't procrastinate my work with school, it gives me more time to spend with my family, my friends and to do things that I actually enjoy," Wagner said.
Ava Prapaniku (11) // DPS Editor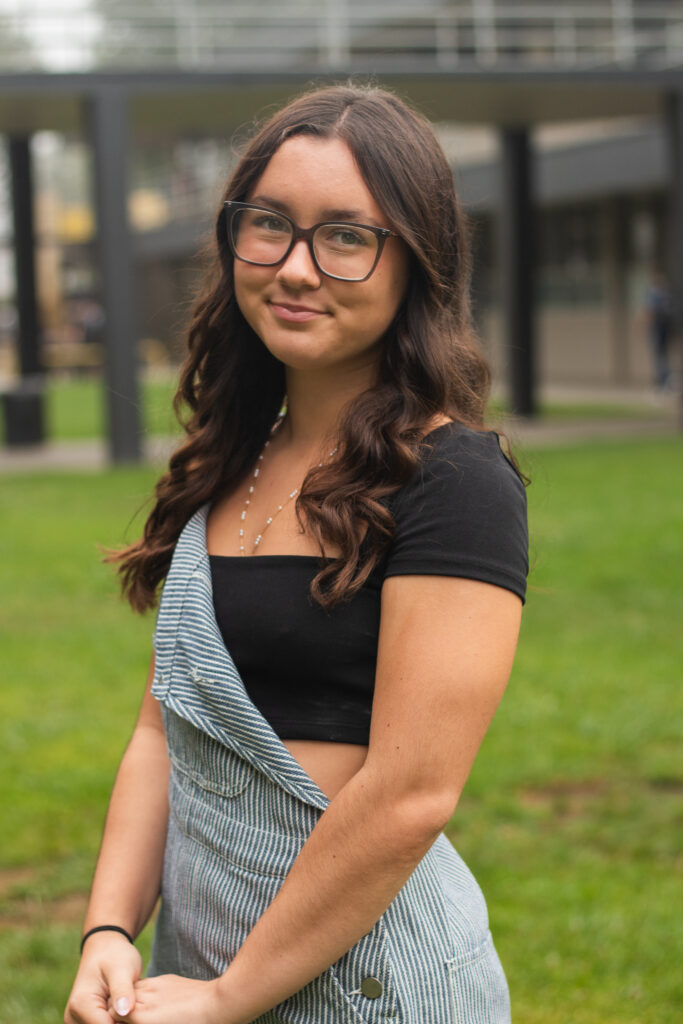 Books are just one of the many things that interest Ava Prapaniku, junior, more than movies. "I like the stories of books better because I feel like they're just more detailed because you can't really relay all the details that often in a movie," Prapaniku said. Her love of books has helped drive her love for writing. "I've always been an avid writer since like third grade and almost all of elementary," Prapaniku said. However, it was when Prapaniku entered high school that journalism caught her eye. "My counselor put me into introduction to journalism and I took that class and I enjoyed it and Mrs. Saremi told me that I should join the Prowler and it was kind of through that. I love it," Prapaniku said. Now, Prapaniku is a DPS editor and copy editor on the Prowler staff. When she isn't busy working on the Panther Prowler, she likes to spend her time watching classic television shows like Friends and Gilmore Girls. "My ultimate favorite would probably be Friends. I feel like I could just pick up on any episode and just start laughing. But then also freshman year, I loved Gilmore Girls and I really wanted to be Rory Gilmore," Prapaniku said. A highlight of Prapaniku's summer was " my family vacation with 13 other family members, and we went to Saint Thomas for a week and then we got stuck in New York, but that was fun too," Prapaniku said.  "A perfect day for me would look like being able to spend time with my friends and family doing something. Like a travel day. Just traveling and exploring a place," Prapaniku said.
Taylor Gibson (12) // Opinion Editor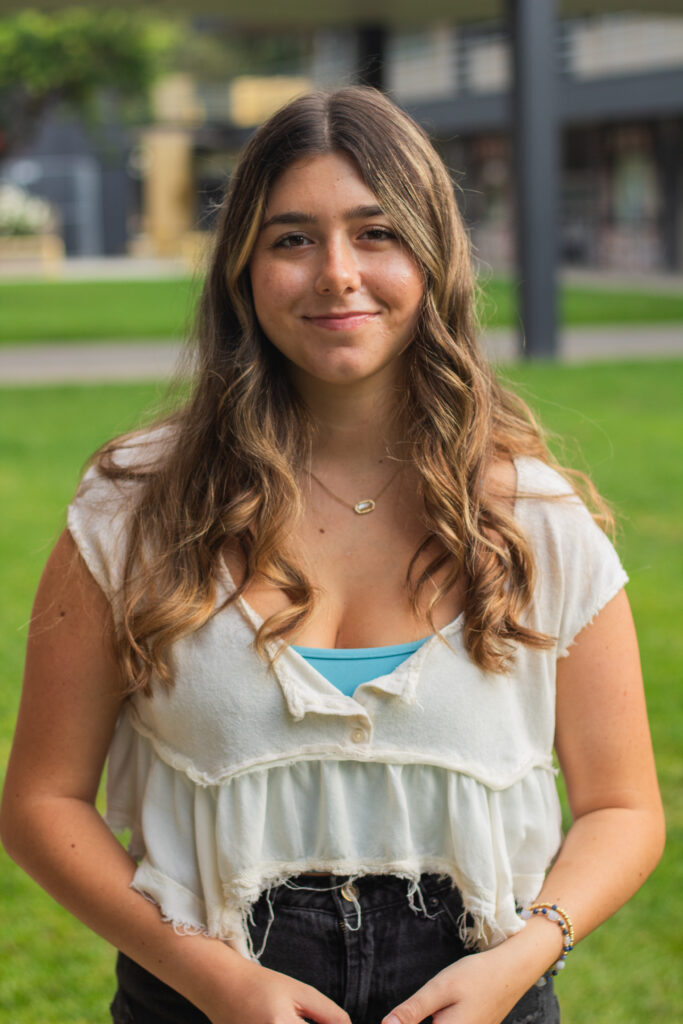 Gilmore Girls lover, Taylor Gibson, can't wait for this year's senior activities, such as senior sunrise, but especially graduation. As her last year of high school begins, she embarks on the journey of her future, while also reflecting on the past three years. She began writing for the Panther Prowler in her sophomore year, when her friend mentioned the idea to her. "She told me that she had joined the prowler because she really liked to write, and I really liked writing as well so I figured I'd apply," Gibson said. Moving into this year of Prowler brings new challenges into Gibson's life, but she is more than ready to take them on. Her workload is much bigger, but she takes it as a way to be more involved. "I page designed last year. I was page designer for editorial. And this year, I think I'm going to be the opinion page designer, and I'll copy edit, too," Gibson said. Although she is just beginning her senior year, Gibson already knows exactly what she wants in her future. "I hope that I'll be a nurse. That's my biggest goal. My dream college would be TCU but it's really expensive. So I've been thinking about going to Texas Tech because my mom went there and I have a lot of family friends that go there," Gibson said. Besides traveling Europe this summer, Gibson spent lots of her time at the beach. "I love going to the beach so much. A couple years ago, I used to surf so now my friend and I have been going a lot. We got really good at it and it was so fun. I just want to go every day," she said. Being on the Panther Prowler, Gibson feels that the community is always able to help. "[Prowler is] definitely a place that builds character individually and as a team," Gibson said.
Nandini Patro (12) // Sports Editor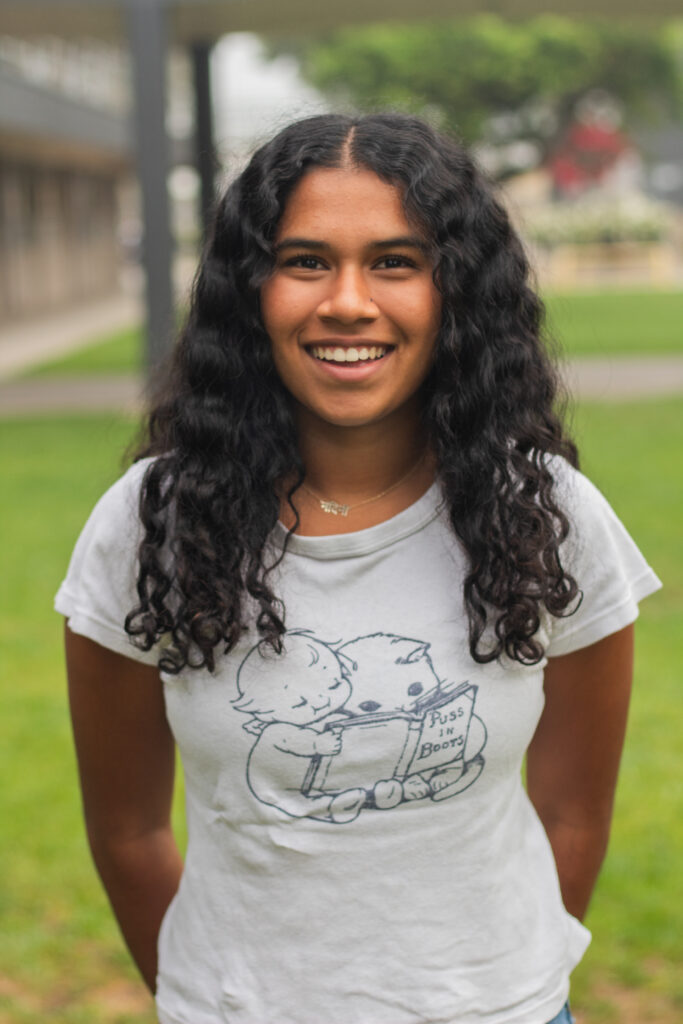 Senior and Prowler sports editor, Nandini Patro is excited to head into her fourth year of being on Prowler, after joining in freshman year. "I like to read and write and so the newspaper just seemed like my kind of thing," Patro said. Drawn in by the atmosphere, Patro became interested in joining Prowler.  "In eighth grade I went to future Panther night and I came into the journalism room . . .  and it was just such a welcoming environment and I was like, wow, this seems really cool," Patro said.  Patro wastes no time on campus, being a member of multiple clubs on campus. "I'm in a couple different clubs such as mock trial and debate," Patro said. This year Patro has also taken on more leadership roles in her clubs. "I'm the president of mock trial so that is a huge time commitment because we have a whole year of preparation and then we compete in February," Patro said. After highschool, Patro plans on going to college on the East coast and becoming a lawyer "I want to go into law, so ideally after college I'll be going to law school and then hopefully after law school I pass the bar and then become a practicing attorney," Patro said.  Over the summer Patro participated in a two week summer camp in Boston. "I had such a great time there. It was really cool. Not just because it's like a prestigious school like, I learned a lot, because it's like, you take a course. I met a lot of really cool people and that was probably the best part," Patro said. Besides mock trial, journalism, and debate, Patro also has a passion for music. "I play piano. I've been playing piano since I was like five" Patro said. She has also gone to many exciting concerts this summer. "I also saw Taylor Swift. That was amazing. I love her, she's my favorite performer. I saw Drake too. I love him. That was really cool as well," Patro said. 
Nathan Fox  (12) // Fun and Games Editor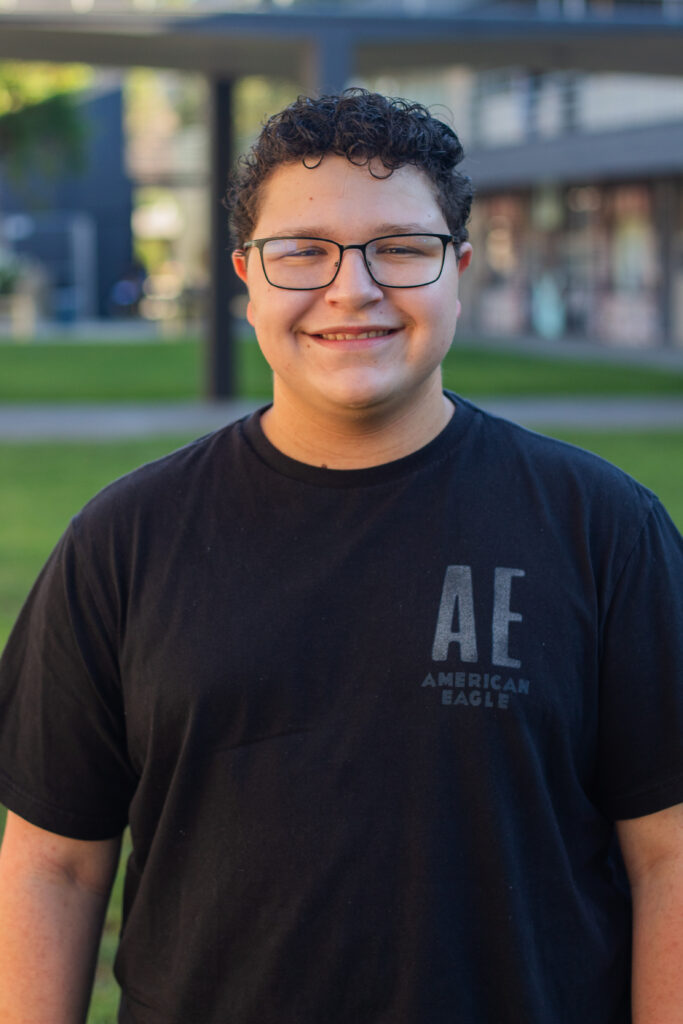 One could definitely say that August slipped away into a moment in time for Nathan Fox, senior, as he saw Taylor Swift perform live on Aug. 4th. "This summer I went to a Taylor Swift concert, I visited my mom and step dad in Virginia, and then I visited my grandma in Sacramento," Fox said. "It was the best concert I've been to, I haven't been to that many, but I also don't think that the ones I go to in the future will be able to top it." Within Panther Prowler's latest magazine issue, Fox covered an article about student's exciting concert line ups, and now was able to witness one himself. Fox knew he wanted to contribute to what other students saw in the news cycle after he himself struggled to find news that connected and mattered to him. "I really like writing short narrative essays along with in-depth opinion pieces," Fox said. In addition to Fox's passion to write, he is also an avid photographer and loves exploring different hobbies. "I like taking photos, editing videos, sometimes drawing, cooking, just stuff like that," Fox said. After being on staff for about a semester, Fox now heads into the position of a photographer, graphic artist and page designer. "I'm most excited to get more experience writing and graphic designing and just trying out new things," Fox said. "When I'm older I want to go into video production, along with marketing and mixing those two together. My goals are to get through college and achieve financial security, even if that means not living a glamorous life. In the future, I see myself living with a significant other and having either a dog or a cat or both."
Isabella Boggs  (11) // Features Editor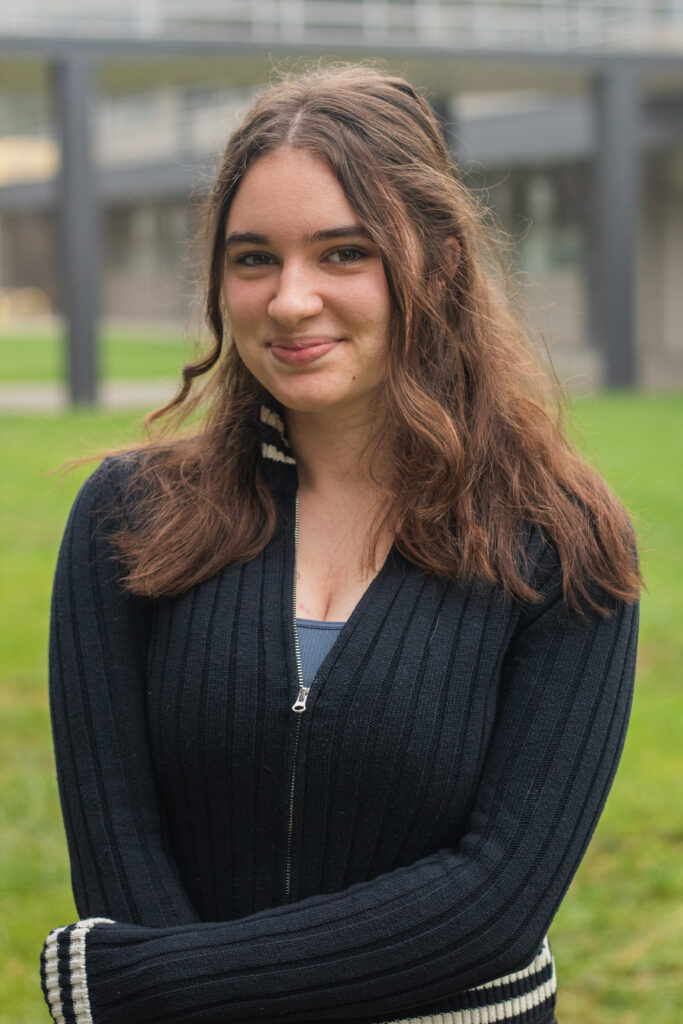 Empathy is one of the primary foundations of journalism, as it provides the journalist with context to continue putting together the puzzle pieces of a story. Isabella Boggs,  Junior, evident in her two years of composing many sports and feature articles, is a true perspective seeker: "I just like being able to introduce myself to as many new people as possible; to learn about all the different things that are going on around our community and school," Boggs said. While describing herself as a person who's known to have a book around her at all times, Boggs is truly invested in storytelling, claiming that she has always been drawn to the art. This year, Boggs is taking on the responsibility of being the editor for the paper's feature articles. In a combination of her interests in literature, history, and her experience writing countless feature articles, Boggs believes that her open-mindedness will take her and the feature section far. "I think it has made me much more receptive to other people's opinions, beliefs, and what's going on with them," Boggs said. Recalling her past works, Boggs added, "If you take the gun violence article we wrote last year, even if the opinions differed, we were really able to display what the general consensus of the community is," Boggs said. As an experienced feature writer, Boggs explains her golden principle of feature writing: "When writing features, it's their story that you're telling," Boggs said. Over the summer, Boggs carried on her love of perspective chasing by traveling to the states of Alaska and Idaho. However, in the future, she hopes to see a whole lot more than just snow and potatoes. Boggs yearns to travel throughout the world, especially Greece. After high school, Boggs hopes to attend university in the UK, specifically the University of Edinburgh. Boggs can be characterized by her goal-oriented nature: "I would say I am a very determined person. I have set many goals for myself. I would probably call myself ambitious, I've set these goals and I will do anything to achieve them. Whether it's a certain grade in a certain class or a leadership position like I am in now [Feature Editor], I'm a very passionate and determined person," Boggs said
Jack Ranney (12) // News Editor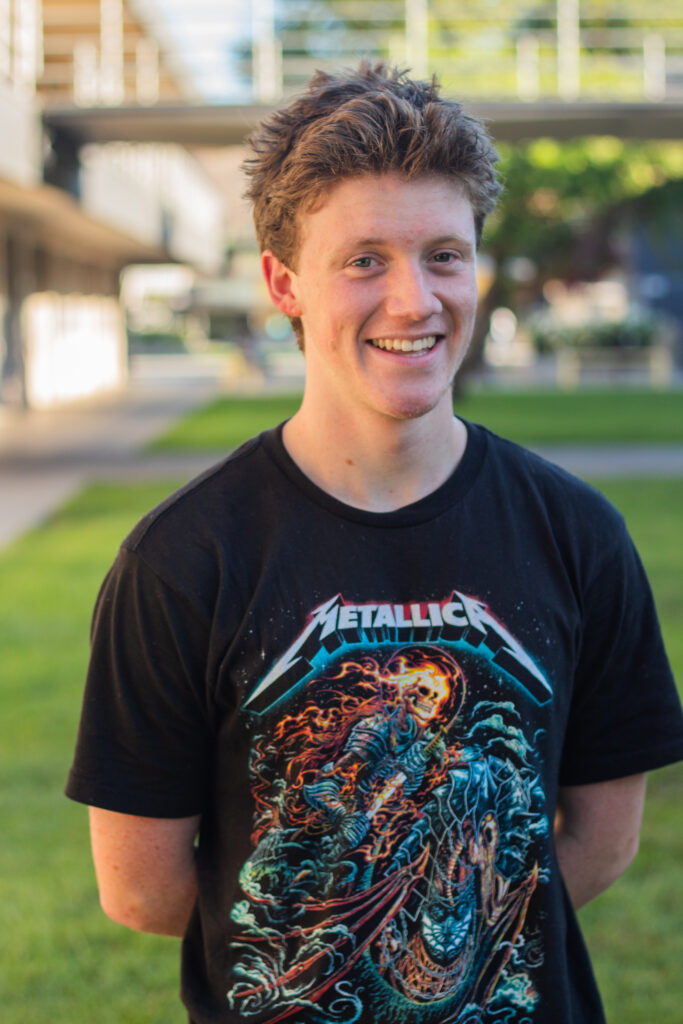 Jack Ranney, senior, the heavy metal-loving senior on the Newbury Park High School Panther Prowler newspaper. Ranney will be an editor for this year's news section. Ranney originally joined staff at the beginning of his junior year after initially being a staff member of the Newbury High School yearbook. But, as the opportunities for writing decreased, adviser of the newspaper and yearbook; Mrs. Saremi "suggested that this [joining the newspaper] would be a better fit, and she was right," Ranney said. After being able to expand his opportunity for writing, Ranney was able to put his passion for global and local news to a larger use. "Its interesting to be able to.. Write about what's going on in the world," Ranney said. Ranney has always been fascinated by the news and is considering the option of working a foreign correspondent for a potential career adding that "it would be really cool," Ranney said. During his time out of the writing room, Ranney likes to spend his time hobbies. "I enjoy playing guitar. I also really enjoy hiking and mountain climbing," Ranney said. Ranney will try to have some out-of-school fun during his final year of high school by "trying to go to as many concerts as possible," Ranney said. He has already attended Metallica during the first full week back at school post-summer break. Ranney is going to try and conclude this year by trying to eat healthy. "[I'm] trying to eat better, also [I'm] running more, just working more in general," Ranney said. Ranney is also spending a lot of time with his family, and diversify his work as a staff member on the paper.
Brody Sinutko (12) // Staff Writer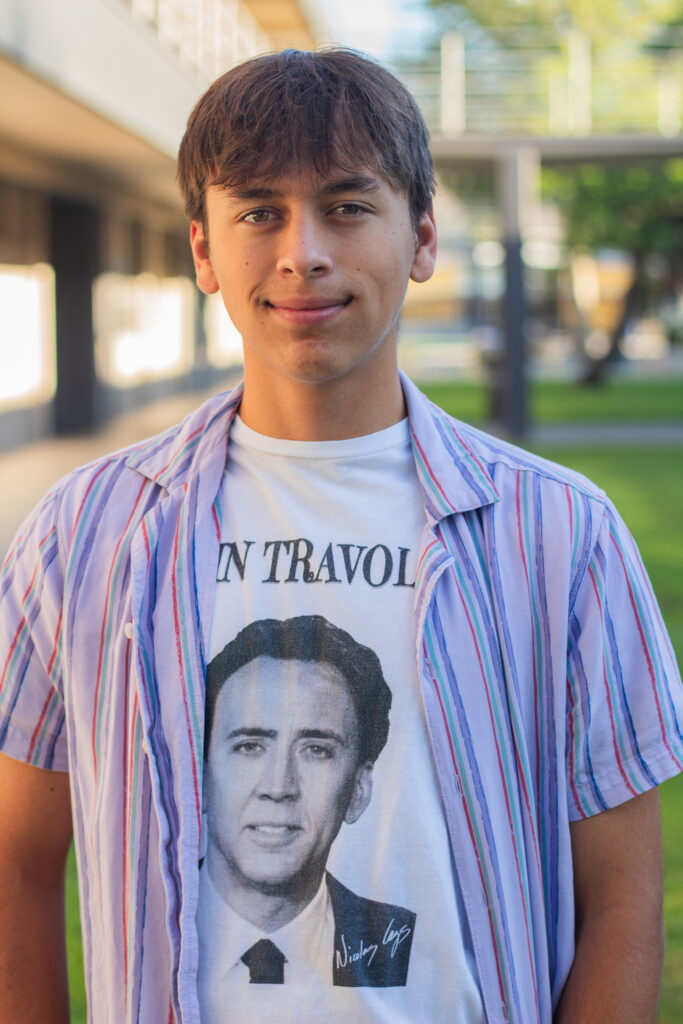 Brody Sinutko, senior, is the prime example of a journalist who is dedicated, inquisitive and entertaining. "I have a unique way of looking at things and I have a unique interest in going into detail and trying to find the entire story and trying to write in a storytelling way. When Sinutko is not busy writing interview questions or copy-editing a peer's article, he can be found backpacking throughout the Sierras. "I do like 100-mile trips over the course of a week…[Backpacking is] an excuse to hold yourself away from the hustle and bustle of life. You don't have any way to connect with the world because you're so far away. It's like going to Alcatraz and isolating yourself," Sinutko said. A life of adventure has always been appealing to Sinutko. When he was younger, Sinutko knew that he wanted to solve puzzles and follow clues for a living. "I wanted to be a spy. I wanted to be kind of like a detective, just do something cool, [like] Sherlock Holmes," Sinutko said. However, as graduation looms closer, Sinutko has found himself more drawn towards investigative journalism. "I want to build up a good enough repertoire so I can travel the world and report," Sinutkosaid. Reporting allows endless possibilities to travel around the world, but given the choice, Sinutkowould choose to visit Egypt. "I really like Indiana Jones. So [I would go to] Egypt, just go check out the great pyramids, [and] go to the Ark of the Covenant," Sinutko said. Even years from now, while Sinutko is busy scouring the pyramids of Egypt or trekking through the Sierras, his impact on The Prowler will remain evident. "My favorite part of the Prowler is actually having something physical that you can print and give it to the outside world. It's cooler than just writing stuff on a blog," Sinutko said. 
Kai Mekari (11) // Staff Writer, Graphic Artist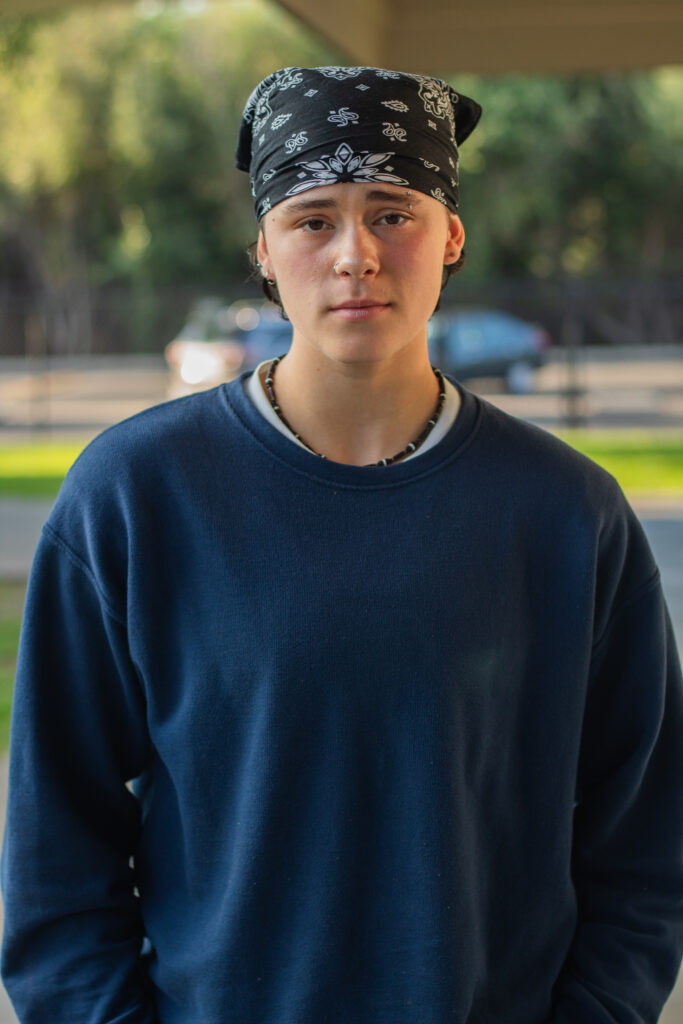 Kai Mekari, junior, is going into their third year on the Panther Prowler staff. Mekari first heard about the publication in 8th grade through Saremi, their mom's friend. "I was always an avid writer,… and I'm also really into art so I'm a graphic artist on staff," Mekari said. In addition to being a graphic artist, Mekari also writes articles for the Prowler. "I really love opinion or like column articles just because I can really express myself in them," Mekari said. Outside of school, Mekari either does art or works at their job at Mod Pizza. Mekari also models and is signed with Paloma Modeling Talent. "They sign me for jobs and whenever I'm in my free time I sign up for jobs and I get auditions," Mekari said. Mekari also produces music whenever they are not in school or working. "I write my own music and I produce it with my friend. We're trying to get it published,… but right now we just make songs and we're trying to get a music producer to sign us," Mekari said. Mekari does not have a favorite specific genre of music to listen to, but their favorite artist would either be Dominic Fike or Malcolm Todd. In the future, Mekari is planning to continue their passion for art by becoming a tattoo artist after finishing school. "Well, I want to go to college, and maybe after college I can start my own tattoo business somewhere around here, maybe in L.A.," Mekari said. Art seems to be a significant part of their life. In addition to being creative, Mekari is athletic and plays basketball and boxes. The Panther Prowler has also become an important part of Mekari's life. "I really enjoy the environment. I enjoy the family that surrounds me in it. They've really become a big part of my life,"Mekari said.
Shana Blair (11) // Graphic Artist, Staff Writer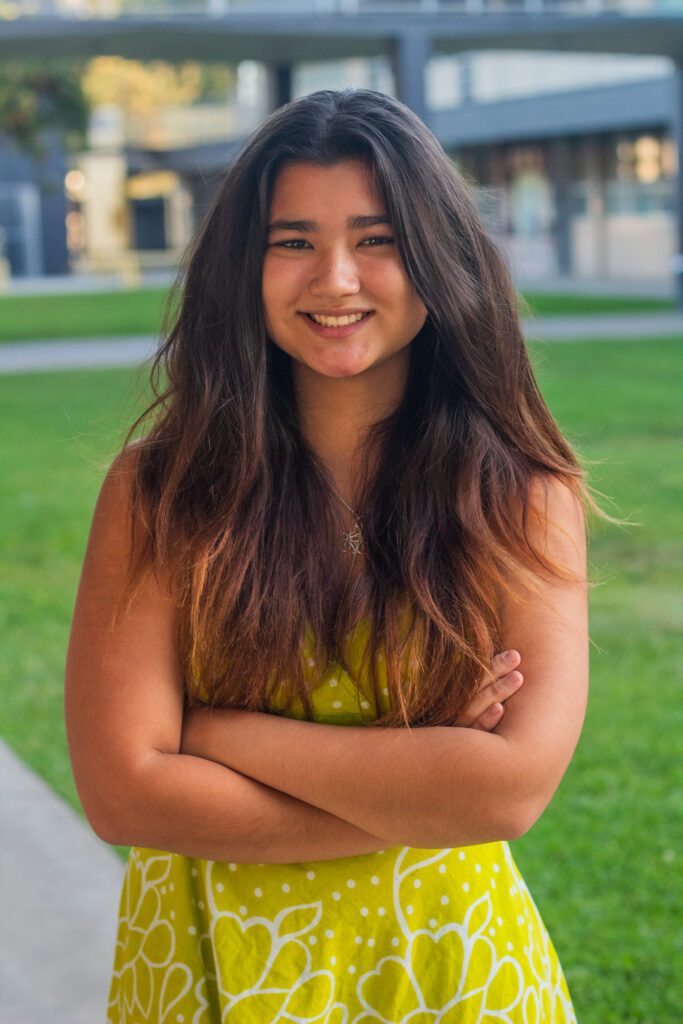 Shana Blair, junior, graphic artist and writer was first inspired to join Prowler after her Intro to Journalism class worked on Editorial cartoons. "It really clicked for me when I realized there was a place for art in the newspaper world," Blair said. She was on staff for the second semester of her sophomore year and is ready to be back and working alongside her Prowler family again. "My favorite part about being on staff is how familiar all of the writers, photographers, and graphic artists all are with one another," Blair said. Blair feels that since she has been on Prowler she has found herself gaining confidence in her opinions and point of view. "It's really helped me to find both my writing voice and to feel more confident in my voice simply as an individual,"  Blair said. Writing and drawing are Blair's way of understanding her emotions and seeing through other perspectives. "Even if they weren't my own, I'd sort of dabble in looking through another lens. But I now feel much stronger in my own outlook, and secure in my self expression," Blair said. Although Blair might not know where she will end up in her career she does know she will be making a difference in people's lives. "I currently feel most drawn towards advocacy for child survivors of violence," Blair said. Blair also has a passion for reading. A classic author whose books Blair enjoys reading is Virginia Woolf. Blair is a major asset in the journalism room not only for her powerful and creative artwork but also for her strong opinions conveyed in her writing. Blair is excited to share her passion and see what the year will hold. "I've found a really strong sense of community in the journalism room, which can be rare to come by in high school," Blair said. 
Isabelle Cipriano (10) // Photographer, Staff Writer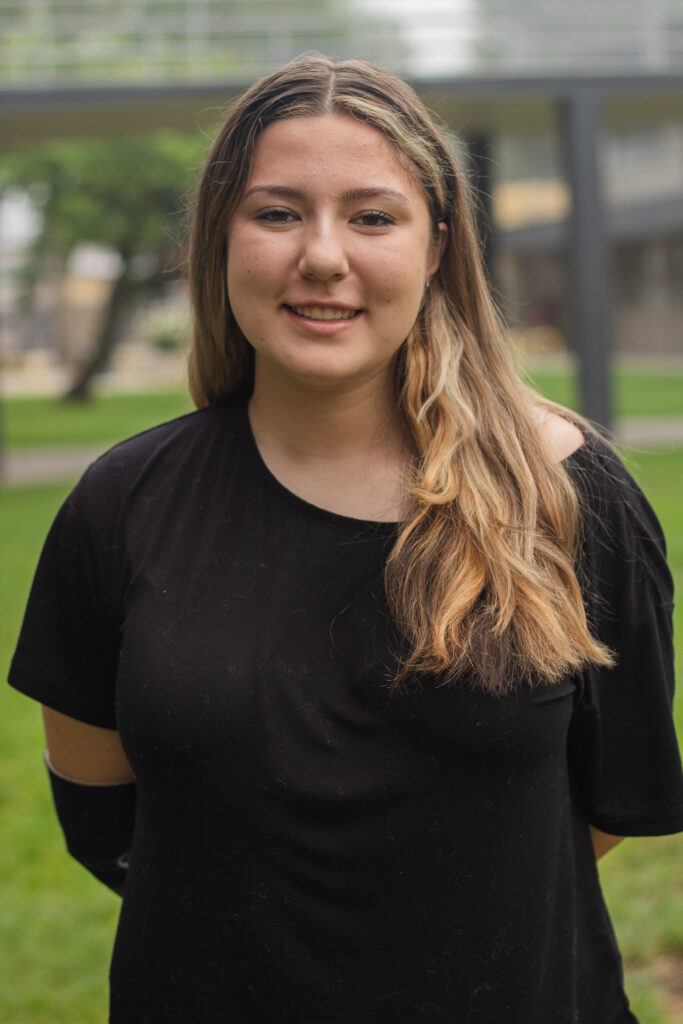 For Izzy Cipriano, sophomore, journalism is a small side track in terms of her long term goal: a pediatric oncologist. "Pediatrics and kids kind of hold a special place in my heart," Cipriano said, "The oncology part, I feel like there's so much that we can do that we just don't do. I think that I would really be able to help in that area," Cipriano said. Cipriano, nonetheless, is an avid writer and fan of the English subject with plans to stick with journalism for a while, "I think I will continue with journalism through college," Cipriano said. After taking Saremi's Intro to Journalism class freshman year, Cipriano realized that she wanted to join the Panther Prowler. "I really like English and I wanted to do more English based classes. And so I joined journalism and then I found out about the newspaper," Cipriano said. While she is not in journalism or planning out her pediatric days, Cipriano has no difficulty keeping herself busy. "I'm also on girls JV lacrosse. I also do technical theater and then theater club. And then me and my friend are starting an environmentalism club and I also have a job," Cipriano said. Theater has become a newfound passion for Cipriano. "I mean, obviously the community is very welcoming. I think for me the biggest thing is just acting. It's just overall really fun," Cipriano said. Inspired by her experiences in technical theater, Cipriano has decided to become a part of the cast this year. "I am ASM (Assistant Stage Manager) for Oklahoma [this year's musical]," Cipriano said.
Gwen Howard (10)  // Staff Writer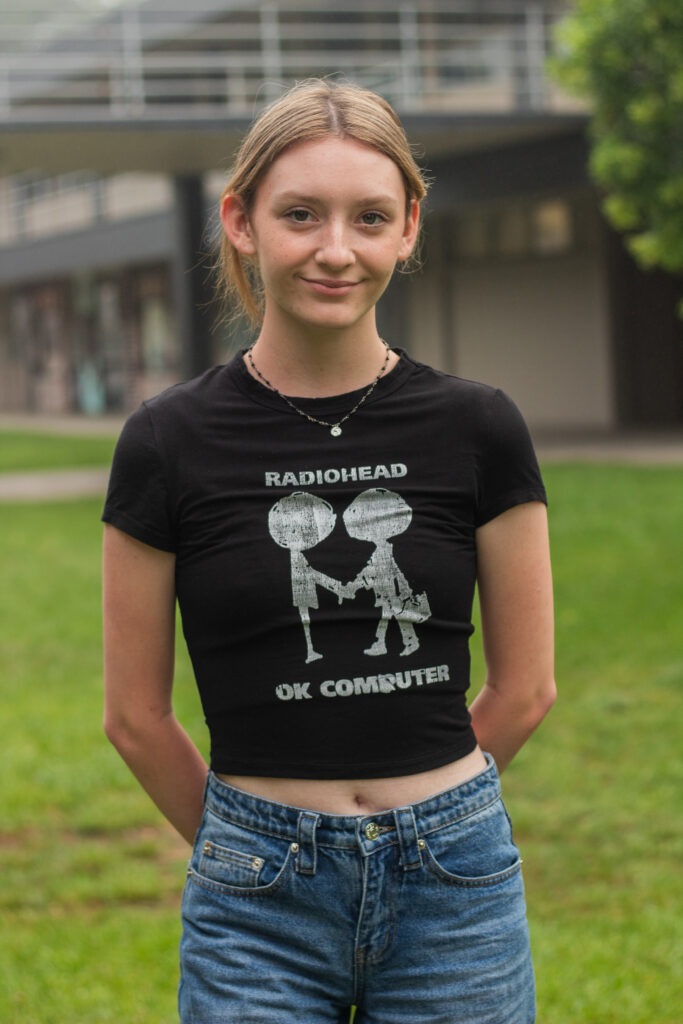 Gwen Howard is a sophomore and new addition to the Prowler staff. She'll be writing as many articles as possible, as well as taking photos for the paper. She was on the yearbook staff of her school in 8th grade, and has a passion for photography. "I really love taking pictures and I love writing and that's probably like my gateway into doing this," Howard said. This year, Howard wants to form as many connections as possible through the Panther Prowler, "I feel like I just want to make connections with people and kind of like break out of my shell", Howard said. Writing is not her only passion, however, and music might take the cake. "I play bass and I've been playing bass for two years[…]I love listening to music. I'm always super passionate about music and I love talking about music," Howard said. In terms of writing and motivation, Howard looks to her parents for inspiration. "I just am so grateful for the things that they do for me and the time that they take and they just inspire me to do better and be better and show up", Howard said. Her favorite color is orange, something she chose in elementary school because she thought no one else would, her favorite meal is lasagna and cucumber salad, she's dyed her hair almost every natural color and she would love to go to Italy. Gwen's goal for the Prowler is very similar to that of her goal for the year in general, "just learning more about myself in general because this is my second year here. And that applies for just like the rest of the year as well," Howard said.
Juliet Schohn (10) // Staff Writer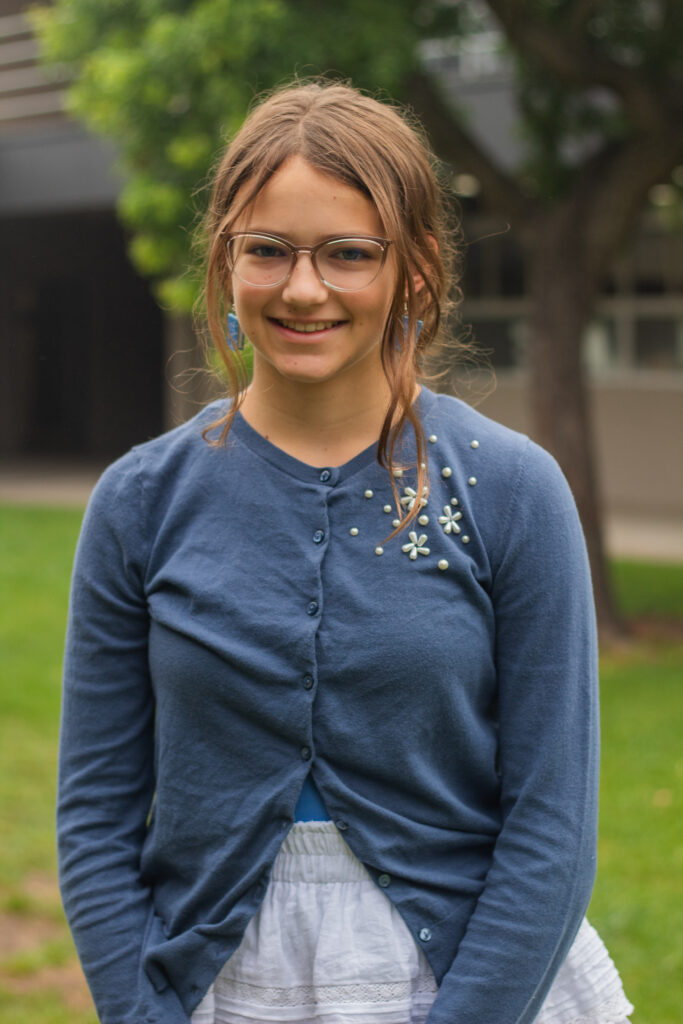 "The Witch of Blackbird Pond" by Elizabeth George Speare, a pack of Dixon Ticonderoga no. 2 pencils and a journal. If stranded on an island, these are the three items that writing-fanatic, Juliet Schohn, sophomore, would take with her. "So I started writing in second grade, and as soon as I learned how to write I fell in love with writing. I continued to write all through my elementary career," Schohn said. Schohn's passion only grew after that. She soon decided to start reaping the rewards of her talent. "I started applying to contests. I won the fiction in a nutshell contest in the Thousand Oaks "Acorn" in eighth grade, and I also won the NCTE [National Council of Teachers of English] in an eighth grade writing competition that was national. I was proud of winning that, and I won a history essay competition that year. Eighth grade was a big year for me," Schohn said. While she enjoys the art of poetry and prose, Schohn is not the biggest fan of music. In fact, she doesn't listen to it much at all. "Classical when I'm studying sometimes, but that's about it," Schohn said. With her ambition for writing opinion pieces and love for literature, Schoen is a perfect fit for the Panther Prowler staff.  "I hope to have entered a few more story contests because I sort of put that on hold last year, as I was starting high school," Schohn said. "But that's something I definitely want to continue on by the end of my sophomore year."
Taylor Griggs (10) //  Staff Writer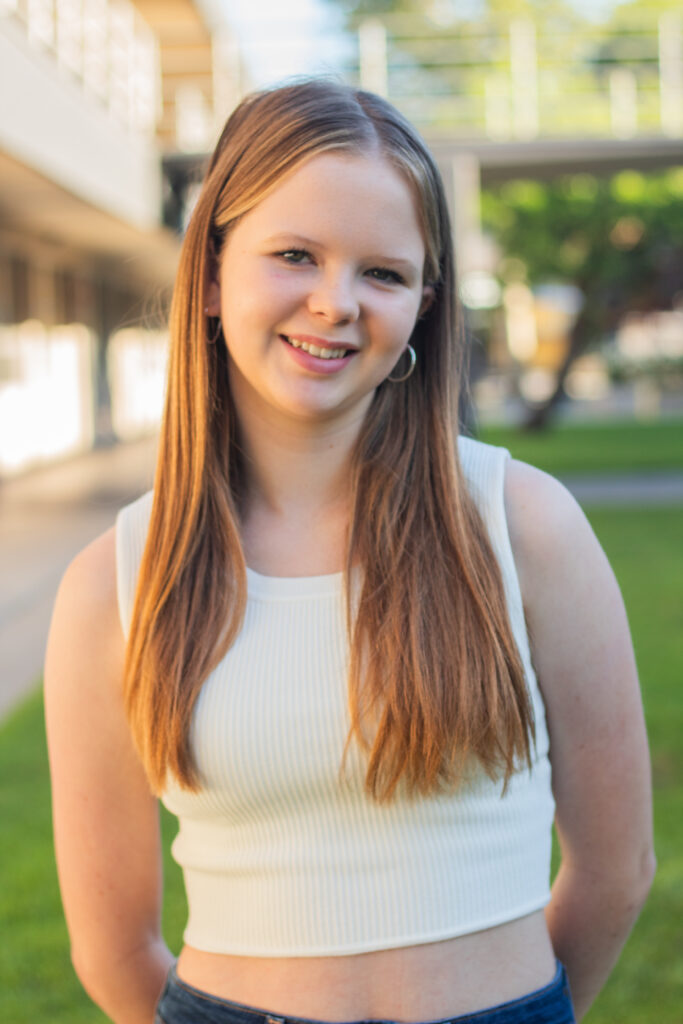 Taylor Griggs, sophomore, joined Prowler directly after taking the "Intro to Journalism" course during her freshman year. After studying editorials in class, Griggs' interest was sparked. "The major thing that pushed me to apply was the fact that I couldn't imagine not having the projects and opportunities that Journalism 1 gave me," Griggs said. Outside of school, Griggs is a dancer who hopes to pursue a career in either interior design, physical therapy, or medical science. She sees dance as a refuge. "For me, dance is a form of expression which allows me to step away from my daily life and have everything else just disappear." Regardless of the career path she will eventually decide on, freedom, creativity, and movement are key in Griggs' interests. "I would not enjoy a career that involved me sitting at a desk all day or doing paperwork. I need to have a job that is active," Griggs said. English being her favorite subject, she considers herself to be a right brained individual. "I love all things that involve creativity," Griggs said. Griggs is excited to be able to see her own articles in publicized print for the first time and become a part of the Prowler family. "…My goal is to take every opportunity I get being on [staff] and embrace any challenges," Griggs said.
Caroline Nese (10) // Staff Writer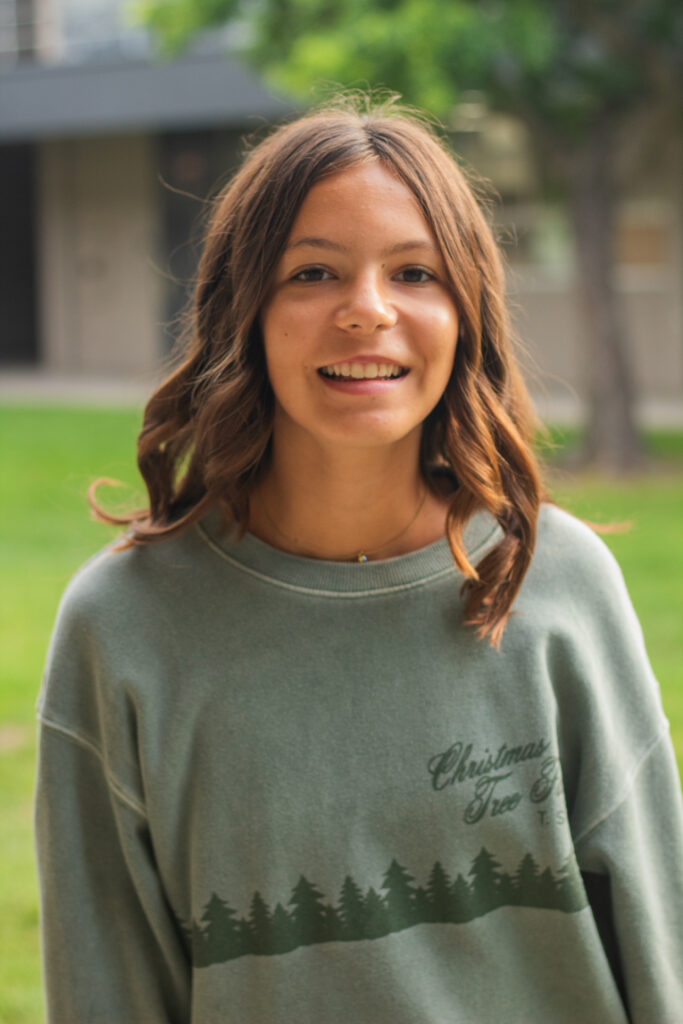 Caroline Nese, Sophomore, has been interested in joining the Panther Prowler staff for  a long time. "I decided to join the Prowler because I've always had a passion for writing and I wanted to be able to see my writing in print," Nese said. "I've thought of being on the Prowler for a while because I actually came to see the Prowler when I was in elementary school […] and I always thought of it as being far away and I was like, 'wow, it'd be cool if I could be involved.' So it feels cool now, being able to be on [staff] myself," Nese said. Nese's excitement in joining the Prowler stems from her curiosity about the medium of writing. "I've just always enjoyed [writing], and I think it's an interesting way to convey stories, whether they're real or not; just [as a medium] to describe people and  [how] things work," Nese said. "I think it's a good way if you're an over-thinker like me to write down whatever we feel. It's a good way to express yourself," Nese said. Beyond writing for the Prowler, Nese is also looking forward to other aspects of being on staff. "I'm excited to get to know new people because I think it's just an interesting group of people, and I'm also excited to be a part of photography. […]I'm very new to [that] so I'm interested to see how it works," Nese said. She is optimistic about any hardships the year might bring.  "I think there will definitely be challenges [but] I think it'll help people get closer together," Nese said.
Hannah Shulman (10) //  Staff Writer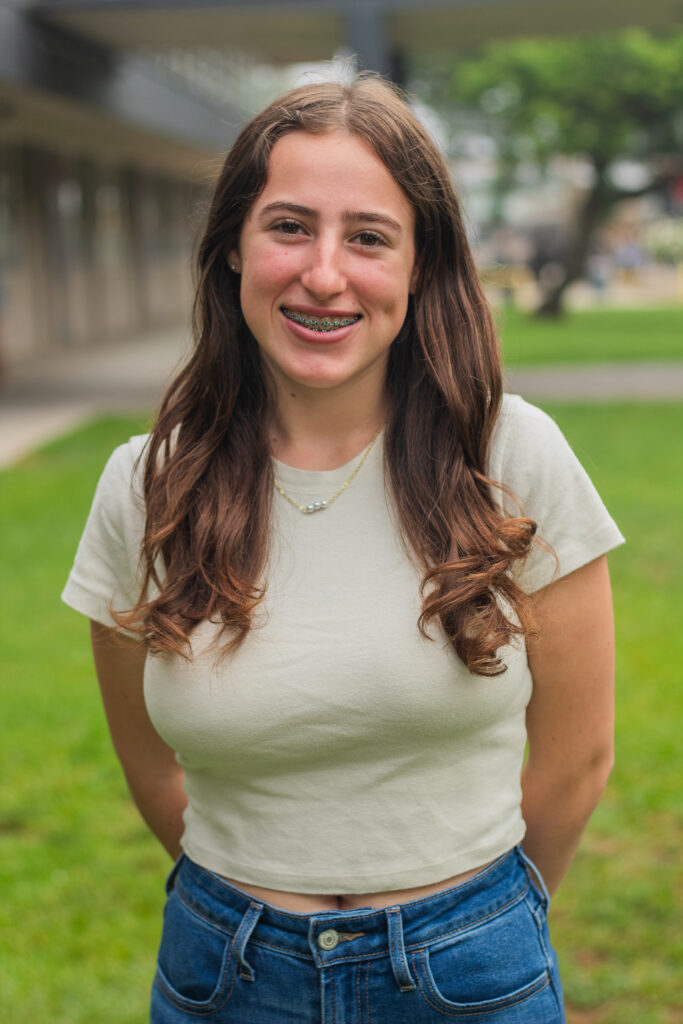 Hannah Shulman, sophomore, is starting her first year on the Panther Prowler after taking Intro to Journalism during her freshman year. "I really, really liked the class and we would sometimes see kids on Prowler working and I really like seeing that," Shulman said. With this being her first year on Prowler, Shulman has a lot to look forward to this year. "I'm excited to see how journalism works and not just be learning about it like we did in the journalism class, but sort of like being in the real world," Shulman said, "I kinda just want to see how it works and be a lot more involved with the school, and go to events to write about them."  In addition to writing, Shulman is interested in reading as well as many other activities. "I like to spend time with my friends and just sort of hanging out," Shulman said, "I work with kids a lot, and I really enjoy doing it […] my temple has teenagers working with kids activities, so I do that a few times a week and I really like it." This past summer, Shulman spent time in Europe to make memories with her mom. "We went to Amsterdam, and Denmark and Ireland. And it was just a lot of fun to spend time with her and visit new places," Shulman said.
Jasmine Zhang (10) //  Staff Writer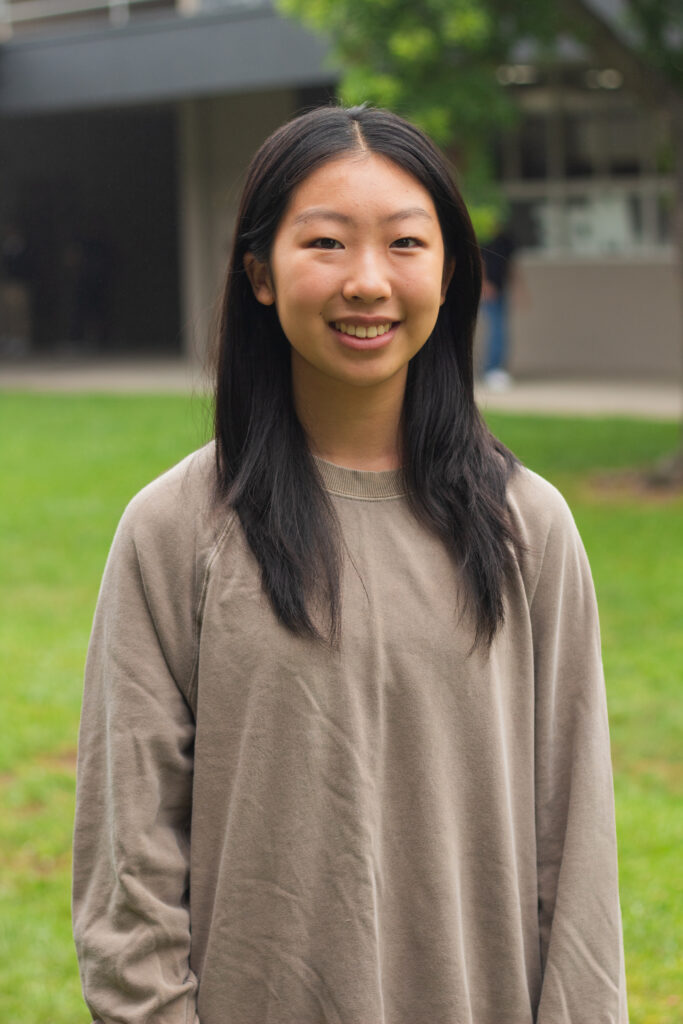 Jasmine Zhang, a Sophomore, is starting her first year on the Panther Prowler, and as a new member of the staff, she is very excited for the upcoming year. Her main motivation for joining The Prowler was to get to know more people and more so for her college resume. "I thought it was going to be a good way to get more involved in the school, because I wasn't in a lot of clubs at the time," Zhang said. Although she describes herself as quiet and quite awkward, she is far more interesting than the naked eye can see. Zhang has a sister, and a dog named Tofu. Her dad has two turtles that she recently just named Molly and Holly as well. Other than her love for her pets, she is a very artistic, though rational, soul. "I'd say I'm pretty more on the artistic side and kind of a realist," Zhang says.  Not only is she a very artistic being, mostly into painting, she is also extremely talented at the piano, "I play piano. I think I've played since about 7 years old". Before becoming an official member of the Panther Prowler staff, Zhang was in the intro to journalism class. This year she has decided that she was going to be a staff writer, breaking out from her comfort zone of art. She has been taking art classes outside of school for a couple years and journalism was recommended to her by her art teacher.  This class, hoping to steer her in the right direction, will get her into a UC when it comes time to apply to colleges. "In five years I see myself in college. Honestly any UC," Zhang says. Zhang's dream schools include UCLA and a school in Washington due to her love for fall, "I like Fall, like anything 70-60 degrees." It seems safe to say that Jasmine is prepared and excited for the upcoming year and being a part of the Panther Prowler family. 
Michelle Saremi // Adviser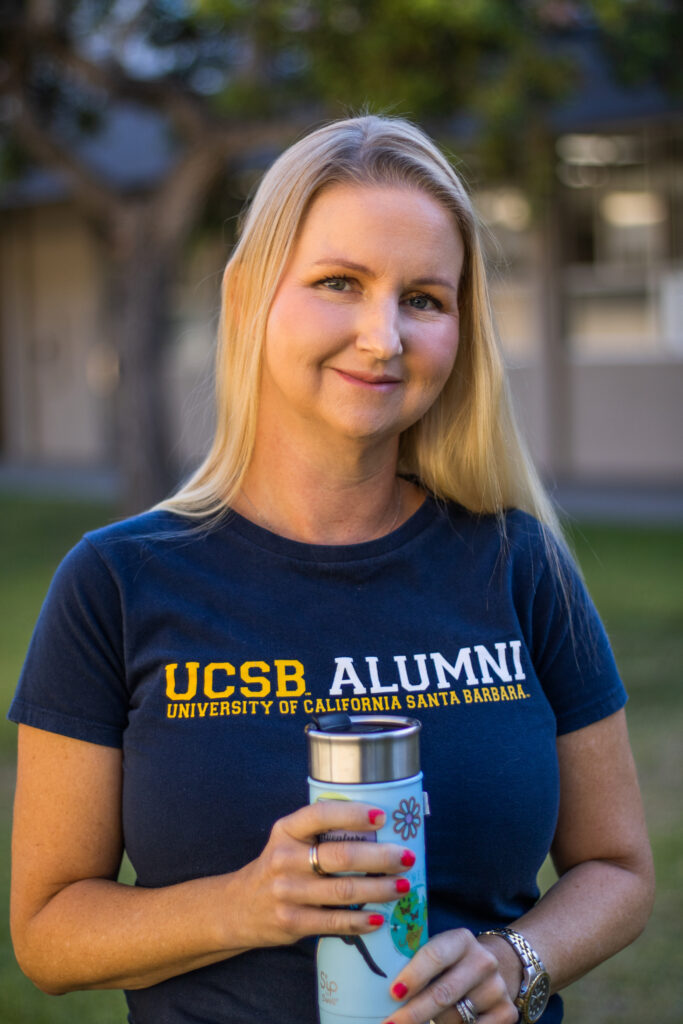 Michelle Saremi has been advisor to the Panther Prowler for 16 years. Before accepting the position, she didn't know anything about journalism and took the job in order to teach English. "[The principal] said, 'If you want the job, you also have to teach journalism,'" Saremi said. In addition to the Panther Prowler, Saremi oversees the yearbook, teaches an Introduction to Journalism class and 11th grade English at NPHS. When Saremi is not busy reading articles and reviewing page designs, she can be found doing Megaformer Lagree, playing the flute or cozying up with a good novel. "I love the book 'The Shadow of the Wind', and right now I'm reading 'The Story Life of AJ Fikry'," Saremi said. She also is an animal lover, and in addition to owning two cats and an aquatic frog she often volunteers at local shelters. Over the summer, Saremi fostered a litter of newborn kittens. "They were three days old when I got them. Then I bottle fed them and taught them how to eat and use the litter box and then found them homes," Saremi said. Saremi is excited to improve The Prowler during the 2022-2023 school year and can not wait to watch as the Prowler staff continues to better their abilities as journalists. "When [the staff] first started three weeks ago, [they] had nothing, no material, no design, no ideas and now I recently got to look at the pages and they're just they're coming into their own. They've taken shape," Saremi said. Saremi carries her positive attitude with her wherever she goes and is always living up to her favorite motto. "I may look small but I'm mighty," Saremi said.
---
Former Editors-in-Chief:
2022-2023: Allison Nguyen & Dhruv Patel
2021-2022: Abby Gorman & Carter Castillo
2020-2021: Jessica Zhou & Manas Khatore
2019-2020: Emily Nagamoto & Aditya Vunnum
2018-2019: Clare Wang & Connor Keep
2017-2018: Lindsay Filgas & Caitlin Henderson
2016-2017: Victoria Juan & Nina Chiuchiarelli
2015-2016: Adrianna Robakowski & Shreya Chattopadhyay
2014-2015: Grace O'Toole & Courtney Brousseau
2013-2014: Cassie Stephenson & Patrick Rewers
2012-2013: Rachel Cross & John Dichirico
2011-2012: Sophie Li & Maia Laabs
2010-2011: Shannon Alavi & Melissa Han
2009-2010: Kylie Foo & Larisa Owechko
2008-2009: Katherine Light & Naveen Balan
2007-2008: Mark Alphonso & Katherine Light
Former Chief Photographers:
2022-2023: Parker Bohl
2021-2022: Reese Kelem
2020-2021: Reese Kelem
2019-2020: Rahul D'Souza
2018-2019: Emily Nagamoto
2017-2018: Megan Vlietstra
2016-2017: Caitlin Henderson
2015-2016: Samantha Meyers
2014-2015: Samantha Meyers