Cancilla sweeps his way to BTS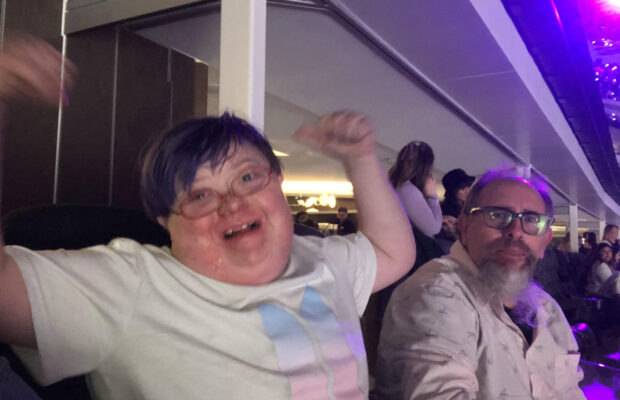 For Harrison Cancilla, freshman, BTS is not just a band but a goal, and when he found out that the K-pop boy band would be performing in Los Angeles, he was willing to do anything to get those tickets.
What started as dancing to BTS songs on "Just Dance," quickly evolved into an obsession that blossomed during quarantine and surfaced as a tool of motivation for Cancilla. "They're cool, and awesome, [I like] the way they dance. [I like] their singing," Cancilla said while wearing a jersey that said "J-Hope," his favorite member of BTS. 
Cancilla is a student in Anne Alvarez's Learning Essentials Academic Program (LEAP) where students with disabilities are taught about the essentials of being independent adults after high school. In September, he collaborated with other students in his class to brainstorm jobs that he could complete that would contribute to the community. These ideas then developed into ways that he could raise money for attending the concert.
The reality surrounding ticket prices began to dawn on Mary Cancilla, his mother, as his excitement grew. "Some tickets were in the thousands. All I could bring myself to tell him was, 'Those tickets are so expensive.' I couldn't figure out yet a way to break the news to him that we would not be able to go," Mary Cancilla said.
Luckily, Harrison Cancilla's hard work, as well as a GoFundMe, ticket offers and news coverage from NBCLA, helped make Harrison Cancilla's wish a reality. "Strangers all over the internet started sharing both news stories, and I got comments of love and support from all over [the world]," Mary Cancilla said.
SoFi stadium then heard about Harrison Cancilla's story and decided to take his dream one step further. "They invited him to the stadium for a tour, where they awarded him the title of 1,000,000th fan and gave him a suite for four tickets to the show," Mary Cancilla said.
For Harrison Cancilla, attending the concert itself would be an unforgettable experience. "At the concert, Harrison was recognized by several people in the audience who congratulated him for making it to the show and asked to take selfies with him. He danced and sang the night away. He will never forget that night, and we will be grateful to SoFi forever," Mary Cancilla said.
Harrison Cancilla's story of determination and never giving up inspired not only Alvarez and his class, but many people around the world. "I think the thing that made me happiest is that something in school…transferred to him getting this great thing that he got so we're really happy about it and he's a little inspiration to all the other kids because they see him on TV and they know that he has a certain type of disability," Alvarez said.
Although the concert is over, his love for BTS still remains strong. Along with BTS' signature dancing, "Their playlists," was what he enjoyed the most during the two concerts. Even while at the event Harrison never failed to express his gratitude towards this life-altering experience. "[Harrison] said to me, 'Mommy, my wish and my dream came true,'" Mary Cancilla said.