Colin Sahlman breaks national record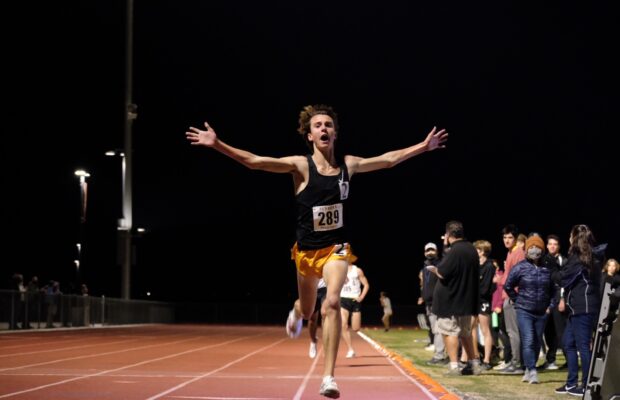 Running two miles in under 10 minutes seems superhuman to most people. But for Colin Sahlman, junior, it is just another walk in the park. At 8:47, Sahlman broke the fastest 3200m in the country for the 2020-2021 season on Feb. 27.
With the restrictions that California has set in stone, having meets locally is not possible, and instead, the runners go to Arizona. "It was just a race that our coach put on…and I ran the two mile there and then ran the fastest time in the country. [An] 8:47. That was pretty exciting and I just felt really good and closed in like 56 seconds in my last slot," Sahlman said. 
Although known for being a fast runner, this time was definitely something out of the ordinary for Sahlman. "I wasn't expecting that. I figured that out probably like two days after my race, I was like, 'Oh, no way.' This is really cool because my former teammate, [Nico Young], [is] the fastest junior to ever run it so I think it's pretty cool to be on that list and the top five things," Sahlman said.
Christian Simone, senior, is a teammate of Sahlman's and has known him for a year and a half. He feels that Colin has improved significantly throughout the time he has known him. "Over the time I've known Colin, he's improved from a 'good' runner, to a great runner," Simone said. "He's established himself as one of the best runners in the country and he's only just getting started."
Along with physical training, mindset is a crucial factor in the performance of any athlete, and from what Simone observes, Sahlman is not an exception. "[Sahlman's] tenacity, which he brings to practice every day, continues to create rapid success and improvement," Simone said. "During our toughest workouts, he takes the lead and pushes the pace as much as he can. His mentality is what has allowed him to improve so quickly."
Zaki Blunt, junior and another one of Sahlman's teammates, has known him for about four years and had watched Sahlman since the beginning. "He has always been very competitive… [and it has] really helped him progress as a runner," Blunt said. "In a race, Colin's only focus is to win and in doing so, he ends up surprising everyone, and maybe even himself, with how fast he runs and he always has kept pushing the barrier on what we think he can do."
Under these unprecedented times, things are not the same as before, and each meet they attend requires all the energy they have. "The meet in Arizona was a special atmosphere and was designed to have fast times. With so little opportunity this year, each meet is precious and great competition from around the country came to get a chance to run fast," Blunt said.
Sahlman credits his achievements partially to his supporters, which include family, friends and most importantly, his fellow cross country runners. "My teammates push me to be better, and I think I push them to be better," Sahlman said. "We always support each other at workouts and races, and I think we've created a team bond between us that definitely helps push us to be [the best]," Sahlman said.