Creative students draw attention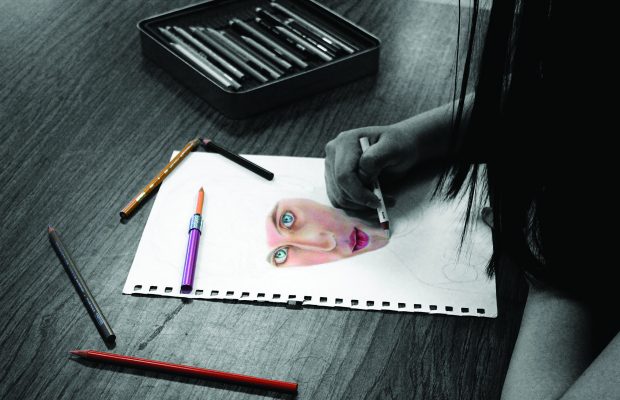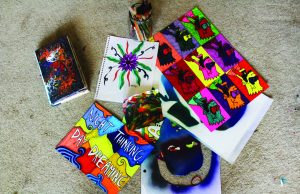 Sarah Babij, senior, has become a master at managing real estate. Covering her walls with pop art drag queens, Marilyn Manson, Bart Simpson and bright neon patterns, Babij has since covered the space once afforded to her lowly wallpaper.
"(Art) has definitely given me more of a voice," Babij said. "Everything I do expresses who I am."
Never missing an opportunity to express her artistic side, Babij always found herself doodling in elementary school despite not taking art classes.
"I would just take the projects in class to a different level using different color schemes than people would use and making it unique," Babij said.
Babij always saw art as release valve for her often overflowing anxieties.
"As cheesy as it sounds, it's really therapeutic, and when I'm really stressed,I'll draw what I'm feeling," Babij said.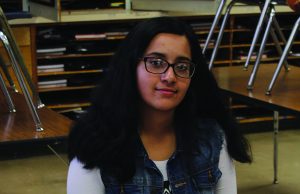 SUHA HUSSAIN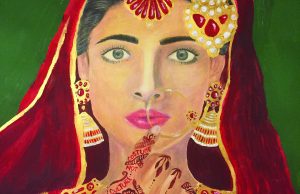 Some posters, murals and artwork around campus can be traced back to Suha Hussain, junior. The Art Club president and IB Art student is known for her henna designs that find their way into every piece of her art.
"I always liked drawing. That's what I drifted to," Hussain said. "I would always draw everything; that's how I expressed myself and drew what I did."
Despite not receiving formal training as a child, Hussain could frequently be found buried in a notebook, pencil in hand.
"I would always draw everything. That's how I expressed myself," Hussain said. ""(In my art,) I try to show how you feel when you are lost in your mind and how your thoughts get inscribed into you, especially good thoughts."
Hussain was inspired to create several pieces centered on the exploration of identity and the different states of the mind.
"I was always making art that reflected me and my feelings… I thought it would be interesting to depict," Hussain said. "(Art) is a really great stress reliever so I'm going to continue doing it as a hobby."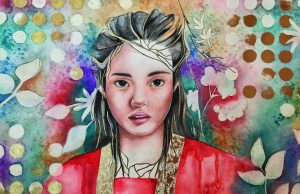 Annie Sun, senior, picked up art when she was just 4 years old. Now specializing in mixed media art, Sun has more pieces in art shows than she does mediums in her artwork.
"Mixed Media is when you combine different mediums of art into one piece," Sun said. "I do a lot of combining colored pencil, watercolor and sometimes acrylic."
Sun picked up art when she was just four years old with art lessons after school.  
"I started out with my mom just sending me to classes but I just continued with it." Sun said. However, Sun's passion for portraiture did not manifest itself until two or three years ago.
Art is not only a creative outlet for Sun, but also a form of relaxation.
"I think the process of doing art is a very calming process," Sun said. "You are just kind of in your own bubble."
What started out as a creative outlet for Sun has since melded with her self-image.
"Art for me is something that is always changing and always improving; I'm always improving my style." Sun said. "It is just a part of who I am and if I didn't do it then it would be like 'who am I?' Art is part of my identity"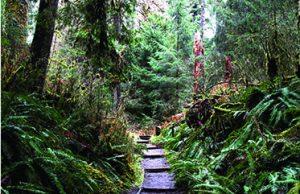 Mac Cavanah, senior, began taking photographs when he was a sophomore, starting out in the Photo 1 and 2 class because it was "supposed to be easy."
Cavanah focuses on landscapes, his favorites being a beachfront or the ocean, along with sunsets.
In the three years he has been shooting, the most important thing that he gained from photography are the memories he was able to make with those close to him.
"It's just a lot of memory of me hanging out with my friends and taking photos, exploring different places… Mostly, it'll be good to just reflect on the time with my friends before I go to college," Cavanah said. "Taking photos strengthens my bond with my friends, but also strengthens my photography skills."
Cavanah looks up to mentors who gave him the means to express himself.
"The best thing about photography has been working with Mr. Lindroth and getting to know him better," Cavanah said. "He's such a caring teacher and he works so in depth with all of his students and puts so much time into making sure their experience is as good as possible."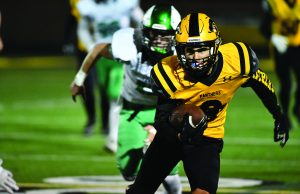 As fans cheer and players fly around the field, Ava Cooper, senior, holds a lens at the center of the action. Cooper first found inspiration when she saw others shooting at her middle school lacrosse games.
"I said to myself 'I want to do that for other teams' so I come out and take pictures of their games," Cooper said. "I love seeing them use the photos and post them online–makes me feel good about my work."
However, the job isn't as picture-perfect as it might seem. There are a lot of risks accompany sports photography.
"I shot the varsity football team this year at TO and a TO player almost took me out with the camera. That was a bit scary," Cooper said.
Even sports that are not considered as risky pose a threat to the unwitting photographer.
"I have found soccer balls flying at my head and I've stopped quite a few of them," Cooper said. "I would say photographing sports games for the school is unique because a lot of kids do not go out to the games. I go to those games, take those photos, edit them for the players, so I say that makes sport photography unique."
After taking Photo 1 and 2, Josh Welcher, junior, started looking through a different lens. What was originally just a hurdle for art credits has since turned into a vibrant passion.
"I found (photography) to be something I really enjoyed, and I took it and started going with it even further," Welcher said. Welcher's fragile and icon-covered companion now never leaves his side.
"Whenever I go anywhere with friends or anywhere I bring a camera along to take photos of them and things I see as I go around," Welcher said.
While he also enjoys landscape photography, Welcher appreciates portraits for the sagas they chronicle. "Capturing someone's expression, their emotions and conveying a mini story about them through photography is really something I enjoy," Welcher said.