Drew Caswell dances their heart out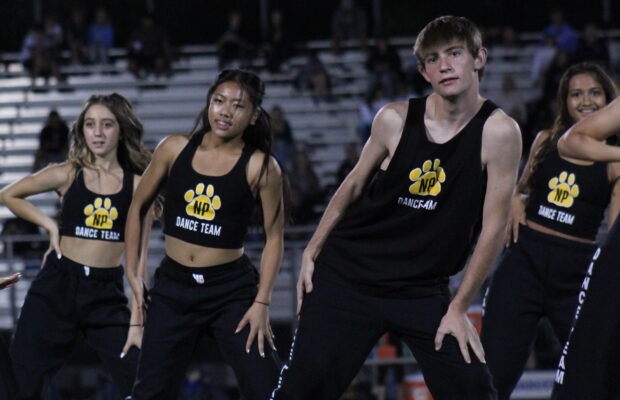 As the NPHS football field lights up again and the bleachers fill with roaring crowds, the Panther dance crew is back to performing at halftime shows. On their team, they carry Drew Caswell, junior, the first male dance member on the team since 2019.
Prior to being on the Dance team, Caswell has danced for Thrive Dance Center since middle school and NPHS' All Male Dance Crew. "You get more recognition on dance team, definitely. Because on Thrive, for those competitions, you get more awards, but here, colleges look at a high school dance team rather than a studio," Caswell said.
Many dancers, including Jane Saylors, senior, have enjoyed his presence and what it adds to the group dynamic. "It kind of breaks up all the girliness. It adds a completely different vibe to the team. He's just really fun to be around. He's funny, and I absolutely love having him on the team," Saylors said.
Although Caswell was new to the team, he quickly learned the choreography. "I [did] have to change a lot of the choreography because, I guess, it's kind of choreographed for girls. But the coach is really accommodating," Caswell said.
Cameo Carolan, the NPHS dance coach for the past 17 years, said Caswell is a committed and passionate dancer. Caswell is always ready to make sacrifices to carry out his dance team duties, including missing an NFL football game that conflicted with an NPHS football game performance. "When he found out that we had a performance that day, he hands down was like: 'I'm not going to the game. I'm going to go to our show, and I'm going to perform," Carolan said.
Dancers and Coach Carolan alike see Caswell for his drive and work ethic. "That comment that people say, you know, make lemons into lemonade. That kind of saying, that's who Drew is like. If a door shuts in his pathway, he finds another path. And typically that other path ends up being a better adventure than the one that was right in front of him," Carolan said.
Caswell plans to carry his passion for the sport into college and beyond. "I feel confident when I perform. I think I could take it to a collegiate level and possibly beyond to professional," Caswell said.