Eichinger announces retirement from coaching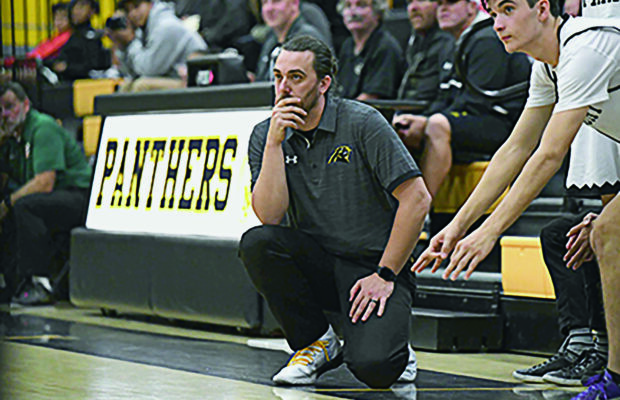 On Jan. 14, varsity basketball coach Matt Eichinger announced that he will be retiring after four years of coaching at NPHS. It is safe to say that Eichinger will be greatly missed by his athletes.
Eichinger has made an incredible impact on all of the athletes on his team. Cooper Lucas, sophomore, has learned many lessons from his former coach. "His lessons about giving it your all and never giving up will carry with me my whole life," Lucas said.
Although Quincy Bentley, senior, only had Eichinger as a coach for one season, it is obvious his coach had a large impact on him during their time together. "He was a great coach and teacher, and I am extremely excited to see him take on this next chapter in life that God is calling him to," Bentley said. Bentley and the other team members considered their coach to be an inspiration as well as a friend, "He taught me certain things on the court that I could never teach myself, and more importantly, he was a friend to me off the court." Bentley said.
Amidst his departure from coaching, Eichinger had left his athletes with treasured memories. Lucas recalled a special game against Thousand Oaks High School. "We made a 15 point fourth quarter comeback and we shared a special moment at the end of the game," Lucas said. For Eichinger, it is hard to come up with just one favorite memory, but he loves watching his players grow as both athletes and people. "Seeing players grow physically, mentally, emotionally, spiritually – that's what coaching is all about," Eichinger said.
Eichinger would like to thank Steve Johnson, assistant coach and history teacher, for his leadership both on the court and in the classroom, seeing Johnson as his own mentor and example. "Nobody better exemplifies servant leadership in the way he serves students, athletes and coworkers," Eichinger said.
His presence on the court will be greatly missed, but his athletes and the rest of NPHS wish him the best of luck in what comes next. "NPHS truly is a special place, and I couldn't have asked for a better spot to spend the last few years coaching," Eichinger said. "I'm excited to see what the young men I've been blessed to work with the last few years will be able to accomplish… I look forward to continuing hearing about their journeys moving forward."