Fights for inclusive history and CVHS occur at January board meetings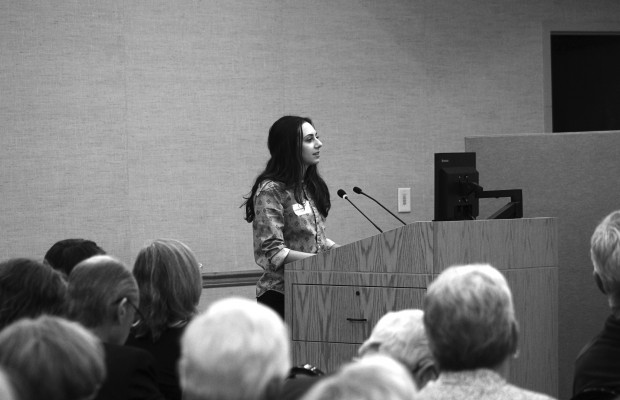 The audience and school board members bowed their heads. The room was silent. At the start of the school board meeting on Jan. 3, 2017, Superintendent Ann Bonitatibus called for a moment of quiet remembrance of Darrin Carr, an NPHS English teacher who passed away during winter break.
However, the silence was soon replaced with tension by the 12 people who made public comments, seven discussing their opinion about the Conejo Valley High School's (CVHS) move to Thousand Oaks High School's (TOHS) empty classrooms. In October, the school board rejected moving the continuation school to TOHS, but before the end of the year, they reversed their position; CVHS will now temporarily transfer to TOHS before the fall of 2017.
Most attendees were in protest, saying CVHS was created for students who did not succeed on traditional campuses like TOHS, so putting them back in this setting would defeat CVHS's initial purpose. They said they felt the board had given up on the school and the CVHS students.
On the contrary, many residents of Waverly Heights, another proposed site for CVHS, argued traffic in the Waverly neighborhood was already too excessive. They felt CVHS should either remain where it is and continue paying rent, or move to TOHS.
The other commenters expressed their anxiety about the the vote to replace the history curriculum policy to align it with the new standards set by the state in the FAIR Education Act and the framework. The Act passed in 2011 and the framework adopted last year attempt to rectify the state history curriculum to more equally and impartially represent historical successes from all groups, including women, minorities, LGBT people, and people with disabilities. In December, CVUSD board clerk Sandee Everett requested the vote be postponed so she could read it thoroughly and try to better understand it.
Resident Shirley Corning, a transgender woman who transitioned five years ago, was one of seven commenters in the discussion of replacing the policy. Explaining that she just wanted acceptance, she expressed support for the change, and what LGBT members will do if the change is rejected.
"We are still going to be here, we were here all along. It's just if we have to hide under a rock or not," Corning said.
The board met again on Jan. 17 in a room packed with people flooding into the reception area and hallways, most feeling anxious about the history policy vote to come. However, before they could speak to the board, former president Patricia Phelps informed the public of what happened in their closed session, specifically regarding the superintendent's evaluation.
"What we decided to do is actually set aside a special meeting where we can just devote the time to the superintendent's evaluation. . . so you will be seeing another superintendent's evaluation, but please don't think that that reflects in any way on her performance," Phelps said. The separate meeting was held on Tuesday, Jan. 24.
Continuing the Jan. 17 meeting, over 15 people spoke in the public comments, with many again criticizing CVHS's move. A band of seven TOHS teachers conveyed outrage, confusion and empathy for both CVHS and TOHS students. This included English teacher David Sheraton, who referred specifically to last year, when the move was deemed "least preferable".
"How did the least preferable choice become what happened?" Sheraton asked the board. He also referenced the CVUSD motto of being "exceptional without exception" and asked, "Who is this (plan) exceptional for?"
The other teachers, Sarah Burns, Heather Farrell, Jason Loose, Kristin Benioff, Tasha Beaudoin and Joe Donia, described the situation as an "unnecessary disruption" and "fiscally not responsible," saying the students were treated as "collateral damage," and citing research from similar events showing drops in enrollment and test scores.
Directly prior to the history policy vote, 47 people spoke, their comments ranging from voicing support to arguing for topics touching on LGBT people to be taught at home. Commenter Steve Simons argued that it was the parents' duty to teach their children.
"What I don't understand, is why we as a group are so dependent on others to teach our children what is right or wrong. This responsibility falls on parents primarily. This does not make a religious bigot, simply accountable," Simons said.
Several addressed board President Mike Dunn and his recent email in which he put his faith above his school board duties. They called for the separation of church and state, with some, like protester Joan Edwards, asking if Dunn was the right choice for his position.
"The quote is, 'Where I spend eternity is far more important to me than being a school board trustee.' I think if that's true, perhaps you should resign," Edwards said, met with applause.
Next, Clerk Sandee Everett proposed an amendment to give more flexibility for determining age appropriateness or material and requiring progress reports of the implementation from the superintendent. When put to a vote, the motion of replacing the history policy with the newly amended one passed 5-0.
Bonitatibus thought the board made the right decision, saying, "I commend the board for working on language that follows the law and gives the flexibility that we need."