Fires scorch through Northern California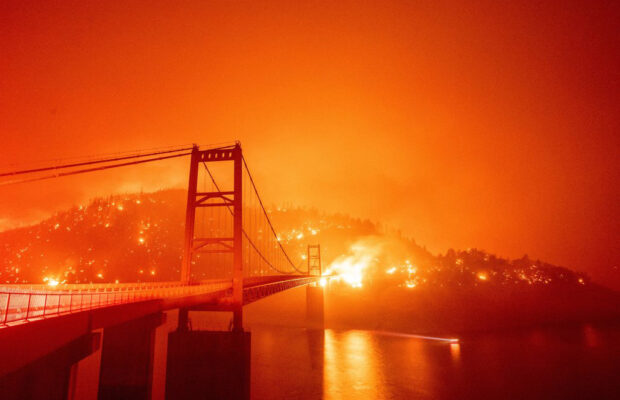 Wildfire season began much earlier than normal this year, leaving over 3.1 million Californian acres in ashes, with the major source of this destruction being The August Lightning Siege. This event started on Aug. 15 and is still raging on. A combination of dry, 100-degree weather and lightning storms has sparked over 7,800 fires so far, with more starting every day. 
Many believe that these raging flames are being ignited due to climate change. With the increase in air pollution in large cities like Los Angeles and San Francisco, wildfire rates have escalated  dramatically these past few decades. Usage of locomotives and vehicles have played a major role in decreasing the air quality around the state. California has a long history and pattern of large waves and high degrees from the summer through fall season. Global warming only increases the chances for disasters like wildfires to occur. 
This devastating event has left almost 7,000 California residents homeless and caused 12,400 to evacuate their homes as a safety precaution. Wealthy homeowners who live away from central cities have been hiring firefighters to help protect their properties.  
Gov. Gavin Newsom announced a state of emergency due to wildfires on Aug. 18. In the official proclamation statement, Newsom noted that the state of emergency was issued because of the immense tree die-off our state experienced. 
Over 17,400 firefighters from all over the state have been sent out to fight against the flames. As of Sept. 16, the largest fire, August Complex, is burning almost 840,000 acres of land in Northern California. This fire began on Aug. 16 and is currently only 30% contained. The National Weather Service has canceled the red flag warning in the San Francisco Bay Area, though there is still a very high chance of dry thunderstorms. 
The El Dorado fire, which was started by a malfunction in a pyrotechnic device used for a gender reveal, has burned about 18,500 acres throughout San Bernardino and Riverside counties. This fire was ignited on Sept. 5 and is currently 63 percent contained. Many residents in the surrounding areas have been ordered to evacuate. 
Due to mass evacuations and over 877,477 properties already destroyed, the safety of workers and property for different companies and stores are at risk, especially impacting small businesses.
According to Alert Media, companies that are in need of transportation using roads and vehicles could be majorly affected by the wildfires.With many roads closing to ensure the safety of employees, places that depend on shipments and deliveries to get products to customers can be affected, causing concerns about financial stability for smaller businesses.