Flashback Friday: Songs to Revive Your Childhood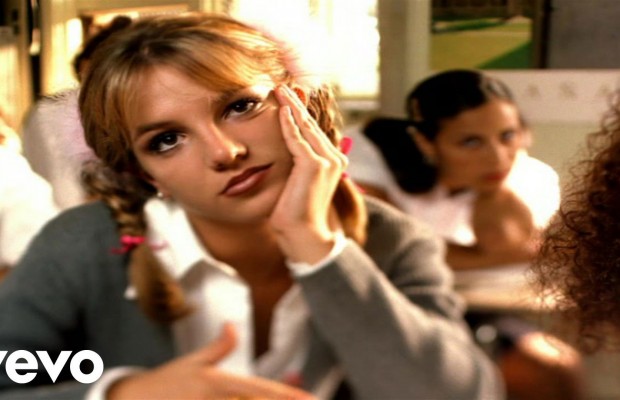 We love looking back at our beloved childhoods: a time before giant tests, a time when Kim Kardashian was just Paris Hilton's assistant and your biggest problem was whether Miley would choose Jake or Jesse. It was the era of Juicy tracksuits (which are apparently making a comeback), and Uggs with everything. Yes, I am referring to the early 2000s. I am here to take you on a musical journey.
"Toxic" by Britney Spears- When a person thinks of this song, he or she usually thinks of the Just Dance routine on Wii. "Toxic" is unique, compared with other Britney hits because of its cinematic feel. It's got the suspensefulness of an action movie, the angst of a damsel in distress, and the catchiness that's key to any pop song.

"Mr. Brightside" by The Killers- "Mr. Brightside" is by far the edgiest song on this playlist. It's bitter, it's angry, it's

ironic

, but most of all- it's memorable. The lyrics get people the most, and you'll never forget the opening phrase: "coming out my cage and I've been doing just fine." You have probably sat in the back of a car, looking out the window while it rained, as you played this song on your iPod, thinking about the crush that you deeply regret now.

"The Sweet Escape" by Gwen Stefani- Gwen Stefani is a 90s-early 2000s LEGEND. While No Doubt is certainly a great punk band, Stefani was able to switch from being an alternative rockstar to a pop and fashion icon with one album. Nostalgia can help us all "escape" from our current, difficult reality.

"Irreplaceable" by Beyoncé- From Destiny's Child to

Lemonade

, Beyoncé has always been a superstar. Before she actually conquered the entire world and brought forth Jesus once more with the visual album

Lemonade

, Beyoncé was a popstar with a broken heart and a cheating lover, just like you and me. This song was a hit I normally sang on American Idol karaoke, an old Wii game with CGI Simon Cowell and Randy Jackson. I thought the graphics were so good … But nonetheless, all aboard the Beyhive. (Beyoncé also has a Spanish version of "Irreplaceable," which makes her that much more incredible).

"Glamorous" by Fergie- "Glamorous" makes you feel as if you are stepping into Fergie's fast-paced, high-profile world, sipping champagne and winning Grammys.This pop queen is most definitely the realest out of these early-aught pop titans (sorry Iggy), also teaching us how to be confident with her track, "Fergalicious." Though she seemed to step down from the throne after The Black Eyed Peas, Fergie is now back and better than ever.

"Hips Don't Lie" by Shakira- Honestly … since when were hips dishonest? Shakira speaks the truth in this 2005 hit. Every time you heard this song, you wanted to get up and swing your hips just like Shakira. You tried, but nobody can master the hip shaking quite like she can. It's hard to believe that "Hips Don't Lie" was released in the same year Fall Out Boy released "Sugar We're Going Down." Pete Wentz was emo, Shakira was being honest with her hips … life was good.

"All Star" by Smashmouth- This famous

Shrek

song represents the musical impact everyone's favorite green ogre had on contemporary art. From

Shrek

's initial success to the memes it created years later, "All Star" has been at the center of the action. It has become so attached to

Shrek

that you can't listen to it without thinking of the movie (or the memes). It also makes you feel pretty good, because hey now, you're an all star.

"Sk8er Boi" by Avril Lavigne- He was a boy. She was a girl. Can I make it any more obvious? Avril really went one step further with creative decisions on the title of this song, and she wowed us with her pink hair and bad girl aesthetic. Avril Lavigne represents a cultural shift from 90s grunge fashion to the more recent emo style. Yet, Lavigne brings this transitional period into the mainstream world; she can rock the black eyeliner just as much as she can sing cheesy pop lyrics about the boy next door, who played Yu-Gi-Oh! and tried to ride a scooter instead of a skateboard.

"Baby… One More Time" by Britney Spears- If you recently watched James Corden's Carpool Karaoke, you probably saw the goddess that is Britney Spears (it was as if 2007 never happened!). Corden wore her memorable pigtails from the "Baby… One More Time" video, which single-handedly changed the music industry forever. It was somewhat familiar to her Disney roots, but still had that mature air to it that foreshadowed what would later come to be.

"I Gotta Feeling" by The Black Eyed Peas- To finish off this list, here's a song that makes you feel good. Though its release date is a little late compared with the rest of the songs, The Black Eyed Peas definitely peaked in the early 2000s/2010s time period. They even reached the Super Bowl, then disappeared off the planet completely. So sit back, relax, and enjoy your Friday night with this

slight

throwback hit.

Well, congratulations! You've made it to the end! Watch another episode of Lost or The Office and be sure to check us out on Spotify for monthly music recommendations, across totally different genres- @pantherprowlermusic