Football tackles COVID-19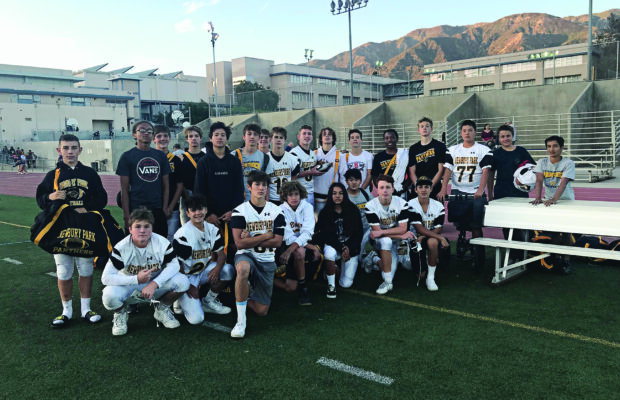 From an open field to an empty stadium, NPHS's football team has gone through many adjustments trying to adapt to their new training habits. Conditioning during a pandemic has been difficult, but members of the team have been working hard, practicing every week to prepare them for the return of their season.
For many of the seniors on the team, this football season has been quite an unfortunate turn for their final year. Christian Middleton, senior, has been playing football since he was a kid, this year being his fourth year playing at NPHS as a back defence and wide receiver. Due to COVID-19, him and his team have been slowly transitioning their practices back to the field. "At school, we haven't been allowed to actually touch the footballs…when we come to practice, the coach checks our temperature every day so we have to make sure we meet a criteria that fits so we can actually practice," Middleton explained.
From past years, this season has been a complete change."Games have always started in August, so the fact that the seasons pushed back, like, five months or whatever it was kind of weird.We might not be able to play with a lot of fans this year which is also going to be weird because every year there's always fans of the game so it would just be a different setting," Middleton said.
The team has overcome many obstacles at the start of this season.
Dane Germann, senior, has been playing football for the past seven years and as a receiver and defensive back for the NP team. With this being his last season, practice has never changed so drastically from past years. "We start with five to ten minute warm ups, like stretching and then we do defense for about 30 minutes, and then we'll condition for, like, 20-25 minutes, and then on Thursdays it's just offense," Germann said.
Communication has been extremely difficult to get through with social distancing. With new faces joining the team, members find it difficult to get to know the underclassmen."We've communicated a little [with the freshmen] mostly over Zoom or text messages. We've had challenges for assignments where we messaged our underclassmen or just a teammate we don't know and get to know them," Germann said.
Last fall, Alyssa Ramirez, sophomore, joined the freshman team as the only girl, playing running back and linebacker. With this being her second year on the team, she has grown close to many of her teammates. "Last year we didn't really know [other team members], but we were able to interact and get closer to each other. This year, there's new people in each group but we don't all get to meet each other because we're separated. It's kind of hard to start the chemistry between the team," Ramirez said.
With Ramirez being the only girl on the team, her experience has brought her a lot closer with her teammates. "It was a lot different [last year] because it was awkward. This year, it honestly just feels like I'm one of the guys because they don't treat me any different," Ramirez said.
Slowly easing into the changes, the team hopes to start their official season, gearing up early December and starting their first in-person game at the beginning of January.