Garage bands rock the neighborhood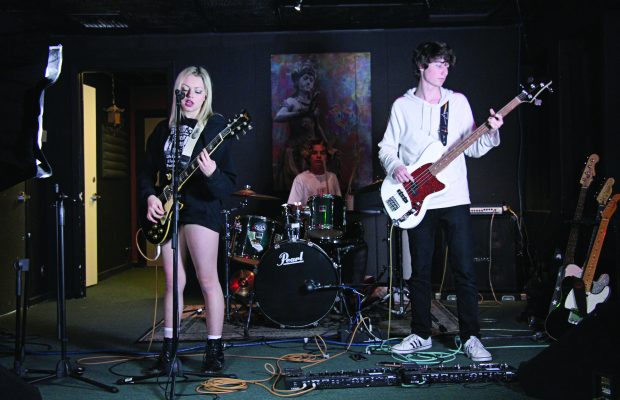 It's no secret that NPHS students are talented. With so many students that are capable of showing their artistic side through a multitude of mediums, it's hard to find someone that doesn't have one thing or another to show off. Just one of the mediums that our panthers have chosen to express themselves through is music, as these musicians have found passion in getting groovy. Several garage bands share our campus, from The Cacti to The Sik Sik Sicks to 3% Milk, all of whom take their music talents and display them on stage.
The Cacti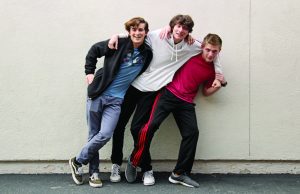 The potent sound of power chords and drums radiates from the garage as the band begins their practice session. With a new song in the works, the members of The Cacti are determined to practice until they are able to perform it flawlessly.
The Cacti is an alternative rock band that is composed of guitarist Ryan Younes, junior, guitarist Thomas Kitchell, senior, bassist Justin McAlister, junior, vocalist Evan Metcalf, junior, and drummer Judah Lewis, junior. They are relatively new to the music scene and are eager to prove themselves.
Younes reflected on the beginning of his interest in music. "During an event I was at, there were a couple music videos playing on a screen that they had set up and one of them was 'Enter Sandman' by Metallica," Younes said. "I heard the power and the intensity of the song and I wanted to be a part of it, so I picked up a guitar not long after and learned the opening riff and that's how I got to where I am right now." With his newfound interest in music, Younes began to practice nonstop.
Eventually, the band began to form. "It was about a couple months ago when the band got together," Younes said. "I brought my guitar, Justin brought his bass, and we got a few others to bring their instruments as well." The Cacti began as an experiment between friends but eventually developed into a fully fledged band, where they began to create their own songs.
While some garage bands are in it for the fame and fortune, Metcalf says that their band is striving to achieve another goal. "I feel that the band's goal is to just make songs that we want to make, " Metcalf said. "We don't make songs with the goal of performing them in front of an audience but more along the lines of recording so that we can enjoy it."
Younes's thoughts about being in a band have changed since the beginning of the endeavor. "You look at a band beforehand and think 'Hey, that looks like a whole lot of fun and games,'" Younes said. "When you get into it, you realize that the music industry nowadays is much different from the stereotypical industry in play thirty years ago." From the beginning, the band has been learning the ropes of the music industry.
Despite these challenges, Younes believes that The Cacti will grow and become well known in the local music scene. "We definitely have what it takes to gain a following and succeed," Younes said. "We just need to hone our skills and gain a bit more experience and then we'll be good to go."
Sik Sik Sicks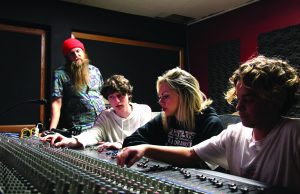 With Justin McAlister, junior, on bass, Julia Dorth, freshman, on guitar and Maddie Lucas, sophomore, on guitar and vocals, Sik Sik Sicks has been a successful band for several months now.
"When I was really little I did School of Rock and stuff like that when I still lived in Texas," Lucas said. "Here I met all the people because there's a whole little scene thing I guess. It was a really good community and scene to be with so I was like let's start a band man."
Lucas has been performing since the age of five, and has progressed from singing and dancing in theater to performing music in front of crowds of eager fans. "Sometimes I still get scared. It's totally different," Lucas said.
"There's a lot of trouble that we have booking gigs. It's honestly really difficult nowadays to build up a reputation as a good band and rise to the top, " McAlister said. He has been playing music since the age of 12 and is skilled in bass, accordion, guitar and piano. "We are kind of a new band, so we are still trying to grab ahold of the ropes and figure out how the whole music scene works. We're also finding a bit of difficulty in getting our music under a record label. We've got one song out right now, but we're trying to get more out soon."
The band performs live two to three times per month, playing a combination of covers and originals. They plan to go on tour under their management from Santa Barbara to San Diego in the near future. "We change it up normally… it's just the same few songs unless we have a new cover. We do one or two covers every show and the rest are originals. Sometimes we change the covers and sometimes we change up the order, it really just depends on where we are playing," Lucas said.
"Just last week we performed at The Canyon Club in Agoura Hills and it was really fun. It was pretty good, and apparently it was one of our best shows," McAlister said. The Canyon Club has hosted many influential artists and bands, including Blue Öyster Cult.
Sik Sik Sicks is based in Ventura, where the band has access to a recording studio and the help of one of their managers. "In practices we normally run through our set, we write new songs like everyone writes their part in a new song, or recording or working on whatever we're not good at," Lucas said. She expects the band to be ready for a record deal within the next year.
The band has been characterized as alternative rock, and most of the songs are written by Lucas, though all members contribute with their respective instruments. "I personally really listen to anything that is not country or death metal. I really like rock, alternative rock, alternative in general, and lo-fi music," McAlister said.
"In the future, we're definitely going to try and branch out and grow in popularity," McAlister said. "I think we already have the potential to gain quite a bit of traction in the music scene, and we're only going to get better and have more fun along the way."
Lucas encourages anyone interested to join a band themselves. "It started off with me and my friend, she did bass and all it was was asking around and getting people to practice with you," Lucas said. "Just do it, full send."
3% Milk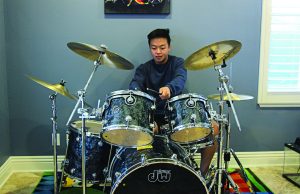 Darrell Chen and Jake Hewig's band 3% Milk functions both as a way for them to make music and hang out. As a creative outlet, the band uses music mainly to both express and pick themselves up, bringing the band members closer together.
They started the band in seventh grade after discovering their shared interest in making and listening to music. "We all played instruments and we all liked similar music, we always thought it was fun playing together and we were all friends anyways," Hewig explained. The band ended up being composed of Chen on drums, Hewig on bass and Braeden Handy, senior, on guitar.
The band's practices are mainly them just "goofing" around and having fun with the music. "We just write songs and riffs and just like that stuff it's hanging out and also jamming," Hewing said.  
While all the bandmates bring something different to the table, one of their main obstacles has been finding a middle ground to combine all of their interests. "We got Braden as kind of the overall leader; he's the serious guy, wants to get down to business. Then Jake comes in with the grub; we kind of just fool around, you know we go shirtless sometimes," Chen said.
3% Milk mainly uses the band as a way to have fun. "We have played for a live audience but we've never been paid," Hewig said. "We've jammed and we have people come and hang out and watch us."
For the band members, music serves as a mood-booster and a creative outlet. "This honestly makes us happy. If you're feeling down and we play something it just brings your mood up," Chen said.
The band's future is still a bit up in the air. All the members of 3% Milk have different plans for the future, but agree on coming back together in the future with their shared love of each other and the music. "When we're all in our 40s or 50s and we all have no money we'll do like a resurgence again," Hewing said.
"We're definitely going to miss it but we all know when our midlife crisis around 50 to 60 age…" Chen seconded.
"That's when we're going to take over the world. That's when we're going to top the chart," Hewig finished for him.
At the end of the day, 3% Milk is a band made up of friends who love each other and love hanging out together. "Basically we love each other. It's like a tight little family," Chen said.