Greta Thunberg strikes in Los Angeles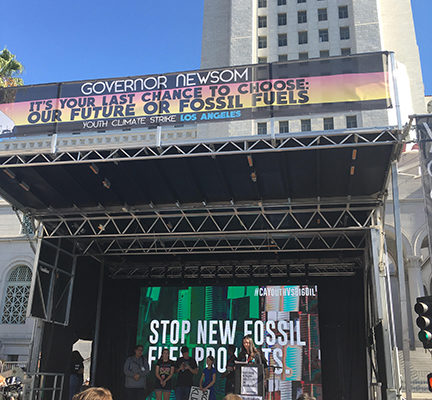 As part of her American continent tour, Greta Thunberg, the 16-year-old Swedish environmental activist, stopped in Los Angeles at the Youth Climate Strike on Friday, Nov. 1. Thousands of people of all ages and from across California stood in front of City Hall, walking through the streets of LA chanting and applauding for speakers like Thunberg.
Selma Ruiz, senior, has been following the climate movement and Thunberg for two years. After changing her own habits to become more environmentally friendly, she says she jumped on the opportunity to see Thunberg speak live.
"(I) never thought I'd get the chance to see her in person. It's not like she'll hop on an airplane to come to LA again," Ruiz said.
The theme of the strike was "Governor Newsom It's your last chance to choose: our future or fossil fuels." It aimed at pushing political leaders from all levels, especially Newsom, to pursue more environmentally friendly policies and protect communities from fossil fuels. Activists from junior high to college spoke at the event, sharing their firsthand accounts of how climate change and fossil fuels have affected them. 
Although Mikkel Nagorsen, senior, heard about the event at 11:00 p.m. the night before, he says he was glad he went.
"A lot of the speeches were very good. I like how heavily organized it was by young people too," Nagorsen said. "l (learned) the effects of it on communities that I didn't know before." 
Ruiz did wish some things were done differently, including having "more male speaker."
"I've noticed in general the environmental movement is largely female and I wish we could find a way to include more men into the conversation. We need to work together to create new change, that means including everyone," Ruiz said.
However, both Ruiz and Nagorsen agree that the event motivated them to advocate for the environment even more, and might spark change in the future.
"I think the message was heard, it's hard to ignore thousands of people outside the LA City Hall," Ruiz said. "The strike wasn't made to change legislation overnight, it helped spread a clear message to our leaders. It's not just about the strike on Friday, it's about taking the initiative to change yourself and pressure politicians to change with you."