Heartstopper breaks standards and inflates hearts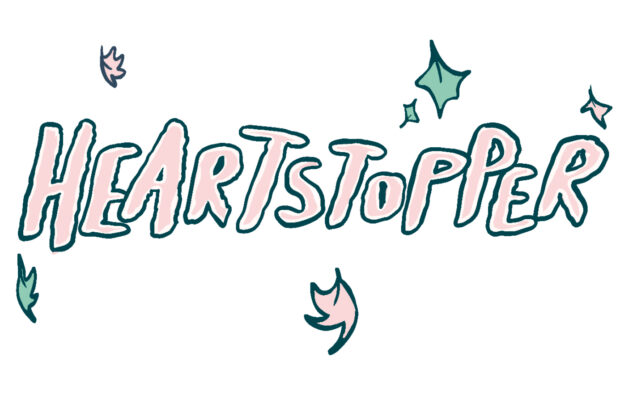 Originally a comic on Webtoon, "Heartstopper" by Alice Oseman has grown into a 4 book franchise as well as a number one show on Netflix as of the summer of 2022. Since the comic's online debut in August of 2019, the popular LGBTQ+ franchise has become a widespread phenomenon; and rightfully so.
As Webtoon has become a widespread app that encompasses handwritten online comics that include genres such as romance and drama, the concept of a hand-written story developing into a published series is generally rare due to the app's vast amount of stories. However, what started as Oseman's hand-drawn comic, quickly gained popularity due to its lovable characters and heartwarming yet realistic messages that incorporate heavy LGBTQ+ themes that fans around the world find achingly relatable.
The base of the story follows Charlie Spring, a 15 year old boy, who attends an all-boys school in southeastern England where Spring struggles with his mental health and self-worth after being outed due to his homosexuallity. The character is originally found in a secret toxic relationship with Ben Hope, a boy who doesn't respect Spring and later assaults him, but gets saved in the process by 16 year old Nick Nelson.
After meeting Nelson in math class at the beginning of the term, the two become quick friends and even develop romantic feelings towards each other. Though Spring is familiar with his attraction to other boys, Nelson's attraction to Spring is something new for him, which influences Nelson to dive deeper regarding his sexuality, where he later discovers that he is bisexual.
Through the story of Nelson and Spring's relationship, readers meet Spring's friends including Elle Argent, a transgender woman, Tao Xu, and Isaac Henderson, who replaces Oseman's original asexual character in the comic, Aled. During the story's additional perspective of Argent, readers not only are exposed to the everyday lives of Nelson and Spring's homosexual relationship but are also exposed to Argent's life as a transgender woman in her teens which additionally deepens the relatablility of the show for various fans. With Argent recently transferring from Spring's school to an all-girls school, she meets two other characters, Tara Jones and Darcy Olsson, who share a newly formed relationship with each other. This romance sparks struggles for the two characters to try and fit in amidst gossip regarding their relationship.
Not only does Oseman's Webtoon comic provide a symphony of LGBTQ+ relatability for numerous fans of the series, but the Netflix adaptation also provides a visual representation of the best parts of the characters' stories which shocked fans of the comic as well as viewers who were not familiar with the original series. Oseman's beautifully curated story continues to flourish in the Netflix adaptation directed by Euro Lyn. Stunning cinematography and a soundtrack which features mostly LGBTQ+ artists as well as the acting performances with Kit Connor playing Nick Nelson, my personal favorite character, and Joe Locke playing Charlie Spring are just some of the amazing features of the adaptation.
Through mastery in film techniques, which is a rarity in Netflix originals, initially heart-wrenching scenes such as the moment in which Nelson discovers his bisexuality is even more tear-inducing in the adaptation with the accompaniment of Connor's heart-felt acting and Ezra William's original song "My Own Person" playing in the background.
Though some fans were initially upset regarding the replacement of Heartstopper's only asexual character, Aled, I believe that the show's overall display of Oseman's original characters and stories does an unexpectedly tremendous job in encompassing not only LGBTQ+ representation, but also teen struggles as a whole. Despite being snubbed in the Emmys for best young adult series, Heartstopper has won Best LGBTQ+ TV Show in the 14th Dorian Awards as well as The Goodreads Choice Awards in the Best Graphic Novel & Comic category, and fans, including myself, could not be more proud.