High school athletes continue their sport into college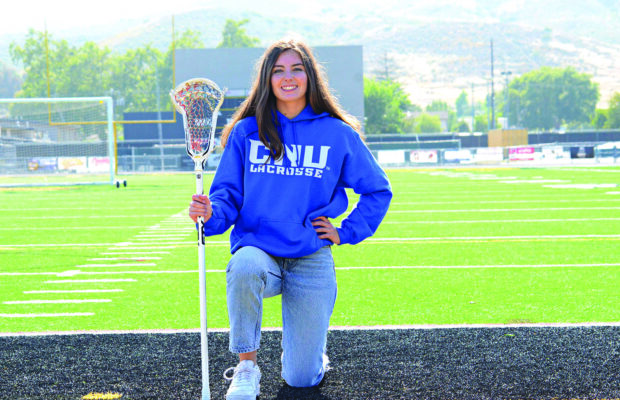 A s senior athletes close out their final season of their high school career, many consider continuing their sport into college. Recruiters from all across the country seek out the top high school students to induct into their high level college programs. Although not all students choose to participate in the most elite programs, many still find ways to incorporate their respective sports into their college schedule. From Illinois to Maryland, several NPHS athletes will continue to impress with their outstanding ability in their respective colleges.
With lacrosse being a popular sport on the east coast, Sophia Laubner, senior, picked up lacrosse when she saw her cousins playing the sport in Maryland. "We'd always like to play in the backyard, like when we'd have family meetings and stuff like that. So I think that's what made me start," Laubner said.
Laubner recently committed to Christopher Newport University and will play lacrosse for their D3 girl's lacrosse program. "It has all those options like study abroad and Greek life, and it's a liberal arts school. So it has a bunch of different majors, which is good for me, because I'm not exactly sure what I want to do," Laubner said.
Arden Miller, senior, started playing softball in fifth grade when she played on a team with her friends, leading to her pursuit of softball in high school and now, college. "In the beginning of high school I was doing three sports, and then I was like, you know what, I think I'm just gonna do softball. I just loved the team factor and how it was different, and I liked that aspect of how competitive it was," Arden Miller said. She has since committed to Frostburg State University, a D3 school.
Likewise, Bailey Miller, will be playing softball in college. She recently got a scholarship to a college in Illinois called North Central College and is pursuing softball as well as ROTC training. "I got a three year scholarship that pays for my full tuition, room and board and it pays some money too," Bailey Miller said.
College athletes go through a very strategic process of photographing, emailing and visiting colleges to make sure they are being looked at from coaches. There have been many seniors in our graduating class that have had the opportunity to experience college scouting and athletic camps. As COVID-19 has changed the whole recruiting process, athletes and coaches have found new methods of scouting and getting their name out into the world. "But because of [COVID-19], it was a little bit harder to travel, especially since I was looking at East Coast schools only. But what I did was, I would set up zoom calls with the coaches," Laubner said.