Hockey club holds high potential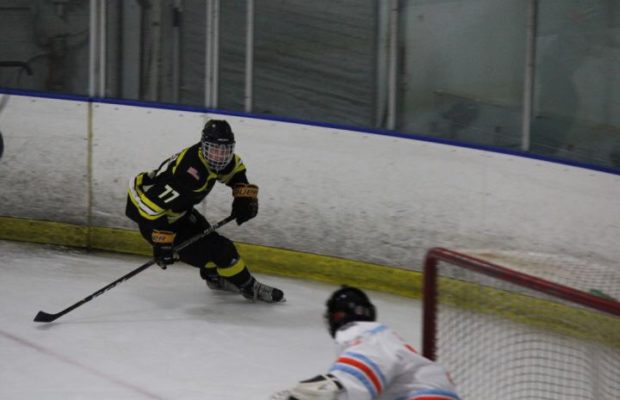 Ice hockey is not a sport offered by NPHS athletics. However, that has not stopped students from playing it. The NPHS hockey club allows students to play ice hockey in a casual setting and interact with other enthusiasts.
Kyle Agnello, senior, has been playing hockey since he was nine. He joined the club in order to find others who were passionate about the sport. "I (wanted) to get involved more in the school as well as surround myself with others who love hockey," Agnello said. As a part of the club, members meet regularly and engage in various activities, practicing three times a week at the Simi Valley Iceoplex and competing on the weekends.
Hudson Lawrence, senior, joined the club during his sophomore year in order to play with his friends. He explains that the club welcomes students from other schools who want to play hockey, currently having members from Agoura and Calabasas high schools. "We have seven kids from Newbury Park, and after that, we allow kids… from other schools to join so we can have a full team that can compete," Lawrence said. The club is relatively small and teammates hope to increase its membership in the future. "(I love surprising) people when they find out that we have a hockey club," Lawrence said.
For Bentley Simcox, junior, joining the club has motivated him to improve on his playing abilities. "It makes me just want to play more and more and more," Simcox said. By being an active member of the club, Simcox has found new opportunities to display his talent and compete against others. In April, he will be participating in America's Showcase, "where all the best hockey players from the United States go and compete and represent their state," he said.
Although ice hockey is not a part of the athletics department, hockey club has made efforts to form a competitive school team. Participation in the sport is still relatively small, but it has grown rapidly over the years. "(Ice hockey is) growing pretty fast and it's getting a lot more competitive (in California)," Simcox said. However, due to the fact that teammates come from different schools, these efforts have been largely unfruitful. Regardless, the club has and will continue to provide an outlet for students to enjoy their passion. "The club has boosted my love for the game… I have been able to show the sport to others that might not have seen (it) played before," Lawrence said.