Hong lends a hand with athletic training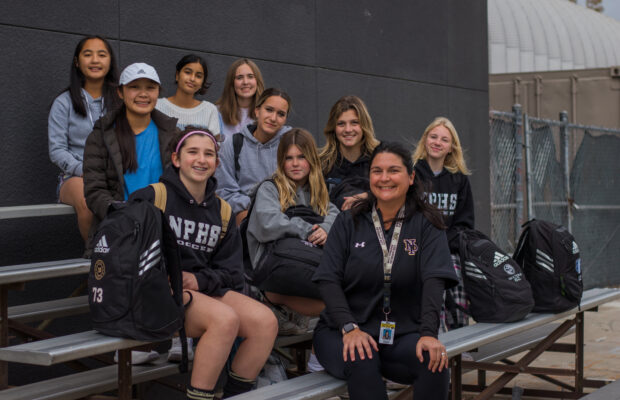 Brittany Hong, College and Career Guidance Specialist, has recently been assisting with strength and conditioning training for the girls' tennis team as well as the girls' soccer team. 
Hong received her certification as a Strength and Conditioning coach in 2007. "So when I got working at high schools in the College and Career Center…I wanted to get back into being able to help athletes perform better on and off the field," Hong said. 
So far, Hong said she is having a great experience coaching these teams. "Each week, we continue to move along and continue to progress into more challenging exercises, and also increasing our mental toughness," Hong said.
She trains these teams with many different strategies and routines. "All of the training is speed, strength, agility, power, and increasing athletic abilities for the actual sport," Hong said. 
Hong believes that these conditioning practices will benefit athletes beyond their physical health. "I think it's helping them with confidence," Hong said, "Being more confident and explosive, and then also them realizing what their strengths are, and then how they can continue to improve on those," Hong said.
Rachel Hu, junior, has been playing tennis for close to six years, and began training with Hong as soon as she returned from Thanksgiving break. "We typically do different variations of running across the court to be quicker, core exercises with the yoga mats and also work with resistance bands," Hu said.
Hu also experiences many benefits that come along with this training. "It is affecting my skills as an athlete by improving my endurance, and it also helps with increasing control over the ball and my coordination in tennis," Hu said.
Cali Woomer, freshman, has been playing soccer for nine years and trains with Hong once a week. "My favorite thing about training with her are the drills she has us do. We mostly do skips, jumps and lunges," Woomer said.
Woomer recalled some of the ways these drills benefit her performance. "It helps a lot of skills that I need to work on like strength, coordination and power which helps a lot when in a game," Woomer said.
Hong stresses the importance of athletes improving their health with better habits. "We're starting to get into nutrition, and what healthy habits look like for being an athlete, like how much sleep you should get," Hong said.