Houses light up Newbury Park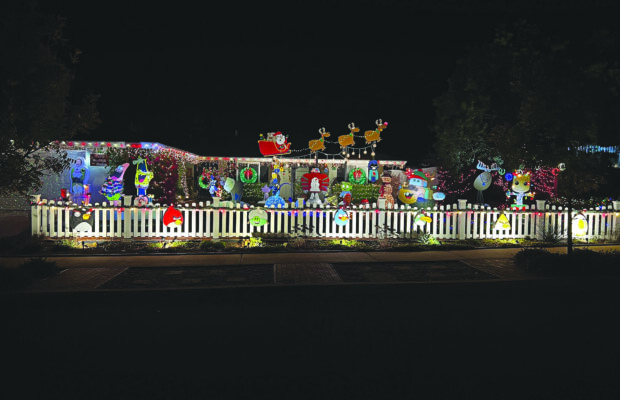 In lieu of traditional holiday celebrations in colder climates, Californians bring it on the decorating front. In hope of spreading joy this holiday season, homeowners in Newbury Park have decorated their houses by covering almost every inch with colorful lights and blow up figures. These festivities began for many in November, when fully decorated houses began to pop up around town.
Family traditions- Covered with about 20 thousand lights that are synchronized to music, 5332 Via Patricia consists of handmade decorations such as a giant Christmas tree and a band, made by Brian Fuchs, the father of Crystal Fuchs, an NPHS alumnae. "My dad saw a house with lights [that was] synchronized to music and thought, 'I could totally do this,'" Crystal Fuchs said. When Brian Fuchs first started the light show, he wanted to start a tradition for his kids to grow up with, and now, Crystal Fuchs has joined the train. "Every few years, my dad tries to update the show with new songs and new lights. I [also] got the chance to learn how to program my first song, [which] has been the newest addition to the show," Crystal Fuchs said.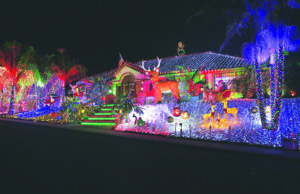 Bunches of fun- Randy Hallford, the homeowner of 982 Golden Crest Ave. took about 3 weeks to decorate his house, starting after Halloween. His house and frontyard are separated into different theme areas, with every inch of the house and yard being covered with lights. "We have a snowy slope with a giant reindeer, giant ornaments and a Santa sleigh. [There is also a] lake where Santa is fishing, and a Fortnite themed area for gamers," Hallford said. In comparison to previous years, Hallford stepped up his design, adding in a 20 ft. candy cane tunnel that includes a talking and singing Santa Claus. For the holiday season, Hallford is using his house as a designated drop-off site for the Spark of Love Toy Drive, a donation drive his family is hosting alongside the Fire Departments of Ventura County.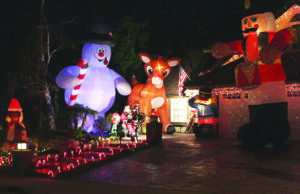 Holiday Cheer- With only four people to help, one of the homes on Walter Ave. took 3 days to decorate. Debra Jay, one of the residents of this house has been decorating their home alongside her family for the last 20 years, and this year, their yard included house lights, painted wood characters, candy canes, and blow up figures, such as Rudolph, a snowman, the Nutcracker and Santa Claus. Whenever a home is dressed with festive lights, it is always an attraction to the others in the neighborhood. "We love Christmas, and [so do] our neighbors and children…[My] favorite part [about decorating our house] is knowing how much [others] enjoy them…Christmas is a beautiful time of the year, and we love sharing the spirit of the season and making people smile," Jay said.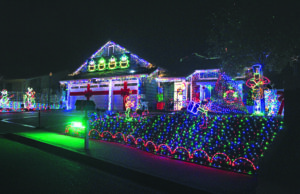 Little Santa band- First starting with Halloween decor, Ralph Riganti, the owner of 538 Brisbane Ave, transitioned into doing Christmas decorations in 2009. Riganti's home includes a lot of wireframe decorations, which is a pattern that is made out of metal that has lights attached to it. "I have a drummer boy. I have an elf that is animated that is skipping rope. I have a snowman that is tossing packages. I have two owls that are tossing packages back and forth to each other and I have reindeer and a little Santa band. [The Santa band has] Santa on guitar, elves playing the drums and Rudolph as the lead singer singing along," Riganti said. Aside from the wireframe decorations, his home contains other Christmas lighting, such as icicle lighting, and even singing Christmas trees.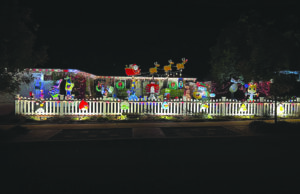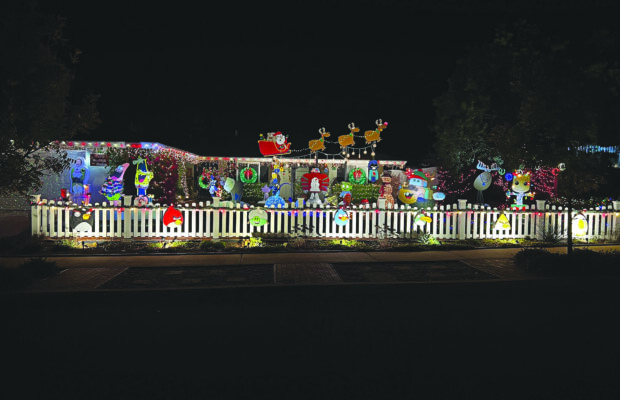 World of animation- This year, Brian Feola put up a brand new SpongeBob and Patrick display at his home on Donald Ave. Feola's front yard is filled with handmade wooden cutouts of different cartoon and movie characters. Not only are there wooden characters, his fence, roof and even the wooden cutouts are covered with lights, making sure that every inch of the property has some sort of decor. "Ever since I was young…I've always loved holiday decorations," Feola said. "I've been [decorating] for about 10-23 years now, [and I love] seeing [the] kids' reaction [to the lights and decorations.]"