IB Dance presents their virtual showcase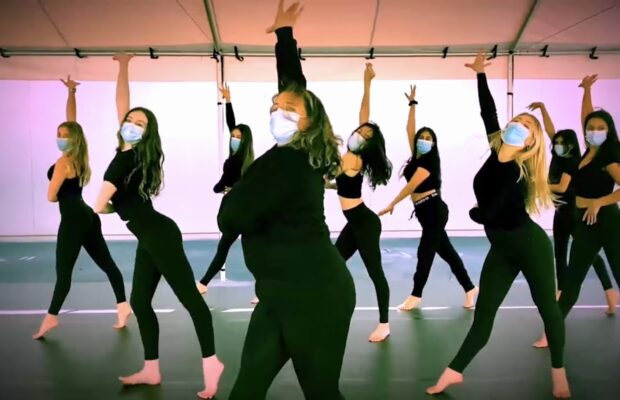 The IB Dance showcase virtually showcased the talents of their hard working dancers on March 19. Taught by Cameo Carolan, IB Dance is a class offered for students with a passion to learn new styles of cultural dances, such as African, Bollywood, Cha Cha and Hula.
Carolan feels that the seniors have been deprived of their well-deserved recognition, so this year's showcase is a tribute to them. "Normally in the show I present a lei to them as I speak about them and it kind of breaks my heart a little bit that I can't do that in the video," Carolan said.
While learning their dances through Zoom and being unable to meet in person for a majority of the year, the dancers faced many challenges to create this showcase.
Annette Gonzalez, junior, found it difficult to learn choreography over Zoom, but persevered through her passion for dance. "It was hard to hear the music because sometimes Zoom would glitch. I also had no space in my room so I could never do anything full out. When we met in person, the dances started making a lot more sense and we all felt a lot more confident," Gonzalez said. The juniors participating in the concert did not previously train in different ethnic styles of dance, so they had to face the challenges of learning over Zoom and comprehending new styles.
The showcase normally involves students choreographing various dances, but this year, they decided to make concept videos that portray different cultures and global issues. The students took the concepts into their own hands and made inspirational dances; some were filmed on their choice of location, rather than at the school.
Despite the difficulties with learning all of the dances, the seniors were still required to complete their requirements for IB. The seniors each performed a solo, choreographed a group dance with other students and participated in several other dances.
Riya Hundal, senior, has been a part of IB dance this year and is grateful to be dancing after her knee surgery. "I just think it's so great to be able to showcase just like dance," Hundal said. "I've been doing classical Indian dancing for twelve years so one of my solos is a classical Indian dance and just kind of getting to showcase, you know, my culture and heritage."