Interact Club carols for cans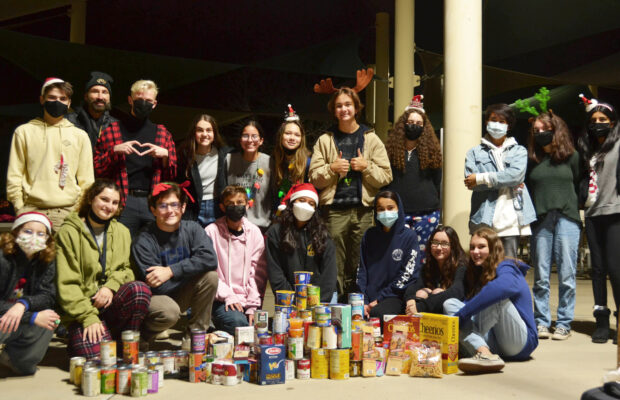 Holiday carols fill the chilly air on a peaceful Friday night in Dos Vientos. Volunteers from the NPHS Interact Club move from home to home, knocking on doors singing everything from "Frosty the Snowman" to "Deck the Halls." These students are participating in Interact Club's Caroling for Cans, an annual charity food drive which asks the community for non-perishable food donations for Manna Food Bank whilst spreading holiday cheer. This year, it was held on the night of Dec. 3.
After a festive night of singing and laughing, the groups congregated back at the Dos Vientos Community Park wheeling three carts of non-perishable food. The club sat down at the picnic tables to enjoy valuable bonding time over some slices of pizza.
Sage Patel, senior, is the co-president of the Interact Club. On the night of, she led one of the two groups that was sent out caroling. "We got a lot more cans than we were expecting. Because of COVID-19, we weren't expecting a lot of people to be opening their doors to strangers–especially high schoolers singing Christmas carols," Patel said, laughing. "I was worried it was going to be a lot different than years past, but just because it's outdoors and everything, and we got an outdoor venue, it turned out to be good."
For Chaz Hoang, freshman, this year's Caroling for Cans was his first Interact club fundraiser experience. "I didn't know what to expect, I didn't know how many cans we were going to get, how much food, but I'd say it was pretty successful," Hoang said. "I thought it was a really good cause–to feed homeless people and also it brings people together as well." Hoang treasured the opportunity to socialize with his friends as well as people he had met for the first time while doing some good.
Micah Snodgrass, junior, came for their friends but stayed for the event. "It was really positive and everyone was welcoming," Snodgrass said. "We got three huge carts of canned food and most people did open their doors. I felt like it was really successful." 
As one of the most beloved Interact Club events, Caroling for Cans continues to be a staple charity event at our school. "I loved it," Patel said. "It's always been one of my favorite events, and I had a lot of fun."