Jack Bernard helps ASG film virtual rally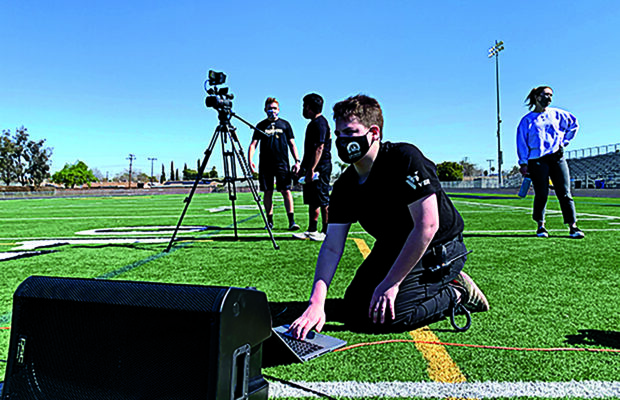 Music rumbles through the air as dancers, cheerleaders and camera operators rush to create an unforgettable performance at the first-ever NPHS virtual rally. With no way to hold in-person events, ASG has had to come up with creative ways to engage with students and boost school spirit. In the past, rallies have been a way for ASG to bring students together and ignite NPHS pride, but this year's first rally will take on a much different form.
At the March 2 school board meeting, Jack Bernard, a sophomore involved with PTV, was given a shoutout by the board members for coming up with and directing the NPHS virtual rally. "I had the idea of doing like this virtual rally and I brought it to ASG. And then from there, we worked together on the specifics of getting it rolling. On the day of, I kind of directed the video portion of this stuff, so just kind of guiding that process and working with the camera crew and stuff like that," Bernard said. 
The rally itself consisted of performances of groups from the dance team to orchestra. All groups involved performed as if it were in-person and the event was recorded and is set to air on March 12 on the PTV YouTube channel. "The virtual rally was really just like almost any other school rally where we asked our performers and cheer and dance and everyone that would like to…to come to the field, and we would record them," Bernard said. 
ASG had been wanting to plan a virtual rally but did not have a realistic way of executing their plans. Shaylee McKeown, senior and head of the rallies committee, was excited when Bernard came to them with a way of planning a virtual rally. "We were talking about virtual rallies but we didn't really have any way to actually execute it because nobody in our class was like a techie or knew how to actually put it together," McKeown said. Bernard's expertise with film technology was a huge factor in making the virtual rally a reality. 
Steven Kitchell, senior and ASG president, was really impressed with Bernard's proactivity. "I really thought that [a non-ASG proposed rally] is super special at ASG because we really do try to support the student body and give the best experience to our students so I thought it was an awesome thing that a student came with an idea and we were able to help make his vision become a reality," Kitchell said. 
Bernard believes that the rally will have a very positive impact on students as a whole. "I think it's definitely a positive experience for the student body not only for the performing groups that were featured…but also I think it will be a positive experience for everyone watching the rally because they get to see their friends and do something that we usually get to do in-person that we haven't gotten to do at all this year," Bernard said.