Joe Biden is inaugurated as president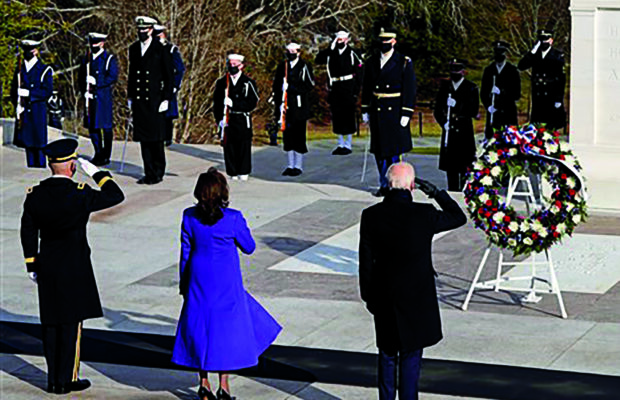 On Jan. 20, Joe Biden and Kamala Harris took the oath of office and officially became the president and vice president of the United States. Harris, sworn in by Justice Sonia Sotomayor, made history as the first Black, Asian-American and woman as vice president. 
Some changes to the inaugural ceremony were made in order to comply with social distancing guidelines. Attendance was reduced to about a thousand guests, a small crowd in comparison to the amount that typically gathers across the National Mall; for reference, it is estimated that 1.8 million people attended Barack Obama's first inaugural ceremony in 2008.
Security issues were also of concern following recent events at the Capitol. As a result, much of the city's transportation was put on halt, and 25,000 National Guard troops were deployed to the surrounding area, a larger perimeter than in years past. 
Also notable about the ceremony was former Pres. Donald Trump's decision to not attend; although former Vice President Mike Pence was present, this is the first time an outgoing president has not attended since 1868. 
The ceremony featured several guest speakers and performers, including the national anthem sung by Lady Gaga and the invocation led by Rev. Leo J. O'Donovan. Youth Poet Laureate Amanda Gorman read a poet she wrote for the occasion following the recent events at the Capitol, titled "The Hill We Climb."
Biden delivered a 21-minute inaugural speech addressing the nation. "To overcome these challenges, to restore the soul and secure the future of America, requires so much more than words. It requires the most elusive of all things in a democracy: Unity," Biden said. "Today, on this January day, my whole soul is in this. Bringing America together, uniting our people, uniting our nation. And I ask every American to join me in this cause."