Lights, Camera, Grease!: Young Artists Ensemble brings students together for a musical production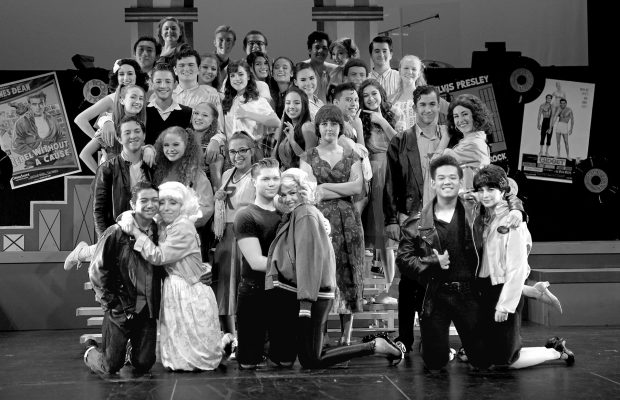 Since 1980, the Young Artists Ensemble, or YAE, puts on a Teen Summer Musical that runs in conjunction with the Conejo Recreation and Park District (CRPD) and the Arts Council of the Conejo Valley (ACCV). The most recent of their summer performances was based off the 1978 musical "Grease." This year's summer musical was put on at Newbury Park High School and featured actors from all around the district. Held from July 28-Aug. 6,, the production consisted of a cast of 34, as well as a large behind-the-scenes crew who, in turn, helped to make the magic happen.
Charles Ocampo, junior, worked as a part of the ensemble and as the dance captain. He was first introduced to the world of theatre in his Theatre 1 class, which he took his freshman year. With this performance being his first role in a YAE production, he found that, overall, his favourite thing about the play was simply the cast as a whole. "Being in a cast of 34, we all managed to somehow become best friends," Ocampo said.
Actors, choreographers, singers, and dancers were not the only people that made this play sensational. The people behind-the-scenes, technical engineers, were another half of the equation. People such as Olivia Boyd, senior, and Becky VanZant, senior, were part of the crew that helped put every backstage piece into place.
"Not counting my role in the fifth-grade smash hit, 'Geology Rocks!,' I've been involved in theatre for seven years," Boyd said.  She is currently enrolled in the Honours Stage Production ROP class; playing her role as Head Technician of the Hair and Makeup Department. "I love working with the other department heads to bring a script to life, and the opportunity to help teach others, as well as myself, more about my craft."
Having started out as an onstage performer, Boyd's interest in the technical side of theatre grew, leading to her joining the Technical Theatre class at NPHS her sophomore year. Like Ocampo, "My favorite part of theatre as a whole is definitely the bonds you form between cast and crewmates," Boyd said. Though this was not her first large production, and hopefully not her last, Boyd says that working behind-the-scenes is "by far one of the most stressful, insane, and incredible experiences of [her] life."
Like Ocampo, VanZant began her theatrical career in freshman year. She started out in the Theatre 1 class, learning more about the art of being on stage. But her interest in the technical side of theatre grew as she spent more time underneath the lights and behind the curtains.
"Grease" was not the first of VanZant's major performances, and she hopes that there will be many more to come. Similar to both Ocampo and Boyd, VanZant's favourite part about theatre as a whole is all of the friends and connections that she makes. "I live for the moments when actors come up and just say thank you to the tech crew because it just makes everything seem worth it and that we all are a team," VanZant said.
The theatrical arts is "all about expression," Ocampo said. It is a place for people to be able to channel their inner self and to just have fun. To do what they love without remorse. "Sing your falsettos, do all the leaps you can, act like an Oscar nominee. Getting to express a wide range of emotions is such a great way to express your own self," Ocampo said.