Mamma Mia! Here we go again!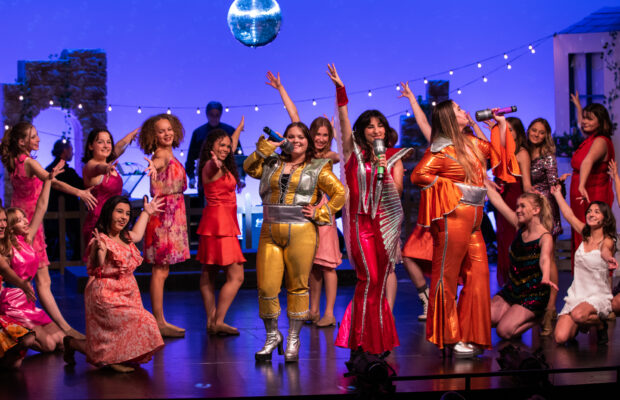 When reminiscing on high school years, one's mind is often filled with the exciting memories of watching talented young actors, singers and dancers perform their hearts out on the stage. The Newbury Park High School theater department spent months preparing to impress the students, staff and parents of the campus in their fall musical production of "Mamma Mia!". While the performance only lasts a couple of hours, that is no reflection of the effort and time that goes into a production.
Performance
"Mamma Mia!" was unlike any other performance NPHS has ever seen. The entire show is composed of songs written by the band ABBA, which have been constructed into a musical following the story of a young girl, Sophie Sheridan, and her mother, Donna Sheridan, as they prepare for Sophie's wedding.
The fall musical has been in the works since last year when Marilyn Strange, director and drama teacher, decided that she wanted to see "Mamma Mia!" performed on NPHS' stage. "I never thought 'Mamma Mia!' would be the right fit for a high school and then the rights came available and we did [a "Mamma Mia!"] number in [last year's musical] and I was like, I think we can do this," Strange said.
Once auditions, which took place on Aug. 30 and Aug. 31, were completed and the cast was selected, the actors began to memorize their lines and the choreography to each song was taught. Maxwell Oliver, choreographer and NPHS alumnus, designed dances for multiple songs in "Mamma Mia!" hoping to encompass the fun loving spirit of the musical. "What I did for this show was I watched a lot of videos of productions of 'Mamma Mia!', and disco dance in general. I kind of just picked and chose different aspects of dance that I thought would look good with this group of kids," Oliver said.
While acting and dancing are crucial parts of any performance, musicals such as "Mamma Mia!" require actors to develop their voices and Zachary Spencer, musical director of "Mamma Mia!", worked with students to help them refine their songs. "It's breaking down the music into parts and then going over [them]… if somebody's singing a melody, the ensemble might be singing backup vocals, and for this particular show, [the songs] are pretty complicated with a lot of counterpoint call and response. So [ensemble] has to know exactly where they come in," Spencer said.
A production requires many intricate steps, such as tech, lighting and costumes, but these roles are often left unseen. However without these aspects, there wouldn't be a musical to perform. Casey Pardee, senior, is both an actor and assists with tech, seeing the importance of both roles. "Tech is often overlooked in a lot of places and in many theaters. In my opinion tech is almost more important with the actors," said Pardee. "Thankfully the tech department at NP is incredible and [it is] definitely not overlooked."
Another crucial component of the performance is the lighting. It conveys the themes and emotions, such as the relationship between a mother and daughter. Ananya Singh, junior, is co-head light designer, and believes that the lighting in "Mamma Mia!" is different than ever before. "We used fairy lights which is something we have not done before. We also set up different lights at different angles for a more enriching 'Mamma Mia!' experience," Singh said.
Costumes allow the audience to visualize the messages, personalities, and time period that makes up the show. "Mamma Mia!" is unique because while the film that the musical is based off takes place in 2000, ABBA's music dates back to the 1970's, so a combination styles from both eras were necessary. In addition,"Mamma Mia!" occurs on Kalokairi, a fictional Greek island, therefore also playing a role on the characters' 'look'. Those in charge of costumes, like Aiden Yniguez have had to make adjustments. "The most challenging [part] has definitely [getting] disco outfits…we don't have a lot of disco outfits, more modern day clothes, or ball gowns, or things that would really fit 'Mamma Mia!,'" Yniguez said.
Despite the tremendous effort and time involved in the preparation for "Mamma Mia!", the cast and crew are thrilled to have the opportunity because it is a creative outlet and allows them to express themselves.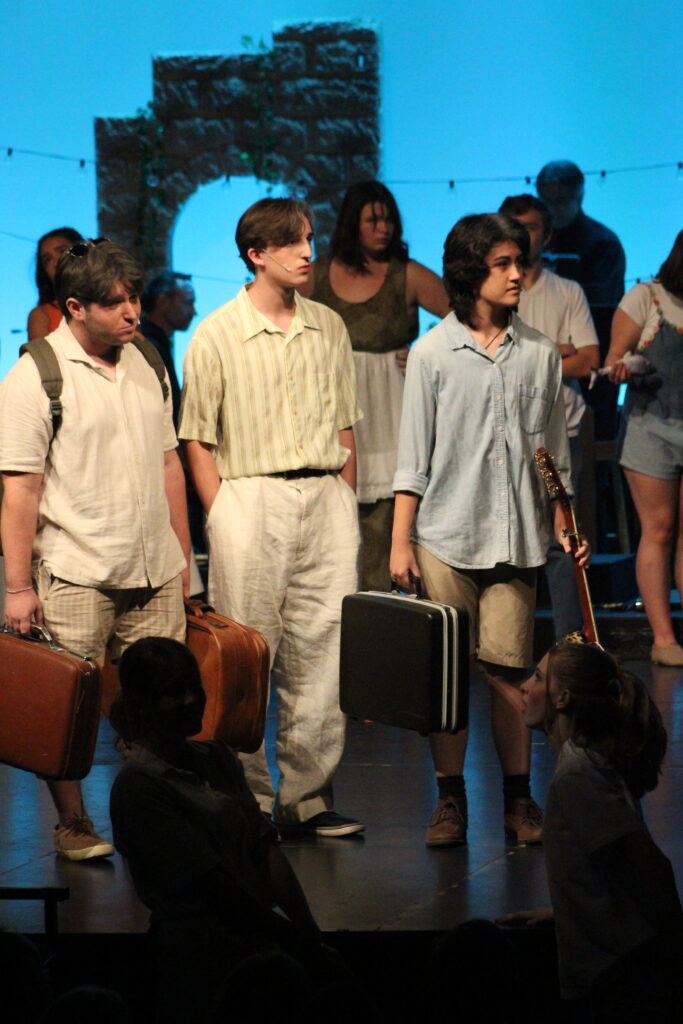 Fatherly love – Evan Sussman, Cameron Winick and Knaib Kepe took on the role of Sophie's three possible fathers. The three had been rehearsing for several months in order to perform their roles as Strange envisioned. "So we do a lot of rehearsals. I try to prepare for the audition ahead of time. I let them know coming into the audition. This is what is expected of you. This is a musical so you do need to know how to sing. You do need to know how to dance. I will be working with you with acting," Strange said. All of their hard work came together for several amazing performances. "I'm just so grateful that we had such a successful run and I'm really, really excited that the community got behind us and we had so much support and so much just positive vibes coming our way" Strange said.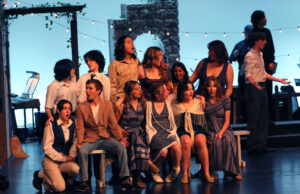 Curtain Call – Near the end of the performance, the cast all came together to perform their final numbers and accurately demonstrated how tight-knit the group has become even off the stage. Allie Mohelnitzky knows that the connection she has formed will last for several years. "We're all kind of a really close group. So it kind of allows for us to be kind of positive and fun and people who watch it will see the close connection and be really drawn to it," Mohelnitzky said.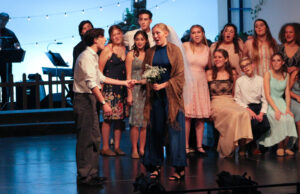 Wedding Bells – Kaylee Aschbrenner, senior, will play Donna for the final fall musical of her high school career. Aschbrenner has only been able to participate in theater for two years because of COVID regulations, but she looks forward to making up for lost time with "Mamma Mia!". "I just love the feeling of getting up there on the stage. Not being able to see a single face and just doing what I love," Aschbrenner said. "Mamma Mia!" has always been present in Aschbrenner's life. "I grew up watching this musical. My grandma made me watch it from when I was super, super young. So it's always been a part of my life. So when I heard that we were going to be doing this musical it just meant the world to me, and I was so excited," Achbrenner said.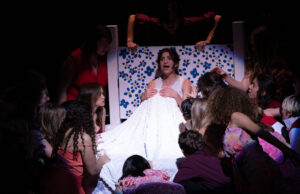 Hit the Note – Due to the clear abundance of talent in our theater department, the decision was made to double cast the main characters of the show. Elizabeth Bond, sophomore, scored the lead of 'Sophie' along with Mohelnitzky. Bond has been involved in theater for seven years but nothing has compared to her experience in the NPHS theater department. "I just fell in love with our theater community and people in it…here it's just a different atmosphere than I've been anywhere else," Bond said.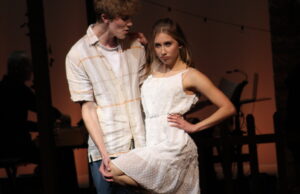 Strike a Pose – There are countless moving parts required to put together a successful show, but the actors are the face of the show and provide unique entertainment. freshman year. Allie Mohelnitzky, junior, will play Sophie in the upcoming musical. "I enjoy performing just because it's a way to kind of distract myself from everything else going on. It's a way to kind of escape the stress of the world and it's just something I really love to do," Mohelnitzky said. Being double casted as Sophie, Mohelnitzky looks forward to participating in another aspect of the production, ensemble. "I get to be in all the dance numbers and that's been really cool," Mohelnizky said.
The success of the show was a surprise for the cast and crew. "We've just come out of such dark times so to be able to get together, and have fun and celebrate. I'm hoping that mentality is carrying forward, even a little past the show," Strange said.
This production has been extremely impactful on the people involved. Kaylee Ashbrenner, senior and Donna in "Mamma Mia!", is incredibly proud of all the hard work that everyone involved put into the show and she has already been able to see the lasting effects of the performance."['Mamma Mia!' has] definitely improved me vocally and through my acting skills. I would say because of the process that it took to inherit my character as a part of myself … Donna Sheridan is definitely a part of me," Ashbrenner said.
"Mamma Mia!'' has also been a learning experience for many new members of the NPHS theater department. Chloe Scacheri, freshman and ensemble member, believes that this musical has allowed her to be inventive. "I was my own person and I could create my own [character] within a group of a bunch of other people who were, technically the same role," Scacheri said.
The theater department hopes to carry the success of "Mamma Mia!" into their next production which will be a puzzle play of Shakespeare's "Much Ado About Nothing". NPHS, Thousand Oaks High School and Westlake High School will each take a third of this production and perform it as a group. "We are going to be putting it together in our own way and then performing it all together on the 5th, 6th and 7th [of January] at each high school. So one performance at each high school." Strange said.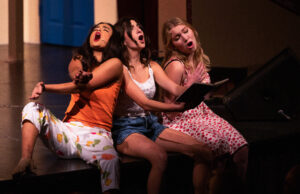 Trio – Elizabeth Bond, Lindsay Freedman and Olivia Antu, who play Sophie and her friends gather around a notebook to discuss Sophie's potential fathers. Elizabeth Bond, sophomore, played one of the Sophies for the double casted "Mamma Mia!" production. "figuring out how to deliver my lines and my music and learning more about the character so I can step into the role and make sure that I'm portraying the best character that I can," Bond said.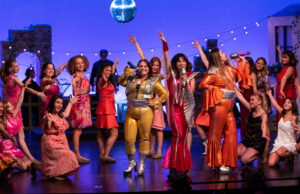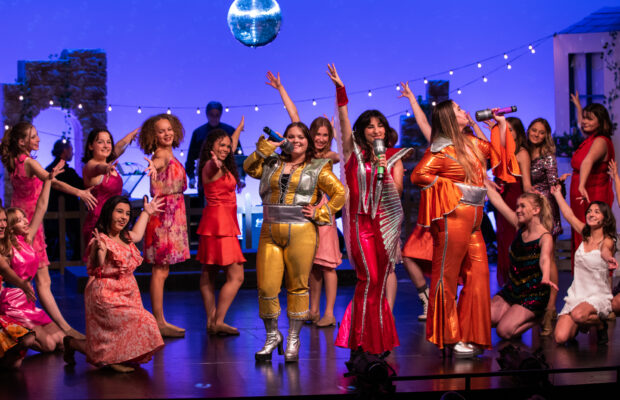 Disco – The cast of Mamma Mia performs a final number, ending a show full of singing and dancing. Marilyn Strange, director and theatre teacher, was amazed by the student's performance and proud of their sold out shows. "It's that sense of accomplishment, it's that sense of excitement for completing a huge undertaking, that sense of accomplishment of watching these students grow into their role. Whether they're a performer or a technician and just watching the growth throughout just the production schedule." Strange said.